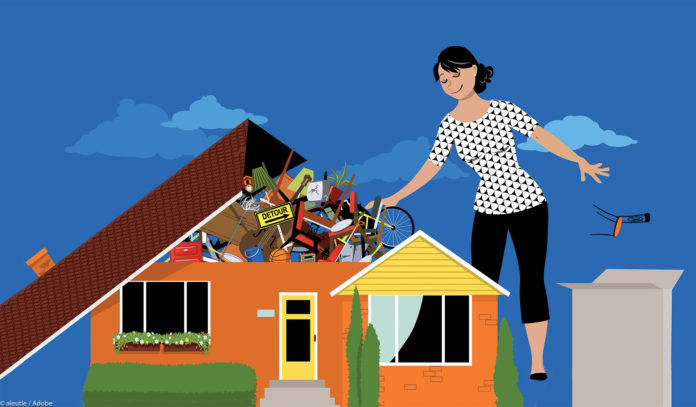 Soon we'll be hearing the sweet tinkling of jingle bells. Bright lights will blink and twinkle. The stores are lining their shelves with all kinds of holiday-themed goodies. You know the holiday season is right around the corner. It's certainly an exciting time, filled with friends and family. But you look around your home and realize all the clutter that's built up. Over the spring and summer seasons, a lot has made its way into your home. But that's okay! Here are 10 practical tips for decluttering your home before the festive season!
Chances are, the kids have grown and your taste in clothes may have changed. Task everyone with going through their closets. Have them find clothes they no longer can fit into, or do not want to wear anymore. If they have "summer clothes" in their closets, give them a box or two to pack those away for next year. For the rest of the clothes that no one is going to wear anymore, place them in a bag. You can easily donate them. But do make sure that your little ones aren't getting rid of any winter clothes that they may need!
Santa's coming soon, and no doubt is probably going to be bringing a toy or two. So it only makes sense to dig into the pile of toys that your children already have. Take a weekend and sit down with your children and their toys. Ask them to seriously look through their piles of toys and pick out the ones that they do play with on a daily basis. Then have them make a pile of the ones that they don't play with that often. That is the pile they will get rid of. This is a great opportunity to teach your children about giving, as well. Teach them that they can donate their gently used toys to children who aren't fortunate enough to have toys like theirs.
Everyone knows that during the holiday season there so many delicious goodies to partake in. You may even be the family chef or designated baker. So, you'll definitely want an organized pantry, so you'll be able to find exactly what you're looking for. This eliminates rifling through the cupboards trying to track down those pesky pecans. When you have some free time, take everything out of your pantry. Make sure to check the dates on everything, if it's expired, toss it. Then, take everything and organize it however you like. Baking supplies on one shelf, cooking supplies on the next. You get the idea.
Say you and your family are a bunch of readers. But you don't like reading books the second time around. You look at your bookcases and suddenly realized that you have amassed a rather large collection of books. Take time and sit down with the family and go through everyone's bookcases. Decide what stays and what goes. Plenty of libraries would likely be happy to take your book donations.
The six month rule is if you haven't touched the item in question for six months, throw it out. If you haven't used the item, then it has just been sitting around for six months, doing nothing. It has no purpose. Perhaps make this an opportunity to get rid of some of your knick knacks that are just collecting dust.
You know the old saying, "One man's trash is another one's treasure?" Grab all of the stuff that you have been cleaning up, and why not have a yard sale/garage sale? Depending on where you live, it might be a bit chilly, if it is, try to sell some stuff on eBay. This is a great way to make a little extra cash before the holiday season really begins.
If you're like any parent, you're proud of the schoolwork and art that your child has done. It's just natural. But after a while, you can only keep so much of their artwork in the house. In this digital age, instead of keeping physical copies of everything, there are apps. You can get them on your smartphones. Apps like Keepy and Artsonia let you keep your children's art and memories forever, without sacrificing space.
We've all been there. Somehow those darn plastic lids never seem to have a partner. So, clean out the drawer that holds all your plasticware, and get rid of those mismatches! You know you are going to have plenty of leftovers during the holidays, not to mention all those baked goods you'll get (or give!) So, go ahead and toss the old ones and buy a new set, with matching lids.
Quite often, coats are thrown on chairs, and mail and paperwork can pile up on a dinner table, and without you even realizing it, your family is eating around all this clutter. But when the holidays come around, and you have guests over, they're going to want to come in, sit down and enjoy a drink and some hor d'oeuvres. So get the family involved and have them hang up their coats. Go through the paperwork, put away anything important, and throw out any junk mail.
10
Re-Arrange Your Living Room
There is nothing wrong with a little refreshment now and then. When you rearrange your living room, you are giving the room a new aesthetic. Your guests will enjoy the new layout and love relaxing in your living space.
These 10 practical tips for delcuttering your home before the festive season should help you get ready for the upcoming holidays! Remember to enjoy yourself this year and relax with friends and family.
Also read: