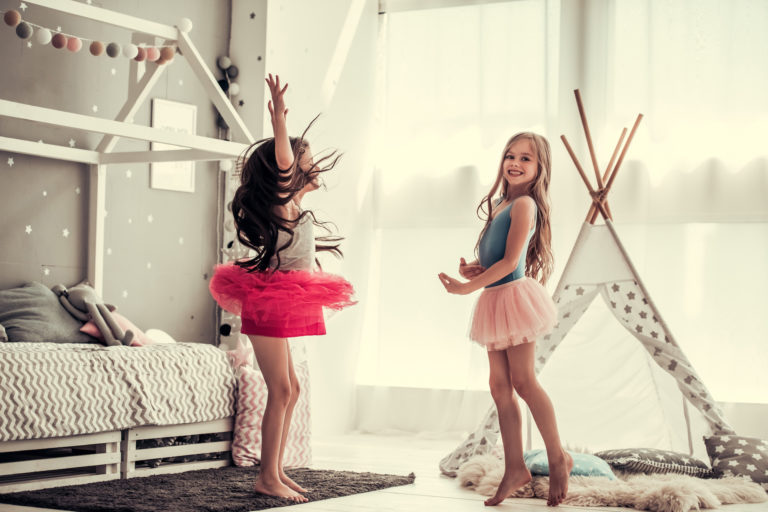 When you're unable to let the kids outside, everyone in the house can start to feel a little stir-crazy. Living in the Pacific Northwest of the United States, I can totally relate. We're bound indoors for weeks on end sometimes, due to the wet and dreary winter months.
But now the coronavirus has struck, and we're all being advised to stay at home, it becomes even more important than ever to try to find ways to keep the kids occupied.
While a bit of boredom is actually good for kids, they should still be physically active and thoughtfully engaged. I don't know about you, but when my little one gets too bored, she can start to get a bit destructive (and that's frustrating for EVERYONE.) Here's some inspiration for ways to keep kids busy playing when they're stuck inside.
1
Build an Obstacle Course
Obstacle courses are a go-to activity because they are easy to set up and are versatile to suit the needs of just about any kid. Whether you have a grade schooler or a toddler, completing a series of mini-activities is great fun. The more creative the obstacles, the better so bust out the pool noodles, cardboard boxes, and anything else that might be something special for the course. Add a stopwatch for another layer of competition.
Most kids have a favorite movie or TV show where they can pretty much quote the lines verbatim. Instead of watching that film AGAIN, have the kids act out the scene themselves. Does their favorite character have a trademark look? Put together a makeshift costume. Need props? Have the kids make their own DIY props out of things from around the house.
Music is a great way to get kids moving. Dance parties are exactly what they sound like. While the best ones are impromptu, having a good mix of songs in mind ahead of time definitely helps. Upbeat tunes from a variety of styles and time periods help make sure everyone hears a song they can really get into.
The basic components of a treasure hunt include treasure (the end prize) and a map to get there. Treasure can take the form of a physical item such as a toy, pretend jewelry, or a set of stickers. Alternatively, it could be a sweet treat. You will have to complete a fair amount of preparation, like coming up with clues and setting up "check-points" along the way. Get as creative and funny as you want, since this typically keeps kids more interested and engaged.
The kitchen is a great place to have fun and experiment. You can try something simple like making hot cocoa or popping popcorn on the stovetop. Perhaps you want to attempt to make cookies from scratch. Either way, the kids are likely to get a real kick out of it.
Another kitchen based idea is making "food crafts". An easy, go-to for me is sandwich or pancake faces (depending on the meal). Take whatever you have in the fridge and let the kids "decorate" their sandwich like an art project. Who says you can't play with your food?
Forts are fun to build and even more fun to hang out in. The bigger, the better. While not everyone has large cardboard boxes lying around, most of us have at least the basics: pillows or couch cushions and blankets. Maybe they'll even read a book or take a nap in there.
While it's certainly not the most creative name, "Find the Thing" is great for keeping younger kids busy. Pick a theme (such as a color, shape, or letter of the alphabet) and have them search for something in the house that matches the theme. If that seems a little too basic, try adding a countdown timer for extra effect.
If you have a mix of older and younger children, have the older ones read to the younger ones, but in a silly way: accents, singing, or even impressions of mom and dad are all good suggestions.
Bust out the beach ball. The one rule is it can't touch the ground. You're going to need a fair amount of open space but it's really fun, especially with a group of children. Just make sure there isn't anything breakable around as things tend to get wild.
A quintessential childhood experience, younger kids are likely to enjoy have a pretend picnic or tea party. Gather a large group of their toys, stuffed animals, or dolls together. Have the kids "serve" all their "guests". Pretend kitchen sets are great but not required.