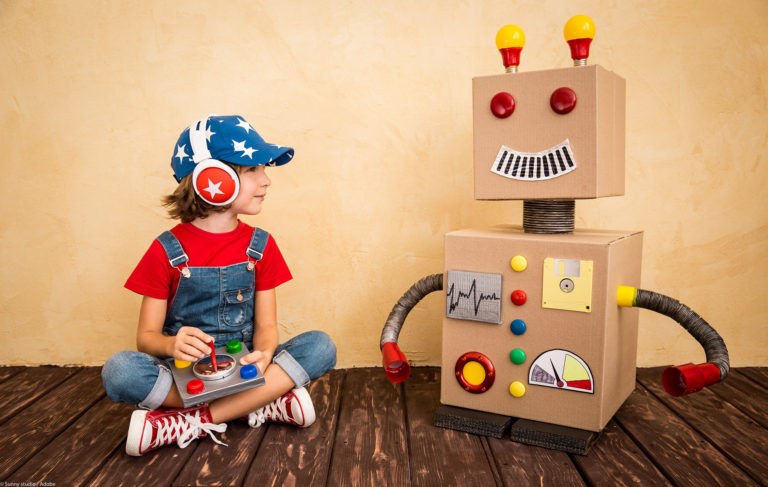 Whether it's for the holiday season or an upcoming birthday, finding the best STEM toys for under 8s that are both enjoyable and educational can be a tough task.
And while there are thousands of toys that are advertised as having the ability to develop a child's science, technology, engineering, and math (STEM) skills, buying a toy that your child doesn't play with won't be very useful.
To help you in your search for STEM toys that your child will love, let's take a look at the five best STEM toys for under 8s.
Price: $16-$20
While this video game kit is recommended for ages 8-12, my seven-year-old plays with it often and absolutely loves it.
The concept of the kit is that kids can build their own video games using a mix of physical (board with blocks) and digital (mobile app) tools.
On top of the similarities with Minecraft and Legos, kids love the fact that they're able to build a video game to their liking.
The sense of accomplishment that my son felt after completing his first game was well worth the price alone.
And, in addition to creating and playing the game, he was able to share it with his friend (who has the app) and allow him to play the created game.
Price: $99
While this is the priciest toy on this list, the kit includes a total of five different games.
The kit is designed to teach core subjects like math and creative thinking in a fun, hands-on way.
And while you'll need an iPad to use it, it's a great toy for kids that are already spending most of their time glued to their device.
As a parent with three kids, I also love the fact that the different games can be adjusted to the skill level and age of the person playing (it's designed for kids 5-12).
The ability to use it as a toy for multiple kids and the fact that it's five games in one makes it a tremendous value (even with the price tag being what it is).
Price: $39.99
This toy, which combines drawing with learning how to code, is incredibly simple but can keep your kids occupied and learning for hours at a time.
The kit comes with a tiny robot that kids can program to do as they wish. Programming works by drawing color codes on a piece of paper or a tablet device.
Once the color codes are in place, the robot follows the commands and can do anything from spinning and turning to speeding up and braking.
Another reason that kids seem to love this tool is that they can decorate the robot however they'd like.
Overall, this is a simple STEM toy that can be a great gift option for a boy or a girl.
Price: $17.99
This toy set, which includes 480 pieces of building toys, is a lot like Legos.
Kids can build anything from cars and animals to flowers and cities. My son even found a way to create a replica of a baseball stadium.
Overall, it's a great toy for developing your child's creativity and imagination in a fun and enjoyable way.
My only real complaint is the fact that the pieces can be challenging to clean up. When we first purchased it, we often had issues with the kids leaving the pieces out and then finding them throughout the house.
To curb this issue, we made a strict policy that they had to clean up the pieces immediately after they were done with them or lose tv privileges for two days. And while my kids do love to play with it frequently, they sometimes avoid it because of the strict clean-up policy.
Price: $12-$15
This kit is one of the highest reviewed STEM toys ever. And, if you buy it for your child, you'll quickly find out why.
The 20 piece kit features a variety of supplies, chemicals, and instructions that allow your child to explore their inner scientist.
And while you'll want to supervise your child while they're playing with the kit, it's a lot of fun to do the experiments with them.
For the price, you simply won't find a better or more enjoyable toy for kids 8 and under.
Also read: