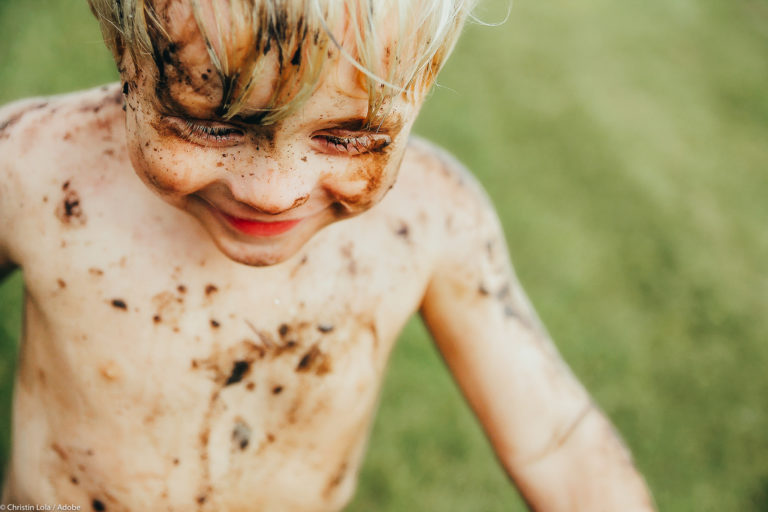 Picture it: you're outside with your little ones while they are playing. You're enjoying a good book, while they are playing and giggling. You suddenly look up and are horrified to discover that they somehow have found the only mud puddle in the yard, and have been happily splashing around in it. They're now covered from head to toe in mud. You whisk them away to the bathtub and begin washing them off immediately. But is messy play that bad? Here are five reasons why our kids need to be messy.
It Enhances Their Senses
Your little ones are just coming into their own, and they are learning all about things like touch, smell, hearing, etc. When they can feel that squishy mud in between their toes and fingers, that sensory experience is far better than anything else. Take them to the beach, let them play in the sand, collect seashells and feel the water between their toes.
Give them paint, let them swirl all those colors on the paper, and watch their eyes grow wide in amazement as they see those colors flow together and change before their very eyes. This also gives them the creative freedom to do what they want; it sparks their imagination and lights them up like nothing else. So let them have at it.
Messy Eating = More Likely To Eat It
If you have a picky eater on your hands, well, you're certainly not alone. Many little ones are averse to trying new foods. But what if you dropped the whole "eat with your utensils" method and let them play with their food? Recent research has shown that kids who are allowed to play with their food, such as touching it, squishing it, and picking it up are more likely to eat that food. Not instantaneously, of course. But this method makes them more likely to try something new.
It Helps Improve Motor Function
Whatever your child may be doing, be it splashing, mashing, swirling or twirling, picking rocks up or even painting, their chosen activity is helping to build their motor skills. It helps the brain to build connections between what they are playing with, and what is going on in the world around them.
Let them grab those sticks on the ground, help them build that fort. Grab your rain gear and jump in the puddles with them. Make finger paintings with them. Build a sensory bin with rice and some toys and let them dig through it.
It Keeps Them Healthy
Yes! Scientists have been researching this and have found that children who play around in dirt have stronger immune systems and get sick less often. However, children who were kept away from germs developed asthma and allergies later in life. Plus, the activity keeps their bodies moving, so this means that they are exercising, as well, which we all know is a great thing for our kids (and us!) to do.
For The Sake Of Letting Kids Be Kids
Children are little for such a short period. It is fleeting, and then they are suddenly in kindergarten. Letting kids get messy for just the sheer joy of it is one of life's little pleasures. Enjoy their smiles, embrace their giggles, snap photos of those adorable faces while you can. Let them get messy; cleanup can always come later on.
Messes can always be cleaned up and thrown away, but those memories will last forever.
Also read: