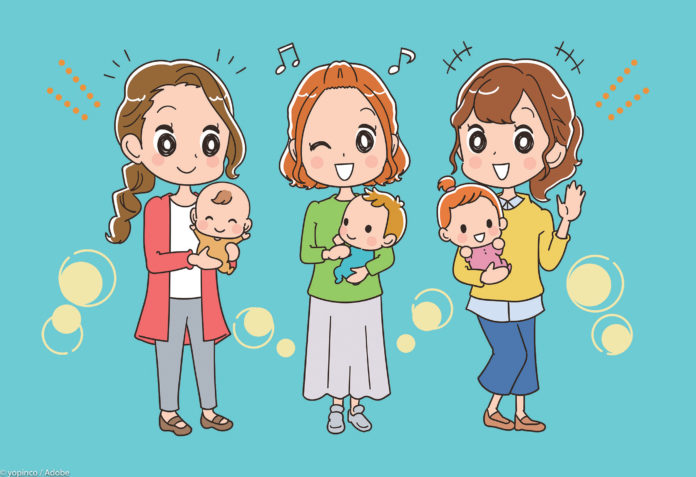 Momming is hard. It's arguably the hardest job in the world but way too many of us do it all alone without networks of other moms to help. Reasons for a lacking social network may be living in a rural or remote area, a hectic work schedule, anxiety and fear over making new friends and – last but certainly not least – total exhaustion. But, whatever the reason, it is not healthy for a parent to go it alone. So, let's talk about some simple ways to build a mom network of support for you and your family.
90% of American moms have a social media account and there are more mom groups on Facebook than there are stars in the sky. (That's an exaggeration but there truly seems to be an infinite number.) These groups are full of people looking for a laugh about parenting, sharing victories and heartbreaks, asking for help with dilemmas at school and much more.
Although getting out the house and socializing with moms and dads away from a screen is important, the online mom community is huge and varied. Some are tailored to specific communities – like special needs moms, for example. Others are more general. Making friends online is a great way to find other parents with similar experiences, concerns or philosophies.
Working play dates are a new trend and maybe an amazing solution for work from home moms. The basic premise is that both moms must work so they get their kids together to play in the other room (or at their feet, depending on their age) and the children occupy one another. It's good for the kids and lets moms get work done. It can also help quell some of the loneliness and isolation that working from home can breed.
Here is a shocking stat: More than 25 percent of U.S. women are not active at all. That's a lot of women who are literally not moving – even a little bit. But exercise is essential to overall health. It is not optional and moms who do not exercise are not only ignoring their own health but setting a poor example for their little ones.
As with a working play date, an exercise group has benefits for both mama and child. Moms can meet with strollers for a jog or at the park to do boot camp drills while the kids swing. This will get your kids out in the fresh air, allow them to socialize a bit, get your heart pumping and increase your overall health – all while setting a great example for your children.
About one-in-four mothers are raising their children on their own. Single motherhood is difficult. It is yet another factor that can make a mom feel isolated, alone and overwhelmed. Parenting just is not a job designed for one person and to do it well on your own is – in my opinion – a feat worthy of a solid gold medal.
Money and time are in short supply for many single mothers. If you are a single mom, seek out other single moms and talk to them about meeting up to swap kids' clothes as your various children's sizes change. Save money and time on meals by creating a cooking rotation where one mom handles dinner for the group on a given evening or create a babysitting rotation so different moms can go out on different evenings. There are hundreds of ways that you can create a system that will benefit everyone.
Did you know that 20.2 percent of stay at home parents are dads? That's a pretty high proportion. Fathers, in general, are far more involved with their children than they ever were in the past. Yet, when we think of networking for parenting support it is not usually with fathers. Think about dads you know as resources, as well.
The first step to building a network is admitting that you need or want one and that you can't or do not want to have to do it all on your own. The point is to find a group of people who can share the load of parenting with you. The phrase, "It takes a village," also applies to mamas: "It takes a village to maintain mom's sanity."
Also read: