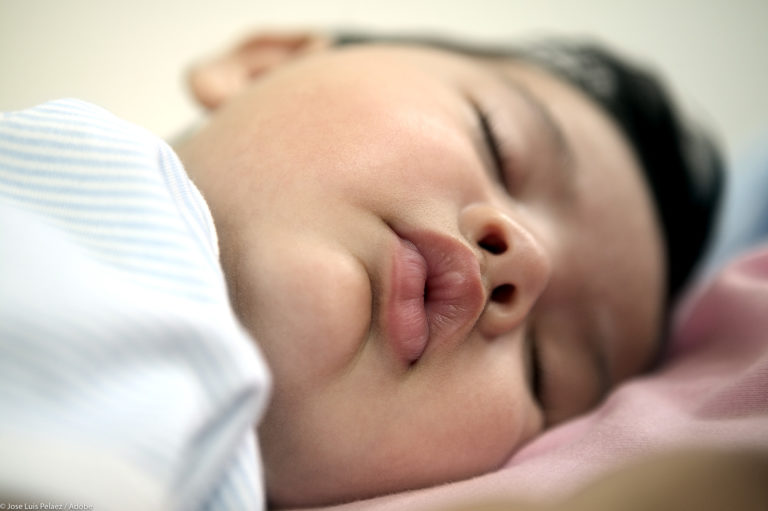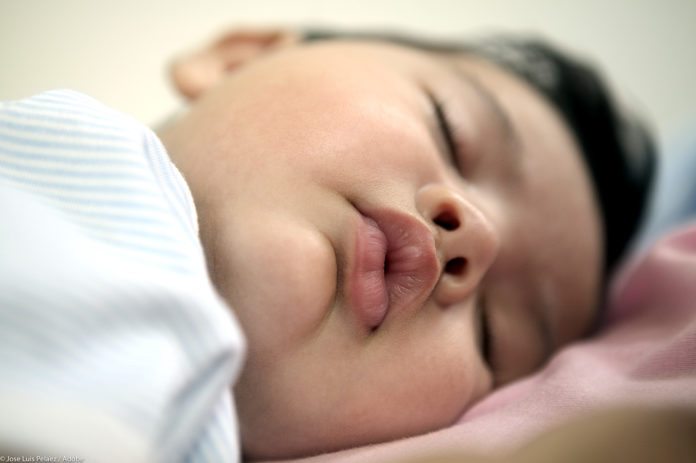 So, you've managed to get through the first few scary days of new parenthood, and now you're starting to find the sleepless nights are taking a toll. Welcome to the new mums and dads club: unfortunately it's probably the case that snatched sleep will become your routine from now, so you should grab naps whenever you can.
Newborns and very tiny babies don't have the capacity to distinguish between night and day for at least the first four months, so you'll need to try and teach them a regular sleep habit, when possible. Take note of the following tips for helping your baby establish and maintain a night-time sleep routine.
1
Help your baby to distinguish between night and day
Probably one of the most important night-time routines you need to set up is getting your baby to learn the difference between day and night. It's critical to keep days as bright as possible within the home and start to reduce levels of light as evening draws in – this way your baby will start to distinguish when it's time to sleep. Throughout the hours of daylight, allow plenty of sun and light into rooms and put your baby down for day-time naps in bright rooms, whenever possible. You can consider fitting dimmers to lights around the home and starting to reduce levels of light up to two hours before bedtime. If you do use a night light, opt for a dim light in baby's room and whenever you need to go to him at night don't carry him or her into rooms that are well lit but try to soothe them back into sleep in their darkened bedroom. If bright sunlight wakes up your baby in the very early morning, think about fitting black-out blinds.
2
Don't rush to baby's room as soon as they stir
If your baby does start to stir in the night and you hear quiet whimpers over the baby monitor, don't immediately jump into action as this could lead to them waking up more frequently over time. It's often possible they may be able to settle back to sleep on their own, but if crying starts in earnest you're advised to deal with the situation before they become too worked up to get back to sleep.
3
Try not to interact with your baby during the night
Try to keep calm and placid whenever you need to sort out your baby's night-time crying. Making eye contact with your sleepy baby could inadvertently signal to them that it's time to wake up fully and engage in play. You should aim to keep interactions with your baby to a minimum at night, while creating a soothing, loving environment using your voice and touch to help them relax back into sleep.
Tips for getting slightly older babies to sleep
When your baby is a little older and can distinguish between the hours of night and sleep, and daytime hours, there are still a variety of things that could trigger sleep problems, including illness, teething and hunger. It can be really difficult to cope if your baby's usual night-time sleep routine starts to break up again, which could cause you to lack energy and become depressed.
4
Set up a regular sleep-time routine with older babies
Setting up a regular sleep-time routine which could involve having quiet time with your baby for half an hour or so before bedtime, try turning off the TV and any music and just letting them relax for a while. Follow this up with a soothing bath, perhaps followed by a short massage and then change them into pyjamas. You should aim to take no more than about 30 minutes for your typical bedtime routine. When your baby is six months or older, you might want to think about giving them a familiar security object, like a blanket or cuddly toy, as this can be soothing.
5
If all else fails, consider the controlled crying method
If you're really at your wits end every night with your crying baby refusing to sleep, you might want to think about trying a method known as controlled crying, where you leave your crying baby alone for a few minutes before returning to him. Each time you leave him you should aim to increase the amount of time you leave him alone, perhaps starting with two minutes and gradually leaving him up to ten minutes. It can be really difficult to leave a crying baby alone, but research indicates that it won't cause any damage to your baby and might even help him get to sleep.
Getting your baby to sleep through the night can be really difficult, particularly if this is your first child. Try to talk to other mums about the solutions that work for them and don't despair – your child will eventually learn to sleep for longer periods of time.