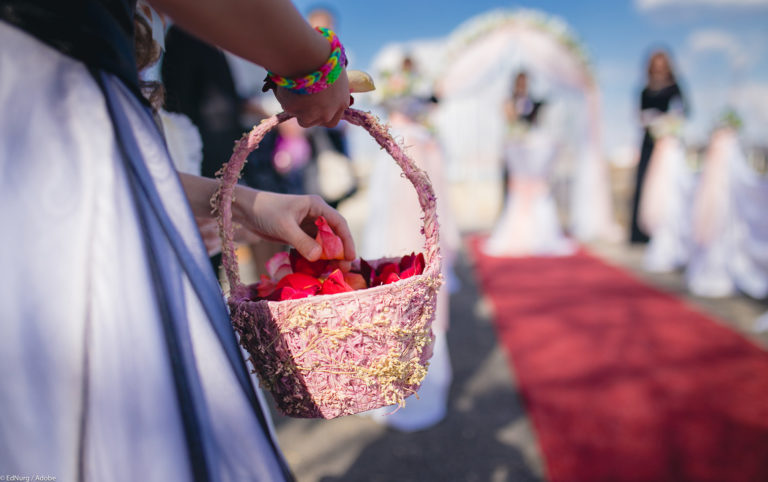 You are getting married! Congratulations are in order! Now comes the fun part, picking out dresses, and tuxes, bridesmaids and groomsmen. There are color schemes to be chosen and flowers to be picked out. There are so very many things that go into the planning of a wedding! But they are all exciting and fun. If you already have children or are marrying someone that does, you want to find a unique way to incorporate them into such a special day as well. Here are six ways to incorporate your kids into your wedding.
Flower Girl
If there is a little girl in the house, being the flower girl is the perfect role for her. She would be just darling. Plus, it will be so much fun going and picking out a special dress just for her. She will love that she gets to sprinkle flower petals down along the aisle. She may just be so excited that she will skip down the aisle! This is her special part of the wedding, where she will feel included.
Ring Bearer
On the flip side of the coin, if there is a little boy in the household, he could serve as the ring bearer. How exciting it will be for him when he gets fitted for his tuxedo! He will feel handsome and look super cute at the same time. This is a big job for a little man, bringing the rings up to the bride and groom. He will certainly feel that he must perform, and he wants to do it right. This is his time to shine, along with the rings of course!
Ushers
If you have slightly older boys, they could serve as ushers. They would wait at the entrance and show the arriving wedding guests to their respective seats. If there are not assigned seats, then they could just escort guests to their seats. They would also help distinguished wedding guests, such as the mother of the bride, down the aisle, towards the front. This kind of job in the wedding would give them a sense of purpose, of being included. It would also help send the message that you trust them with such a big job.
Junior Bridesmaid/Junior Groomsmen
If you feel that they are old enough, you can include the child by making them a junior bridesmaid/groomsmen. This is a role that is incredibly special. They will be a part of your wedding party — fittings for bridesmaids dresses or tuxedos, rehearsal dinners, the whole shebang. They will love and cherish it all. This will get them excited for becoming part of forming a new family.
Hold A Special Ceremony
Since you are two families becoming one, it makes sense to include a special ceremony. The child/children can come up to the front, by the bride and groom. Perhaps there could be a unity ceremony held, symbolizing the two families becoming one. Or maybe the parents could gift each child with something special, like a necklace, or a watch, something they can cherish. A thing that they can look back on in years to come and remember that special day with. You could even ask them to come up during the ceremony and include them in your vows somehow. There are many ways that you could include them in the ceremony. Think about it, and get creative!
Have Them Walk You Down The Aisle
If you are a bride reading this, this is perhaps the most important duty of all. Delivering the bride to her groom. What could be any more special than having your children walk you down the aisle? The most important people in your life. It only makes sense that these little (or big) people that you have raised should escort you down the aisle. They are embarking on a new chapter in life with you as well. When it comes time for photos, you could always come up with a creative way of taking family photos.
Also read: