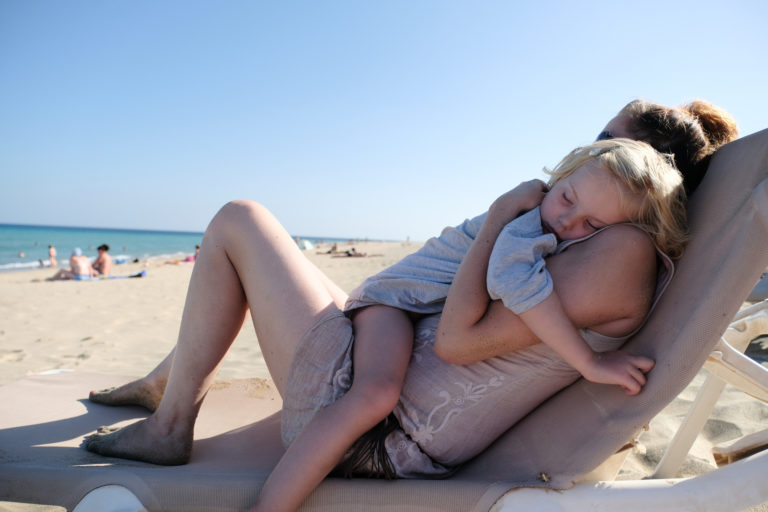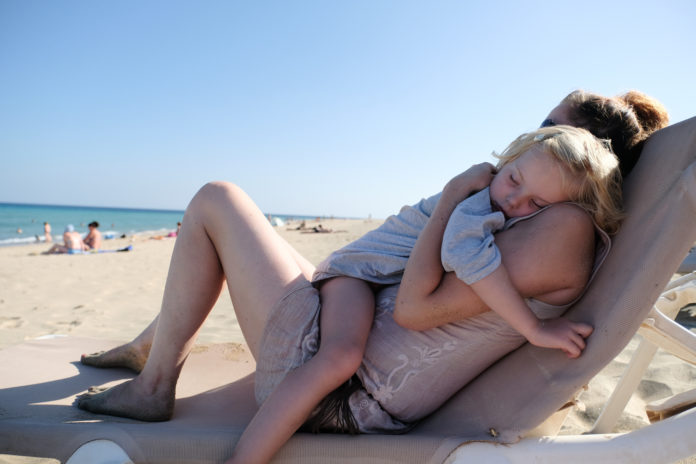 Proper sleep is essential for children of all ages.
However, it's a high priority for those of us with very young kids. When they sleep well, we sleep well.
Most parents put a lot of effort into getting their child on consistent sleep routines.
Family vacations are an excellent way to make memories and enjoy each other's company – they're not so great for maintaining sleep routines and schedules. So what are you supposed to do?
Wait until ALL the children in your household are old enough to regulate their own sleep? That could take DECADES!
And many extended families live far apart. To visit each other, there is often a plane ride (or two) and a time zone change. I would know. My entire side of the family is on the opposite side of the country.
So what's a parent to do? When it comes to your kids' sleep, you should make a plan before traveling, bring the right "tools" along, and maintain a flexible mindset in case things don't go exactly according to those plans.
While it's unlikely to be perfect, here are some ways to help keep your kids' sleep routine when you're on vacation.
1
Be strategic about your travel times
First thing's first, you need to determine the amount of time it's going to take to get to your vacation destination and by what means (car, plane, train). If possible, try to schedule your travel around your child's sleep.
If you are driving, you could set up your longest stretch around their naptime, perhaps after stopping for a meal.
If you are flying, some people find it helpful to aim for the red-eye and hope the kids will be tired enough to sleep. Speaking from personal experience, I say "hope" since this approach has the potential to backfire, especially if your children are still quite young.
Of course, if the trip is particularly long, or your travel options are limited, it may not be possible strategize around your child's sleep schedule.
2
Bring along some comfort
Does your little one have a special blanket or lovey that they often hold to sleep? Bring it along (just make sure you don't forget it during the trip).
For traveling specifically, bring a pillow. We all know it can be tricky to get comfortable sitting upright in a seat.
If you are traveling during the time your kid is usually asleep for their longest stretch (like a red-eye), let the kids wear their pajamas.
3
Be prepared to work with time changes
Your approach to a time zone change should depend on how drastic the change is and how long your vacation is going to be.
Typically if the time change is substantial, you are likely going to be staying at that destination for a more extended period. In this case, you want to help your kids adjust to the local time since their biological clocks are likely to get out of sync if you don't.
Daily increases in times between naps and bedtime can make the adjustment a little more gradual.
For shorter trips (like our family's annual visit to the east coast), you don't necessarily have to adjust at all. Our kids sleep at that their normal "west coast times" and we just operate as normal even though there is a 3 hour time difference. Since we are only there for about a week, it works well for us.
If your vacation includes a visit to a theme park (lucky you), it isn't practical to put the entire day on pause solely for naptime.
The next best option is to let your kid nap in a stroller. Bring a light blanket along and (depending on your stroller model) use the hood to provide shade. Should you have one of the fancier strollers that adjusts into a declined position, even better.
There is a lot of stimulation in these situations so their nap likely won't be ideal in terms of timing and duration, but it's better than the alternative.
5
Put the baby in a carrier
If your baby is about a year old or younger, consider wearing them when it's time for a nap. The motion of your body can help them catch some z's in even the most hectic of situations. It also allows you to continue to participate in your vacation, instead of heading back to your hotel room.
6
Enlist other family members
If your family vacation includes any other adults (grandparents, aunts, etc.), ask if they would mind helping out with naptime. You might be surprised how willing others are to help keep their littlest family members well rested.
Also read: