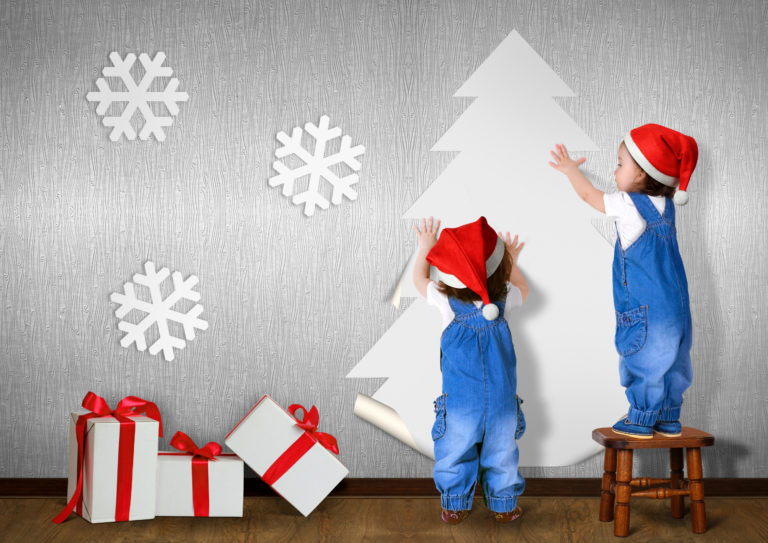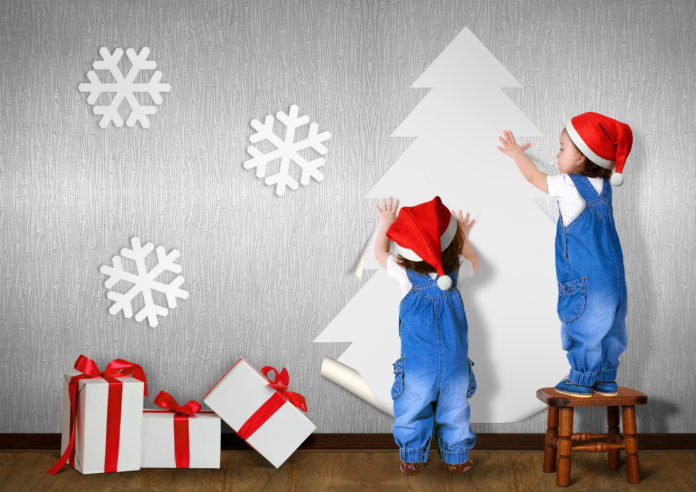 With Christmas just over a week away, chances are the excitement levels are seriously ramping up. Part of the fun is decorating your home for the holidays – but that can be tricky with small children. Glass baubles can smash and cause injuries. Inquisitive crawlers might try and pull themselves up on the tree. Don't worry! Here are some fail-safe kid-friendly Christmas decorations!
You can buy pine cones, but it's far more fun to collect them yourselves from the woods. Cut strips of thick card and glue the ends together to make round bases. Sit a pine cone on top of each one, broadest part at the bottom. Decorate with glitter, spray 'snow' or paint.
Dot them around the house individually or create displays. Tie loops of cotton around them if you prefer to hang them up. Alternatively, make one big Christmas tree out of lots of pine cones. Start with a large, flat circle of thick card or thin wood for your base and build inwards and upwards in layers.
Treat the kids to some special festive bedding. There are plenty of designs available, from full-on Santa and his sleigh to subtle snowflake patterns – so there's something suitable no matter how old they are. Another option is to buy Christmas blankets or throws. As well as helping to decorate bedrooms, they're easy to take downstairs to snuggle under while you watch your favourite holiday movies.
While a picture-perfect Christmas tree reaching to the ceiling looks beautiful, it's not always practical. They can get pulled over, or ornaments fall off and get broken. If it's a real one, those pesky pine-needles get trodden all over the house. There's also the question of space – not everyone has a spare corner.
A wall tree is a solution – and there are so many options! You can buy DIY kits which include felt shapes. Or layer strips of wood or tinsel that decrease in length, so your 'tree' tapers towards the top. Trace a tree outline using strings of fairy lights. Take a look at more ideas here.
4
Smells like the holidays!
In years gone by, pomanders were used to ward off illness or bring good luck. But why not use them to make your home smell nice with some typical Christmas aromas?
Stud oranges with whole cloves – be creative and arrange them in patterns, such as diamonds or circles. (If you prefer, pre-make the holes using a toothpick to spare your fingers.) The orange will release a delicate fragrance as it dries. For a stronger scent, roll the orange in a spice mixture such as cinnamon, ground nutmeg, and allspice. Leave it there for a week, turning daily.
To hang up your pomanders, pierce the orange with a skewer – use a cloth or some kitchen paper to catch any juice – and run some string through the hole. Knot it at the bottom and tie a loop at the top. You could also tie a red ribbon around the centre for a festive look.
We all know hanging out the stockings is an essential part of Christmas – Santa needs to know where to leave everyone's presents, after all! Make them an integral part of your decorations.
Wreath a branch with tinsel or fairy lights and fix some hooks to the bottom. Hang it on the wall and attach the stockings in a row. Or make each child their own, if they want to have them in their bedrooms. You could buy extra to create a central display.
You can buy ready-prepared kits with pre-glued ends or make your own. Buy plenty of thick paper in your choice of colours and cut each sheet into strips of equal width and length. Glue the ends together to make rings, linking each one through the previous loop. (Use sticky tape or staples if you prefer.)
Your chains can be as long or short as you like. Fasten them near the ceiling and string them from wall to wall in rows or a criss-cross design. Or run them outwards from a central light fitting in a star pattern. (You could also use tinsel for this idea.)
Fibre-optic Christmas trees are really pretty and mean you avoid the risk of smashed decorations. Some alternate through a range of colours while others stay the same. If your child would love their own personal Christmas tree in their room, some are just a few inches tall and battery-powered – perfect!
Also read: