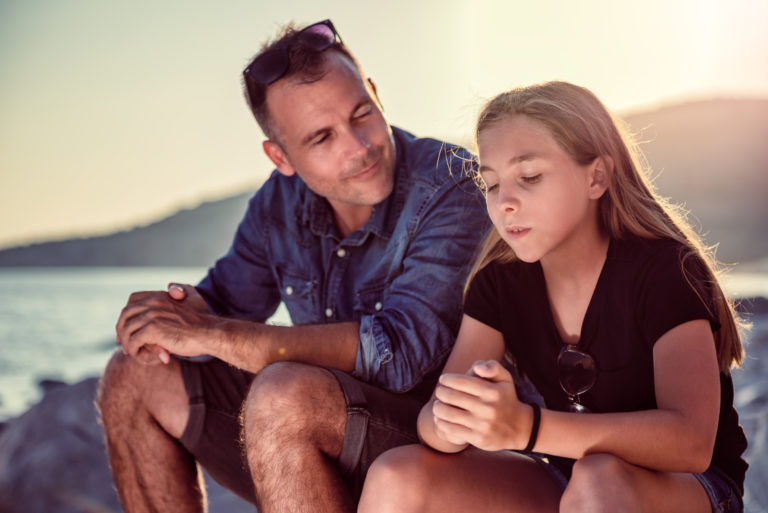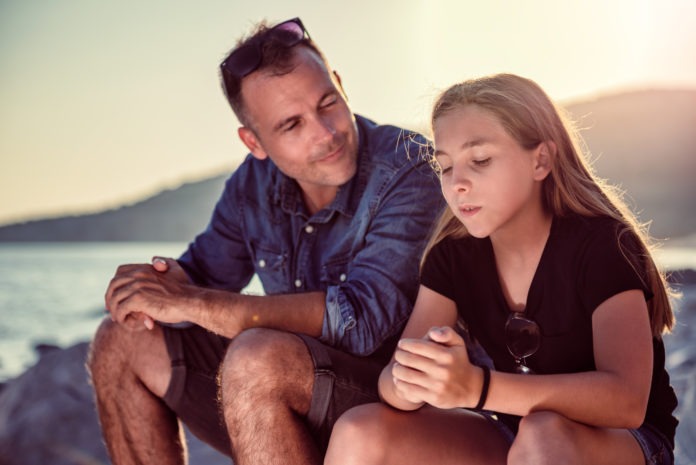 Teenagers.
They are grumpy, moody, testy, insecure, hormonal, and can be downright unpleasant.
They don't want the help or wisdom of anyone – most of all, not from their parents. But, the thing that we must remember is that, though they may think they know everything, they do not.
They desperately and truly need their parents – even if they would rather throw their cell phone down a well than admit it.
You cannot expect them to come to you. They are too self-absorbed. The burden falls to mom and dad to figure out how to get them to talk. So, how do us grown-ups stay involved and invested in their older kids' lives and keep the lines of communication open?
Here are a few ideas:
From the time that they can speak, listen. Listen and respond when necessary but listen more than you talk. Let them share who they are with you and show gratitude for their honesty.
2
Do not make it about you
Talk about topics that interest them and never dismiss their feelings or thoughts. As the saying goes, "If you don't listen to the little things when they are little, they will not tell you the big things when they are big."
3
Model good communication and compromise
Simple modeling of healthy interaction will lay the groundwork for your children. At dinner, talk about everyone's day.
Be both a good listener as well as willing to share about your own life. If you want a teen to open up to you, then you better be ready to be open, as well.
Also, when and if conflicts or disagreements arise, hear out their opinions, compromise when you can and show your kid respect. Parents often do not realize how disrespectful they can be toward the views or thoughts of their kids.
Dismissive language or an attitude of superiority will not help you build a strong bond with your kids.
If you only ever sit your teen down to chat when he or she is in trouble, they will come to look at talking to you as a negative thing. They will feel like the only time that you want to have a conversation is to badger, scold, or pester them.
Try and praise them for the good that they are doing and start discussions about happy and positive subjects. Talk to them about the things that matter most to them, even if they seem silly to you.
All too often, parents inadvertently shut down conversations with their kids by not showing interest in what matters most to the young person.
It is so hard not to put in your two cents. As your teenager matures and grows, he or she will make mistakes and will need help navigating major milestones – good and bad. You cannot shelter them from everything, and your opinion is not always wanted or needed.
Of course, parents are wired to help our babies – even if our baby is 17. We also have a lot of wisdom to share. However, teenagers rarely want you to tell them how to fix their problems. They are more likely to need a listening ear.
If a teenager approaches a parent about an issue, it is instinct for the adult to launch into solution mode. However, they will likely feel criticized and judged if you behave this way. Instead, be a sounding board.
You do not need to talk to your kid about feelings, pressing issues, problems, or obstacles every time you speak. You should not. You should talk about all kinds of things from movies to books to gardening and anything else that is a common interest.
The rapport built during low-key convos will lay the foundation for successful chats later.
Make the most of downtime
Talk at the dinner table, on the morning commute, at commercial breaks during TV or when they are otherwise just "hanging out." Shorter bursts of conversation at convenient low-key times will make talking with mom and dad a lot less painful for even the most stubborn teen.
When they were still tiny, it was hard to imagine the time that they would shut down and stop talking. You may have even secretly wished for the day that they talked less. But, now you have to practically pry their lips apart. What changed? Lots! Your baby is not a baby anymore.
They need you less, BUT they still need their parents.
Your parenting role is changing, but, if you keep at it and push them to share and talk, your teen will be grateful in the long-run.
Also read: