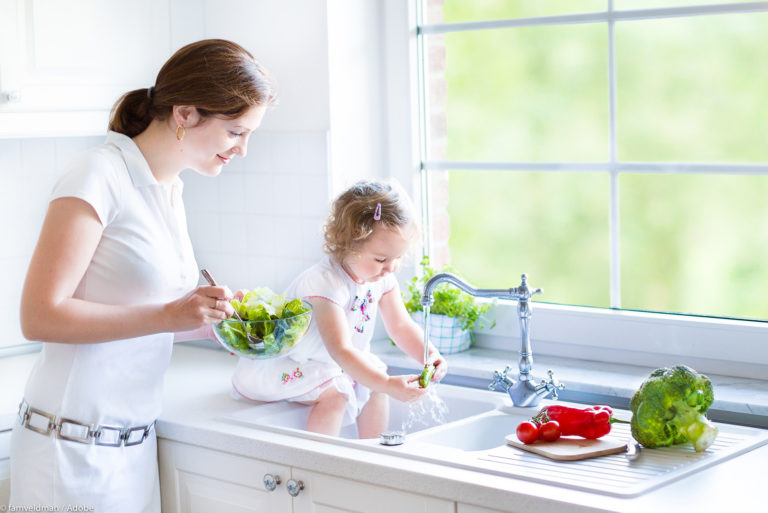 Childhood obesity is a growing worldwide problem. It has been called "one of the most serious public health challenges of the 21st century," according to the World Health Organization. Globally, approximately 43 million children under the age of five were either overweight or obese in 2010. That is a 60 percent increase since 1990. But there are steps you can take on how to decrease a toddler's childhood obesity risk.
Expose Them To New Foods
Toddlers can be stubborn eaters especially when it comes to new foods. But by exposing them to new foods, it opens up a healthier diet for them. It can be a little upsetting when they do not eat what you prepared on the first try. However, the key is persistence. You have to keep trying each day to get them to try new and healthier foods. It has been found that when children are exposed to new foods, it broadens their willingness to try other new foods later in life. This fosters an overall healthy lifestyle in their future.
Limit Before Dinner Snacks
Children can get hungry at different times during the day. This also includes that time in the afternoon when it isn't quite dinner time yet. Don't hand over those cheesy crackers so quickly, though. It might be an idea to speak to your child's pediatrician. They will be able to tell you what kind of healthy snack you could give your child, without spoiling their appetite. You may even be referred to a nutritionist, who could better help you figure out what is best for your child.
Get Them Moving
According to the Center for Disease Control, children should have no more than two hours of screen time daily. The CDC also recommends that children should get at least one hour of physical activity each day. This can include anything from playing tag, which gets them running, or jumping rope. Other great physical activities include sports like soccer, basketball, and gymnastics. Anything that keeps them up and moving is great.
Turn The Television Off
Make sure that dinners are eaten together at the dinner table. According to the Harvard School of Public Health, children are at increased risk of overeating when they are in front of the television. This leads to mindless snacking and eating out of boredom. HSPH also recommends that children do not have a television in their room.
Let Them Help Cook
When children are involved in the meal preparation process, they feel like they are a part of what makes dinner special. If you are having a salad, let them help toss it, for example. Have them help wash off any vegetables that you are planning on cooking. Teach them about what they are preparing. Explain to them how important it is to eat a balanced diet of vegetables, fruits, lean meat, and fish. You can teach them how it helps them to grow strong and healthy.
Increase Water, Decrease Juice
Make sure that your child is drinking enough. It is important that they do not get dehydrated. Then they will reach for any drink that they can get their hands on. That is not necessarily a good thing. Always offer up water when they say they are thirsty. Soft drinks have a ton of sugar in them. We all know that. But juices can have just as much sugar in them, if not more. You can always cut the juice by mixing it with half water, and by going with reduced sugar juice. But water should still be the first choice.
Be A Role Model
Children tend to follow what they see. So, if they see us eating junk food, they are going to want to do the same. It is important for us as parents to be a positive role model in our children's lives. If we want our kids to eat healthily, we need to do the same as well. Show them that eating vegetables isn't a bad thing, and eating a balanced meal is healthy. Make it a family affair each day by going outside and taking a walk, or playing around with them. This can help them burn off calories. We can help our children decrease their risk of obesity by helping them out in every aspect of their lives.
Also read: