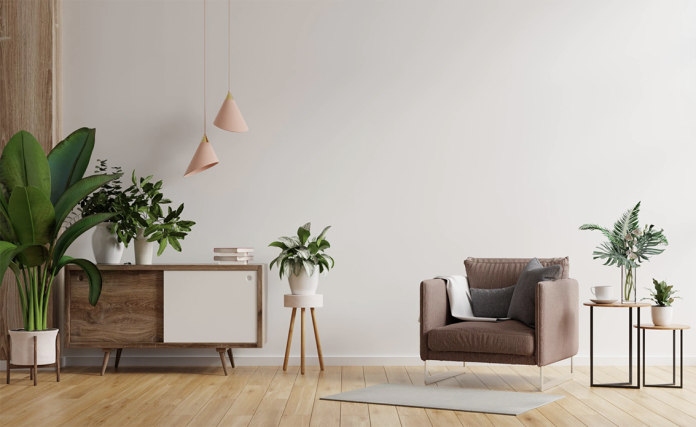 Are you looking to get your room to look larger and more spacious? There's nothing as beautiful as creating a spacious illusion in your room or house. Many people think that it requires a lot of money to do so. However, that's not the case.

This article will explore seven ways that you can use to make your small room appear larger.

1. Paint Your Wall
Paint the wall in your room in a colour that will make it look larger. You can try out crisp white or use neutral colours. You have to be very careful while selecting the wall colour that matches your furniture and style. When you use a crisp white or neutral colour, it will give your room an airy and open visual appeal.

It also makes your kitchen look much larger and more spacious.

2. Install Mirrors with Lamps
You can place mirrors all over the walls in different places and make them reflect light from lamps. This adds more ambience to your room's overall appearance, making it appear larger.

By using mirrors in your space, you can easily double the amount of light in your room, making it appear more significant. The lamps can also be used to highlight different areas in your room without making it appear cluttered.

3. Use Vertical Blinds for Elegant Look
Vertical blinds are available in a wide variety of colours and types, including wood patterns and accordion pleats. You can use them on your windows so that they can reflect light, thus giving the room a bigger look.

If you cannot install vertical blinds, you can use curtains to give your room an elegant look. Curtains are available in different colours, fabrics, and styles. You can choose the one that goes well with your room's interiors and furniture.

4. Add Artificial Plants with Vines to the Window
You can place artificial plants in front of your window, or maybe you can use them as decorations on your dining or kitchen table. We have seen that when people arrange plants in their living space to make them appear larger, they feel more comfortable and relaxed.

People can also become more productive as they end up working with less stress. This happens because having plants in the room can help improve air quality and also help in reducing noise levels. Artificial plants might provide a placebo effect in this case.

5. Personalize Your Home with Paintings and Artwork
There's nothing as beautiful as having paintings in the home. To make your home appear more spacious and cosier, you can always add the 3D paintings of animals, sceneries, mountains, or even of yourself.

Besides the beauty, elegance and personalization, these items make your room seem even larger.

6. Use Glass for Reflection
Becoming smarter with every new generation, nowadays people have started to use glass as an accent rather than just a windowpane. With the reflection, the room will end up looking larger than it actually is. You can revamp the house with reflective glass and use find other uses for the old panes.

Glass is a great way to reflect light, making your room appear more significant.

7. Get Small Apartment Size Furniture
You can still give your room the right look by using small furniture pieces, like those found in tiny apartments. Such pieces are usually much more expensive than those of larger home sizes, but they will surely make your room look larger. You can shop around for apartment size coffee tables and pick the designs that suit you best.

Buying size-appropriate furniture is an excellent way to make your room appear more spacious. It might feel inadequate, but it will surely give your room the illusion of being bigger.

Conclusion
There are many ways of making your rooms appear larger. Some of these methods are easy to implement, but others may require the help of an interior designer. For example, you can easily purchase flowers and smaller furniture.

However, it can be more complicated to install mirrors or paint the walls.