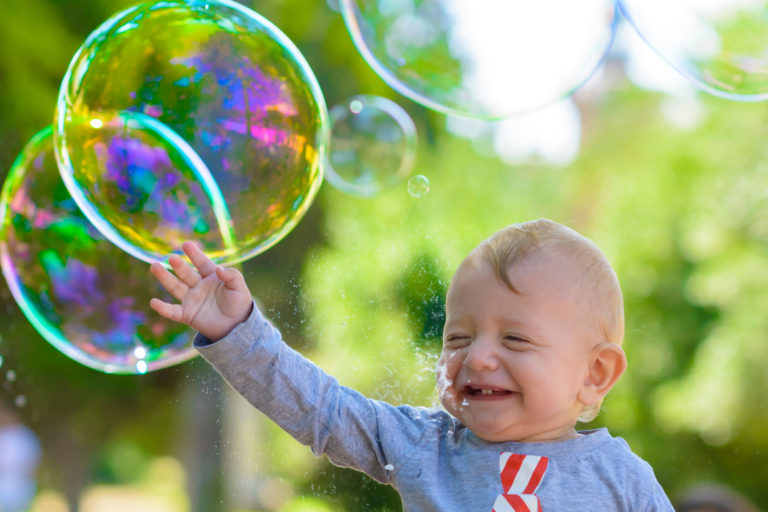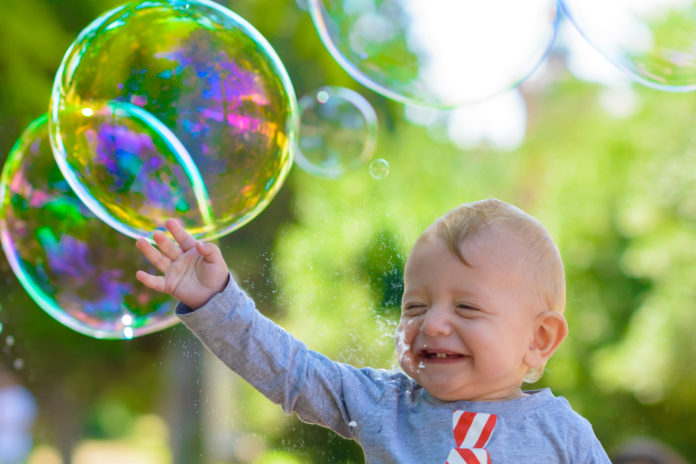 Babies are just about the sweetest little things on Earth. With their adorable smiles, chubby cheeks, and cute little laughs, there is nothing like having a baby in your home. It is so much fun to watch them admire the world around them, see them grow, achieve milestones, and so much more. What's even better is when we get to play with the baby! Here are eight fun games to play with babies!
Little ones already love playing peekaboo! Hide your face around any baby, and they'll laugh at you with a reassuring coo and giggle. But you can take peekaboo up a notch or two. Make sure your baby is seated firmly somewhere, such as a high-chair or a seat, where they can't get hurt.
Now, here is where the fun comes in! Get some silly props, like a silly hat, or some funny glasses, a red nose, anything goes! Have your baby facing you, and then you duck down, put on one of your various disguises, and pop back up! Another version is to take one of your child's favorite toys and a blanket, and put the toy under the eight, discreetly hide it behind you, and, then pull up the blanket, asking your baby "Where'd it go?!"
Splish, splash! There is just something about water, the way it moves, the way it sounds, and the soothing effect that just the sound of it can have on grown-ups as well as little ones. But children adore playing in the water! When it is bath time, it's a great time to interact with your little one and play games with the water. For example, you can give them a cup, and show them how the cup fills up, and then empty it.
Another great way to play with water is when your baby can sit upright on his or her own, lay down a tablecloth and get some pots and pans out, and fill them with various amounts of water. Give them some spoons, sponges, and cups to play with. They will have a ball doing this! Just remember, even with the smallest amount of water, never leave your child alone.
There are so many sights and sounds to take in when you're a baby! Vacuum cleaners here, doors opening and closing there, so it can be pretty fun when baby is allowed to make his or her music. There are so many great ways to do this, too! For example, there is always the good old standby, the pot and the wooden spoon, for a drum, a shaker could be a bottle filled with rice or something similar.
Get creative with it! A paper towel tube can easily become a trumpet for your little one to toot away on! You can make maracas out of egg cartons, jingle bell bracelets, the sky's the limit here! You can start your little family band and take time every day to play around with your new homemade toys; the sounds will stimulate your baby and help them learn at the same time!
4
Bubbles, Bubbles Everywhere!
There is no doubt about it – babies love bubbles! They are simply fascinated with them! Bring your child outside on a nice day, where the sun is shining, and the temperature is nice! Grab all kinds of bubble making equipment – most can be found at local dollar or discount stores, for no more than a few dollars. Then get to blowing bubbles! Watch the joy on your little one's face as they watch them float high into the sky, or if they land near them, see what happens when they pop a bubble for the first time!
This game would be great for a night when baby seems to be in no mood to fall asleep. Grab a flashlight, some toys, your partner and your baby to have some nighttime fun! First, point the torch at a blank wall. Then, have your partner make different shapes with his or her hands. Shadow puppets are a great idea here. For added fun, add the toys in front of the flashlight to make different shapes.
Let's face it, even as adults, we would still love to hide in a giant blanket fort, wouldn't we? That's why these are so fascinating for our little ones! You move all the chairs away from your dining room table and drape a large sheet over it and bring baby under there with you! Perhaps bring a ball with you, too, and let it roll out from under the sheet. Ask baby, "Where'd it go?"
If your baby is a little bit older, you can take the fort to another level and make a short obstacle course for them to play on. Soft pillows, couch cushions, and boxes make for great choices to play with.
This one is sure to be a hit, literally and figuratively! You don't have to hit the lanes to go bowling with baby, all you need are some empty bottles – water bottles, empty yogurt smoothie bottles, just about any bottle would work here, and a small ball is all you need to create a bowling alley in your living room! Set up the "pins," and demonstrate to baby what to do by rolling the ball and knocking down the bottles. Watch as they play and enjoy themselves! Start them early; maybe they'll join a bowling league later in life!
If your baby is of walking age, then they have probably discovered music by now, and have figured out how to move their body along to the music. This is something that can be made into a game! Dance with your baby, and change it up every time you play it with different styles of music and different dance moves! There are certainly more than 8 fun games to play with babies, but these are our favorites!
Also read: