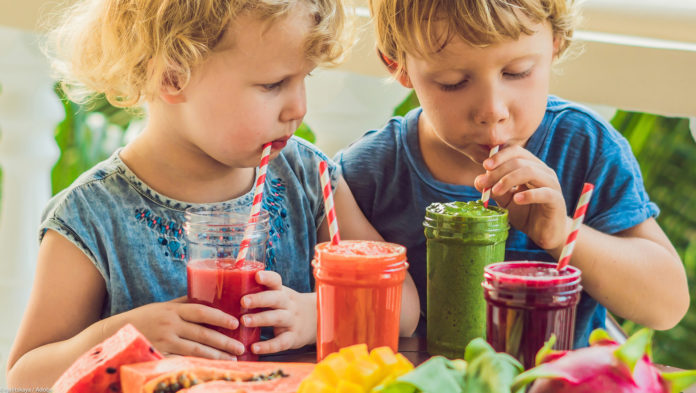 Obesity is a global epidemic.
And it's only getting worse.
But while this isn't much of a surprise to most, it begs the question as to how we, as parents, can help ensure that our kids don't become part of this epidemic.
As a parent of three children, I know how difficult it can be to eat healthy as an individual (let alone help my kids do the same).
But it's something that us parents need to get better at.
One of the easiest ways to quell our children's hunger for junk food is to find healthy snacks for kids that they enjoy.
So, to help you find a few that may be a good fit for your child, let's take a look at this list of the best healthy snacks for kids for every occasion.
Healthy Snacks for Kids You Can Make at Home
When your kids are running around all day, they're going to need a snack or two to give them an energy boost to make it to dinner.
Here are a few easy options that you can prep in 15 minutes or less:
Instant Pot Applesauce
If you have an instant pot, this recipe is super easy and is one of my personal favorites. All you'll need is 4-6 apples, water, cinnamon, and lemon juice.
Strawberry Banana Smoothie
This is another super easy recipe that you can make in 5 minutes or less as long as you have a decent blender. Along with bananas and frozen strawberries, you can also add a cup of protein or nut milk to hold down their appetite for longer.
Ants on a Log
Younger kids absolutely love these and, since it includes peanut butter, it gives them plenty of protein to subdue their appetite. You'll need celery, peanut butter, and either raisins or grapes to make this one work.
Frozen Yogurt Pops
This is my all-time favorite healthy snack for kids because it's incredibly easy to make. All you need is a 4-pack of yogurt (Activia and Yoplait are both great) and some popsicle sticks.
Healthy Snacks for Kids to Take to School
While it's easy to find a list of healthy snacks for kids that you can make and eat at home, it becomes a bit tougher when they're taking them to school to eat later.
Here's a few of the easiest to make healthy school snacks for kids:
Cut Up Fruit
This one may seem too obvious but, with all the different types of fruits out there, there's bound to be at least 1-2 that your child enjoys. Just be sure to pack it in an air-tight Tupperware container to prevent browning.
Banana Franks
This recipe includes a hotdog bun, banana, and peanut butter. All you do is split the hotdog bun in half, along with the banana, and spread peanut butter (or sunflower butter) on the sides. As weird as this recipe may sound, it's delicious.
Cereal Trail Mix
This is an easy recipe that you can change up based on your child's favorite foods. Some ideas of potential items to include are whole grain cereal, almonds, cashews, peanuts, low-fat granola, dried fruits, pumpkin seeds, etc.
Healthy Holiday Snacks for Kids
For most of us, attempting to eat healthy over the holidays is a losing cause.
But, since our children are already going to be overwhelmed with loads of sweets during family visits and trips, keeping their snacks healthy is a good idea.
Here are a few ideas to help with that:
● Grinch Fruit Kabobs. If you celebrate Christmas, you can't beat this holiday snack. All you'll need to make it work is green grapes, strawberries, bananas, mini marshmallows, and toothpicks. The result is a holiday snack that shares a shocking resemblance to the Grinch.
Strawberry Cheesecake Santas
This is another Christmas snack that is tasty, easy to make, and healthy. To make it work, you'll need cream cheese (low-fat works), strawberries, and mini Hershey kisses for the eyes.
Hopefully, this list of healthy snacks for kids answered that question for you and gave you a few easy-to-make snack ideas that your kids will love.
Finding food that all of your kids love is a huge challenge for every parent.
Finding food that is also healthy is even a bigger challenge.
But, as parents, we must do everything in our power to help our children develop positive diet habits for the future.
I wish you the best of luck as we work together to solve the global obesity epidemic and help our kids eat as healthy as possible.