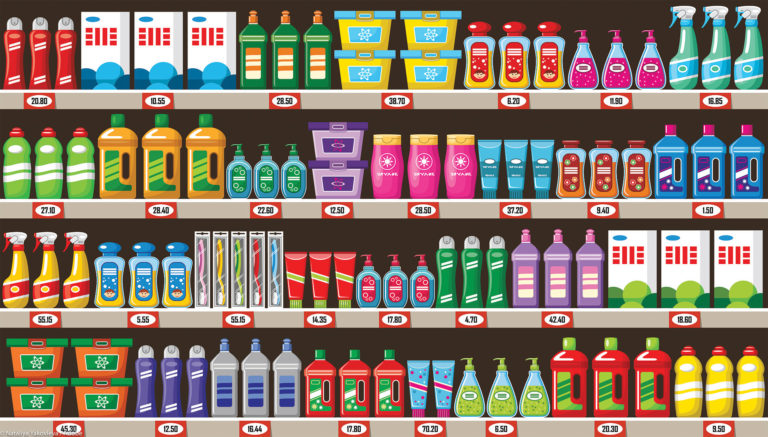 Have you ever taken a minute to look at the ingredients in your regular household cleaners? Probably not. None of us think to check things like that because we just want a clean house.
Plus when it smells like bleach and cleaner that MEANS it's clean, right?
But what about families with small children and babies who are quite curious kittens? There's really only so much we can do to baby proof our house before the little sneaks learn how to navigate the baby proofing system themselves.
So what can we do to protect our littles from unhealthy chemicals? Switching to non-toxic cleaners is a good start.
Why Make the Switch?
There are plenty of benefits that come with switching over to non-toxic cleaning, but perhaps the most notable is reducing the number of toxins in your house. Whether you're a parent or not, this is something we should all be conscious about.
Chemicals in most household cleaning products are known to have ingredients that irritate the eyes and throat. Some release volatile organic compounds (VOCs) which pollute the air and can cause issues in your body.
VOCs are a significant cause of chronic respiratory problems, headaches, and allergies and can be found in almost every big name cleaning product on the market right now.
Non-Toxic Cleaners Work Just The Same
As it turns out, your house doesn't need to smell like fresh bleach for it to be clean. A widespread misconception I know we've all had at one time or another is that to have a clean house; we need to use strong chemicals to kill off germs.
Experts have said that harsh cleaners don't work any better than green cleaners (source).
Non-Toxic Cleaners Cost Much Less
Many people also think that going "natural" is more expensive, but this isn't the case here at all. As long as you have baking soda, white vinegar, lemons, castile soap, and coconut oil, then you're all set (source).
Most non-toxic/green cleaning alternatives require these ingredients mixed with water and other similar products can be purchased for really cheap at any grocery store.
Non-Toxic Cleaners Keep Your Air Clean
Because you aren't releasing toxins in the air from regular cleaners anymore, your air is naturally going to clean itself out, and the air in your home will gradually get fresher and fresher as time passes.
According to the Environmental Protection Agency (EPA), concentrations of pollutants are 2 to 5 times higher indoors than they are outdoors (source). This makes sense considering it's a more closed space and the air doesn't really have anywhere else to go.
Non-Toxic Cleaners Are Better For The Environment
Not only can toxic chemicals from everyday cleaners harm you and your family's health, but it affects our environment too. When you're cleaning, think about where all of that cleaner is going. Down the drain, right?
Those washed away chemicals don't just disappear when you rinse out your sponges and cloths. It goes back into the water supply, which then affects any living being that relies on water to drink.
Some toxins have been proven to be what scientists call "endocrine disruptors," which means they cause reproductive issues. So any animal that is drinking the untreated water is at risk of not being able to reproduce (source).
It seems small scale right now, but everything adds up over time, and it can have detrimental effects on the ecosystem.
Non-Toxic Alternatives
Are you sold on making the switch yet? Maybe you're feeling a little overwhelmed. I mean how can there possibly be a greener alternative to the cleaning products you've been using for years?
And honestly, who even has the time to make their own cleaners?
These are some tried and true alternative brands that are sure to impress.
Seventh Generation
This is one that can easily be spotted at just about any large chain grocery store near you which is super convenient. Seventh Generation offers a wide variety of products ranging from cleaning supplies to feminine products and even baby care items too.
I love this brand specifically because it's non-toxic and eco-friendly and I can buy just about every type of cleaner I need with them.
ECOS
ECOS offers a variety of products and can be found at just about any health food store near you. I like this brand because along with regular cleaning products, they also offer a line of products for pet care.
Better Life
This brand can be found at most health food stores, and they also offer a slew of products for different purposes. They're also really affordable which is a major plus considering the cost of other brands out there that offer virtually the same thing.
Molly's Suds
If you're looking for a greener alternative to your laundry routine, this brand has a ton of good reviews. They sell laundry powder, sweater wash, and just about any other laundry product you can think of.
Plus they're environmentally friendly and fragrance-free, so that's a major plus.
Green Cleaning is Good Cleaning
See, it's not nearly as intimidating as it seems, is it? Now that you know more about green cleaning, you can make the conscious decision to rid your house of toxins and have a healthier, happier home.
I'm not perfect by any means, and I'm still learning what products are better than others but I like using Seventh Generation products.
We're big fans of Target, big surprise there, so the fact that I can easily pick up more SG products while I'm there is super convenient especially when I'm in a hurry.
What are your thoughts on green cleaning? Yea or nay?
I want to hear it all.
Also read: