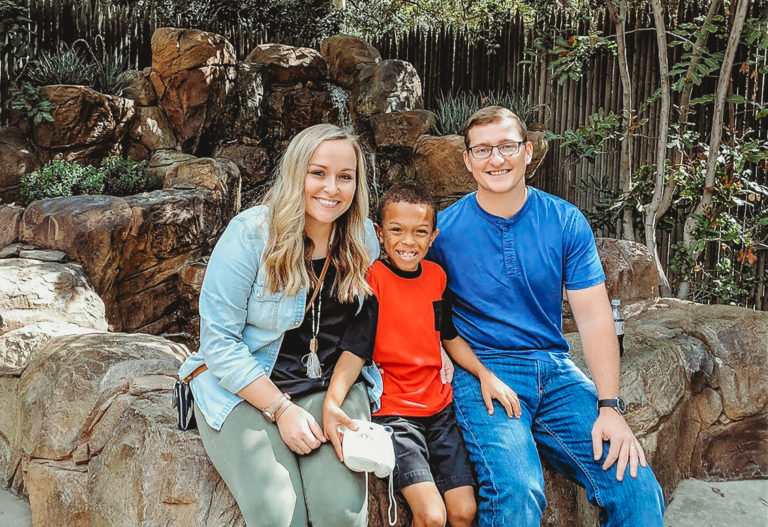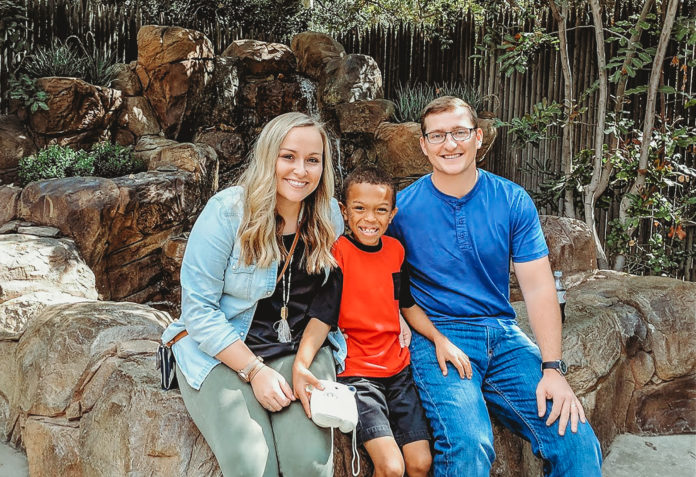 We are the Cowley Family.
It began with just me and my husband, Justin. We knew when we started dating that adoption was something that would be in our future.
We got married in college and began our careers after graduation. After three years, we prayed through the details of our adoption before we put an application in.
We decided two things. We were open to any race and we wanted the child to be considered "older" because we knew that children have a harder time getting adopted after age six.
Because we were so young, we decided a child aged eight and under would be more appropriate for our family, but we were aiming for the upper range of that (six-eight).
We intended to go through the state system to adopt a child that is in sole custody of the state. Doors were just not opening there, but we continued pursuing this avenue for six months.
When we saw Noah's face, we knew, immediately, that is our son
Then we heard about the charity, Second Chances. As heartbreaking as it is, some children need new homes after their original adoption. There are various reasons it might occur, but what compelled us both to this process was that God gives us continued chances and sometimes these kids need a fresh start.
We began reviewing children in this program and when we saw Noah's face, we knew, immediately, that was our son. He was eight years old and had the biggest smile in every picture.
To our surprise, even though we were young, we were selected to adopt him. We knew pursuing this type of adoption (it is called disruption) would come with its unique challenges, but we read, asked questions, prayed, and decided that this was indeed the path we were willing to walk to give our son a new home that he could feel secure in.
We met our son in September 2017.
He was excited, scared, and confused all at the same time. Three days later, at the age of eight, he was having to transition to a new home. His original adoptive family adopted him at birth and he just was not thriving there. His adoption story is not a neatly wrapped present with a bright bow on top.
Instead, it is messy. There are missing pieces of wrapping paper and the bow is often ripped off from the very start.
Adoption isn't about us, the parents. It's about the child that needs to feel secure, loved, and complete in a family. We hopped on a plane to head across the country to our home in Tennessee.
He came with baggage and scars
Our honeymoon stage officially ended about a week after returning home. Our son was starting to realize and soak up the shocking change that was taking place in his life. He often asked us when he could go back to his first family or when his next adoption was going to be.
He came with baggage and scars. His questions were gut-wrenching and, honestly, some were impossible to answer. No matter how much reassurance and attachment therapy we gave him, his trust took time to gain.
There are a lot of people that are scared of adoption for this reason. It has been a year since we first met our son and thankfully trust is being gained and he is thriving. When he first moved here he had a lot of emotional regulation issues, eating problems, and severe anxiety.
He will ask if my life is harder with him
He's now graduated from a school behavior program and is in class full time with his peers. He eats like a champ and is making a few friends.
Transitions are still a struggle and he often worries more than necessary. Moments of sadness and confusion still occur. He will ask if my life is harder with him or if I wish he were different. I respond, often with tears in my eyes, that raising a child can be difficult but that it's always worth it.
He will tell us he has messed up too much in his life to get better. Those are opportunities for us to share that mistakes are normal and that life is hard, but he is our son no matter what.
He has had so much rejection in his short span of life. He is worth every worry-filled, sleepless night. Just because something is hard doesn't make it not worth it.
He puts every ounce of energy he has into his hugs
We tell him that loving him is incredibly easy because Daddy and I prayed for him before we even knew his name. I tell him he makes our lives better. And because of him, our lives are ten times more beautiful than we could have ever imagined. He brings us joy.
Honestly, he brings most people around him joy. He is the most determined person I know. He puts every ounce of energy he has into his hugs, forgives others quickly and feels deeply for others hurts. Most importantly, he feels more confident in who he is.
He often says, "We are the Cowley family and we are proud of it!" He tells people his story when they ask. It might sound odd to others, but my favorite phrase he uses to describe us is, "My parents are stuck with me forever and EVER!"
He is right. There is no chance we would ever let him go.
Also read:
If people would like to help sponsor a child like Noah, they can donate to:
Second Chances Adoption
Wasatch International Adoptions
1140 36th Street #204
Ogden, Utah 84403
Website:https://wiaa.org/2nd-chance-adoption/