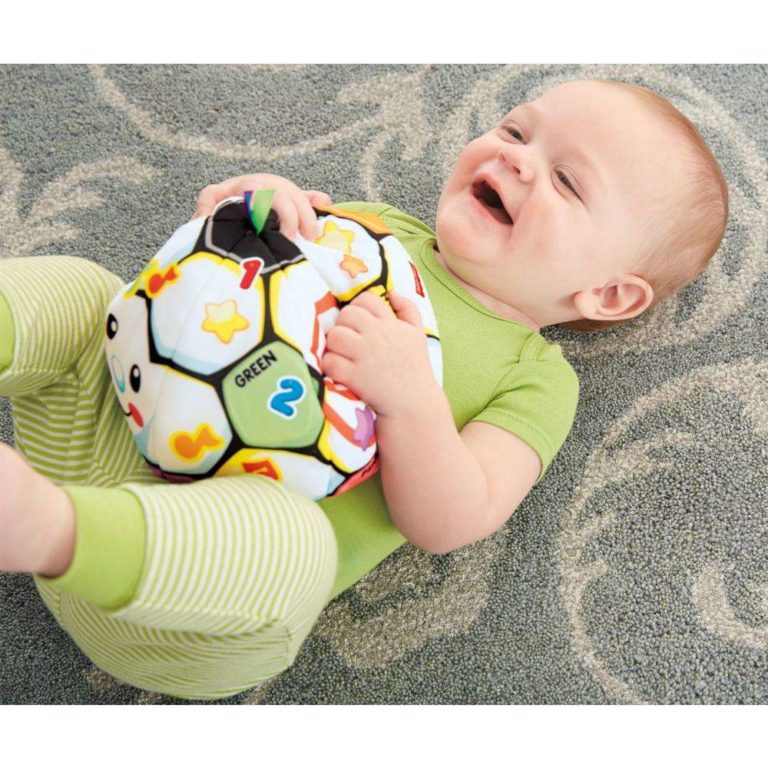 Friendly, colourful and offering a wealth of activities, the Singin' Soccer Ball is bound to become one of your baby's favourite toys.
Just as you'd expect from Fisher-Price, this addition to the Laugh & Learn range is well thought out and beautifully designed. Not that your little one will care about that – they'll just fall in love with its many features.
This cheerful, friendly-looking plush ball will teach them about numbers, colours, counting, opposites and much more. With every press, shake or roll they'll hear songs, phrases and sounds to help them develop essential skills and grow their self-confidence.
Learning through active play
Rolling the ball will encourage them to crawl after it – then they'll roll it again to hear more. It's soft and easy for little hands to grasp, and parents will appreciate knowing it's also machine-washable once the batteries are removed!
Fisher-Price is renowned for toys that help babies and children learn through active play, and the Laugh & Learn Singin' Soccer Ball is no exception. Simple enough for them to understand but challenging enough to keep them interested, once you've shown your child what it can do they'll be entranced.
There are three interactive play modes – Learning, Music and Imagination, and there's also a volume control for those times when you need quiet play.
Loved by all ages
"This toy is a hit! I bought it as a gift for my one-year-old daughter and as soon as she opened it her 18-month-old cousin took off with it!" reports one parent. "Since then, every cousin and friend who comes over has to have a turn. Of all the noise-making toys we've had, this is one of my favourites. The songs and phrases are pleasant and varied enough that you don't get sick of them. And when you do want quiet, the sound switch is easily accessible (to adults – clever design) and the ball is still engaging and fun. I've rarely seen a toy appeal to so many age levels (one to six in our house) and be pleasing to parents as well."
"I love this," says another reviewer. "My eight-month-old chases it and dances to the music, and my toddler loves it too. My favourite part, though, is that it's washable. I pull out the electronic bit inside and throw in the washing machine. How cool is that?"
A third adds: "This is such a fun way to interact with your child as they learn. It's colourful and keeps their attention, and it's fun enough to keep you interested too and give you some delightful time together. You play, sing and laugh together – it's a great learning experience and well worth the money."
The Fisher Price Laugh & Learn Singin' Soccer Ball costs from £26 and is available from Amazon. Click here to order yours.