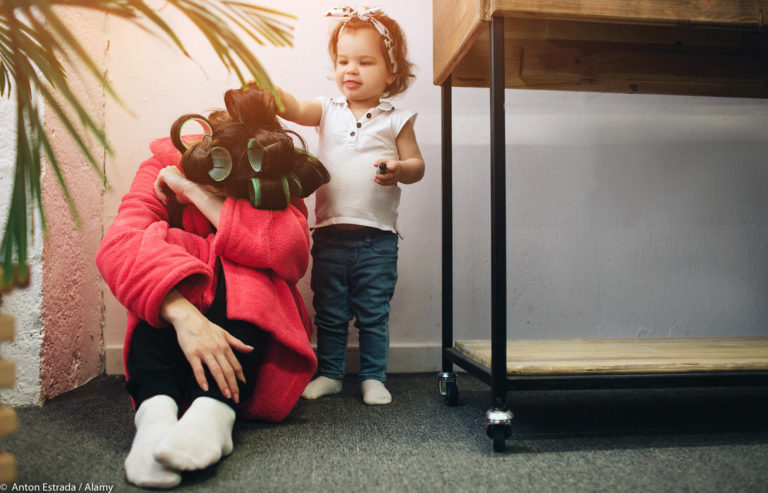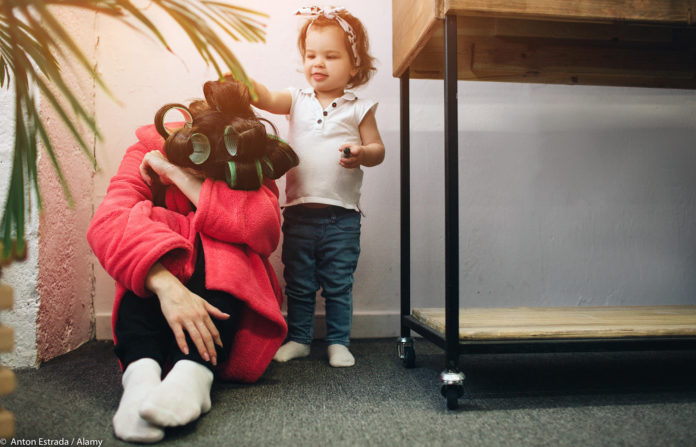 It doesn't matter whether life as a new mum is harder than you expected, or if everything is rosy. Post-natal depression is more common than you might think – it affects more than 10% of mums in the UK alone. It's important to seek help – but even then, says 25-year-old Tracey, from Lincoln, getting through the day can seem like an impossible task.
"I was really looking forward to being a mum, but I felt totally overwhelmed once my daughter arrived. I've been diagnosed with post-natal depression and I'm on medication, but it's such a struggle to get through each day and I also feel I'm struggling to bond with my little girl. If anyone has any suggestions to help, I'd really appreciate them."
Zoe Waite – Pink Mole
Zoe Waite started her blog to give an honest insight into first-time motherhood. She lives with her family in Stoke-on-Trent, UK, and is currently pregnant with her second child. You can find her at Pink Mole or on Facebook, Instagram, Twitter and YouTube.
Zoe Waite, pinkmole.co.uk: It's a situation Zoe can sympathise with – and finding a parent-and-baby class helped her.
"I was questioning, 'What have I done?' My life seemed so perfect before having a baby. It does get better. I can't tell you when, but there will be a day when you turn a corner.
"I began to attend a baby sensory class, and for me it changed my thoughts. It gave me a new routine to follow, and I had fun choosing which outfits my baby girl would wear each time. Nobody judged me – if my daughter screamed for the whole session, nobody thought any less of us. Sometimes we'd all rant to each other about how hard motherhood could be, and watching my daughter develop helped me bond with her – I was so proud!
"Don't get me wrong – there are days when you'll still feel like it's all too much. But that's ok – it doesn't make you a bad mum."
Jessica Baxter – Real Home Truths
Jessica is an experienced writer and editor living in Cape Town, South Africa, where her two toddlers provide all the inspiration she needs for her blog. She enjoys sharing her no-filter views and experiences of motherhood – both the mess and the magic. You can read more at Real Home Truths or find her on Instagram as @realhometruths.
Keep talking and lean on your support network, says Jessica, who also experienced some tough times.
"While I was never diagnosed, I do think I experienced it to some degree. My son had to be in the NICU for about a week after he was born, and his early arrival, and having to leave the hospital without him, set me off on an emotional roller-coaster. That, coupled with the fact I had a 16-month-old at home, made the first few months really tough.
"My advice is to keep talking – to friends, family and professionals. Sometimes, having someone who is outside the situation helps you gain new perspective and helps you feel supported. And remember to be gentle with yourself – motherhood is tough. You'll get through this and you'll be stronger for it.
Kimberly Stanfel – Behind the Mom Jeans
Kimberly is a seasoned marketing professional who turned a few of her 'curve balls' in life into something positive by creating her platform, Behind the Mom Jeans. A blog that speaks to the everyday truths of being a new mom, wife and human being. You can read more at Behind the mom jeans or find her on Instagram as @behindmomjeans.
It's hard for people to understand what you're going through unless they've experienced it, says Kim, but it's important to remember you're not alone. She also recommends professional support.
"Your struggles and feelings are very common, and it's something I fought with too. I felt I was the only person in the world who felt the way I did or had these emotions. So I stayed quiet and continued to feel bad about myself in silence – for no reason.
"Emotions like this can spiral when you don't understand them. Join local mom groups on Facebook to get to know other mothers in your area or find a counsellor who specialises in post-partum that you can speak with, even if it's only once a month. Learning about and talking through your emotions will be a game-changer."
Danielle – My Life with Littles
A wife and mother to two children, Isabella and Henley, Danielle is chronicling her journey on Instagram. She's passionate about raising awareness of mental health as well as covering all things mum and baby related. You can find her at @danielle_andlittles.
Make time for yourself, advises Danielle, and don't force your feelings.
"Please take time for you – you're still important. Make plans and have things that you can look forward to doing with your little girl. My husband had the same problem with our daughter, and his advice is to try not to keep thinking about your bond. Just spend time together, be there for her, take photos to capture all your memories. One day, you'll wake up and realise you can't imagine your life without her in it."
Laura Thompson – The New Mummy
Laura is a full-time mum to her one-year-old daughter, Charlotte. She believes in being honest about parenting and is passionate about individual families doing what is best for their needs. She's a keen advocate of good mental health and helping others speak out about their issues or how they feel. You can find her on Facebook or Instagram as @thenewmummy or head over to her blog at https://thenewmummy.co.uk
Believe you're doing better than you think you are, says Laura.
"You're doing an incredible job. If you find you're struggling, get back in touch with your doctor or health visitor – they'll be able to support you or signpost you to other resources that can help if you need them. Do talk to them and tell them how you're feeling – they're there to help."
Do you have a question for our panel? Click here.
Also read: