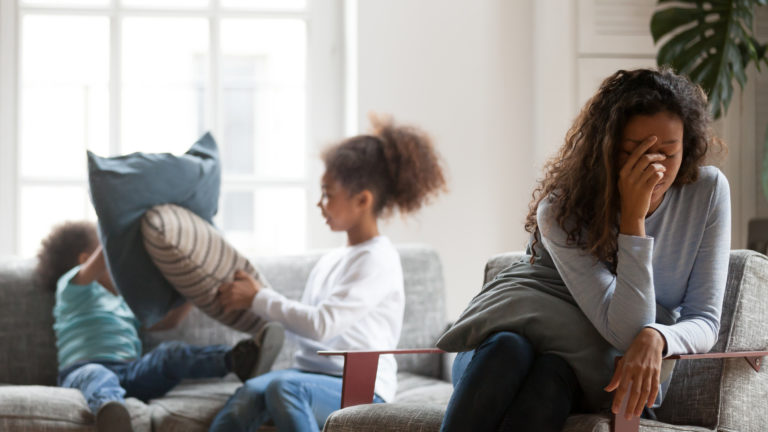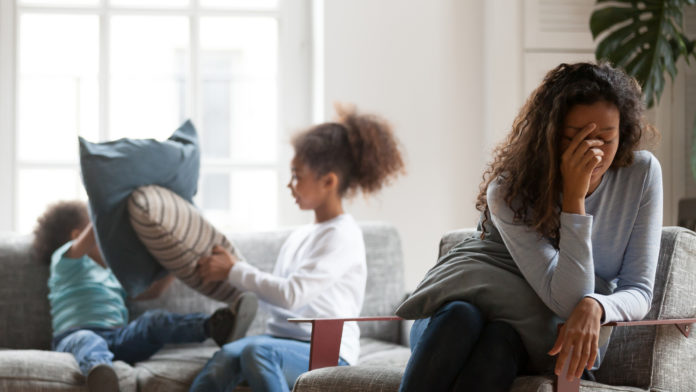 There's no doubt you love your baby, but if you're new to being a stay-at-home mum then you'd be forgiven for finding it a bit isolating.
Joanna, 28, was used to constant company in her London office job, as well as a busy social life – she's finding motherhood a bit of a shock.
"I'm a stay-at-home mum to a gorgeous three-month-old boy," she says. "My husband works away a lot and not many of my friends have kids. I'm pretty lonely and it's making me miserable. Any ideas on how I can get out of this rut?"
Over to our panel of parents…
Kimberly Stanfel – Behind the Mom Jeans
Kimberly is a seasoned marketing professional who turned a few of her 'curve balls' in life into something positive by creating her platform, Behind the Mom Jeans. A blog that speaks to the everyday truths of being a new mom, wife and human being. You can read more at Behind the mom jeans or find her on Instagram as @behindmomjeans.
Being proactive is the key to overcoming this kind of loneliness, believes Kim. She suggests setting a schedule can help, as well as seeking out company.
"Try scheduling each activity for the day. If your won wakes up at 7am, make it feeding at 7.15am, tummy-time at 7.30am, swing time at 8am. Structure can really help," she says. "Also, plan to leave the house every day – even if it's just for a walk around the block."
Communication is also important – both at home and out of it.
"Research local mom groups, even if they're just online – for example, on Facebook. Talking to other moms and putting your emotions in writing to others who are or have been going through the same experience is very therapeutic.
"Also, make sure you're communicating your emotions to your husband. It might be hard for him to truly understand what you're feeling, or to help, but having someone close to you understand you're not feeling like the best version of yourself can still help in little ways.
"Finally, be productive during baby's nap times. Most people will tell you to 'sleep when they sleep', but some people can't. I always felt it was important to catch up on the things I was falling behind on, whether it was a simple text or call to a friend, or making sure holiday gifts were ordered."A
Familia de Iturmendi – Parenthood4Ever
Familia de Iturmendi is an expat family constantly moving around the world while raising a child. Since becoming parents, they realized the truth of the phrase 'Parenthood4Ever', so they decided to motivate and support other young families and travellers with kids by sharing their experience and crazy stories. Moving around so much leaves little time to build long-lasting relationships so the family loves social media – you can find them at Parenthood4Ever, on Instagram as @parenthood4ever_ or on Facebook.
It's time to get social, says Ana. Put yourself out there to meet other parents so you can share experiences and enjoy each other's company.
"Go out! It can be to a kid-friendly café, a park, a playground or the funfair. Choose somewhere with a high concentration of parents and interact with them – even exchanging one brief comment will brighten your day. And soon you'll find random people you encounter can actually give valuable advice.
"Socialise your baby from the start. Visit children's centres and attend baby meet-ups. In London, for example, each borough council tends to list them on their website. I've tried courses for my baby including yoga, massage, singing and stay & play, and some for myself, such as fitness sessions. They're often free, and are a great way to engage with other parents."
Technology makes it easier to connect, too.
"Apps such as Hoop or Mush are a must-to-use if you're new in the area – they make it easy to find like-minded mums near you and find activities for your baby. Use Facebook groups too – add a couple of mom or parenting ones daily. There are so many interesting questions every day that other moms can assist with, and most are willing to share their experiences."
Danielle – My Life with Littles
A wife and mother to two children, Isabella and Henley, Danielle is chronicling her journey on Instagram. She's passionate about raising awareness of mental health as well as covering all things mum and baby related. You can find her at @danielle_andlittles.
Seeking out local mum-and-baby groups is Danielle's suggestion – as well as planning to see friends even when they don't have kids themselves.
"A local mum and baby group can be a great way to meet likeminded mums. It might feel scary at first, but you'll meet other mothers who probably feel very much like you do. Motherhood can be overwhelming, so it's important to have people you can relate to and spend time with them.
"But I find going out with friends who don't have kids so refreshing too, as they can help me with my little ones. It might be worth planning a day out with those friends – I'm sure they'd be happy to spend time with you and your little boy, and it also gives you adult conversation and a helping hand."L
Laura Thompson – The New Mummy
Laura is a full-time mum to her one-year-old daughter, Charlotte. She believes in being honest about parenting and is passionate about individual families doing what is best for their needs. She's a keen advocate of good mental health and helping others speak out about their issues or how they feel. You can find her on Facebook or Instagram as @thenewmummy or head over to her blog at https://thenewmummy.co.uk
Get out and about and find other mums just like you, says Laura – there are a lot of them!
"I found baby classes were a good way to meet new friends, but if they're not your thing then maybe there's a local playgroup or café where mums meet up. There also seems to be an increase in post-natal fitness groups too, and you can usually take your baby.
"Technology also means you've got more options – there are some great apps available that will connect you to other new mums, such as Peanut and Mush."J
Jessica Baxter – Real Home Truths
Jessica is an experienced writer and editor living in Cape Town, South Africa, where her two toddlers provide all the inspiration she needs for her blog. She enjoys sharing her no-filter views and experiences of motherhood – both the mess and the magic. You can read more at Real Home Truths or find her on Instagram as @realhometruths.
Jessica says having no support when you've got a new baby is really tough – and finding company is vital.
"I know having family around when I became a mom for the first time helped me stay sane – well, as sane as can be expected! My advice would be to join a mommy group in your area and make plans with other new moms – even if you don't know them that well. You might find you have lots in common!
Meet up for coffee or plan to go for a walk with the babies in their prams, or arrange a group playdate. Finding other women in the same situation will help you feel less alone, and you might make some really great new friends."A
Amber DeAnn Rojas
Amber DeAnn Rojas was born and raised in Texas, US, and married her husband Fernando, who is from Honduras, 12 years ago. She describes herself as 'a Jesus-lovin', holistic, natural-minded, oil-rubbin', wine-drinking mama of five' and says although her family is loud and busy, she wouldn't change it for the world. You can find her on Instagram as @justwhenyouthinkshesdown.
As someone who experienced a similar situation, Amber can sympathise. She says it's important to remember your own happiness matters.
"A happy mom is better for the baby in the end. I always found that if I played music or went for a walk outside, I'd always be in a better mood. I'd also search for local mom groups to see if you can arrange meet-ups. That's a great way to find people going through the same thing and a great outlet for you and your baby.
"Where we live, they have mom-and-baby yoga as well as story time. Getting out of the house sometimes just makes the day so much better than staying closed up at home, so make the effort whenever you can."Y
Yocana Salete Okonwo – MummyYoYo
As a full-time mum to son Zayne and daughter Cataleya, Yocana's mission is to be transparent about family life. By sharing her stories and experiences, she hopes to comfort mothers who might be struggling and inspire them to keep following their dreams. You can find her at Mummy YoYo, on Instagram as @mummyyoyo, on Facebook and on Pinterest.
Finding mother-and-baby groups to attend is one of the best things you could do, says Yocana – another mum who exactly understands how Joanna feels.
"You'll get to meet other mums and make real friendships because they are probably going through the same thing. Also, find things that you love doing – like maybe starting a blog if you enjoy writing, or sewing if that's something you've always thought you'd like to try. This will make you stop focusing solely on the baby and help you find fun things to do – and maybe a new passion!"
Do you have a question for our panel? Click here.
Also read: