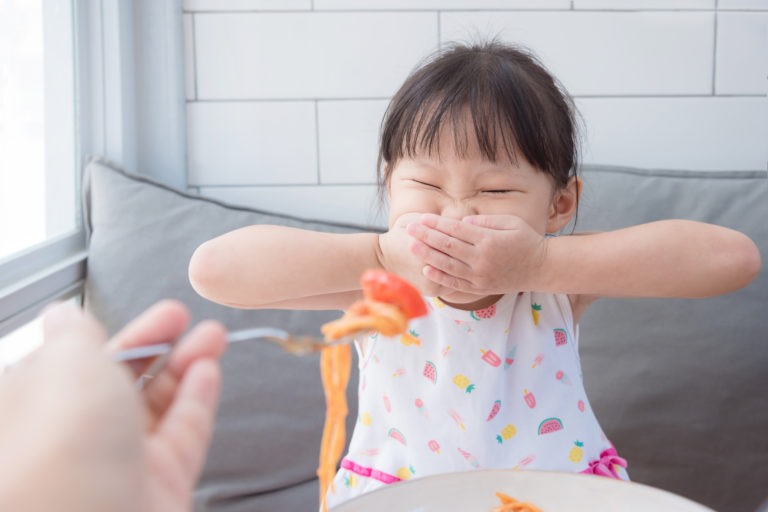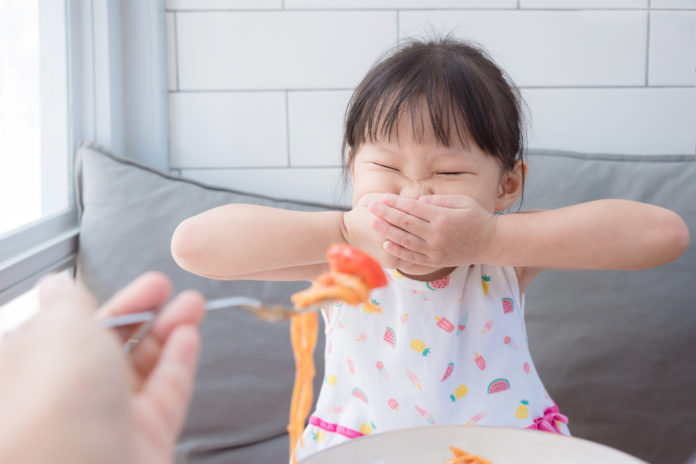 Our children's diets are a major source of anxiety for many parents. How do we get them to try new foods or eat healthy meals, rather than insisting on having chip-and-ketchup sandwiches?
It's certainly a stressful issue for Lisa, a 35-year-old graphic designer who lives in Guildford, Surrey, who asks:
"How can I stop my kids being so picky about food? (I've got three, aged two to eight.) I've read I shouldn't give in and cook everyone separate meals – and to be honest I don't have time to do that – but I'm worried they're not eating enough or getting the right nutrients. Help!"
Over to our panel of helpful parents…
Katie & Christina – The Baileys
Katie and Christina are a girl-meets-girl love story. After falling in love and getting married, they have two daughters through reciprocal IVF. They love to travel and want their girls to see as much of the world as possible. You can follow their adventures on Instagram at @babybaileymamadrama and YouTube.
Currently finding themselves in the same boat with their three-year-old, Kennedy, the couple have discovered several solutions.
"We've done variations on Kennedy's favourite foods. For example, she loves pizza – so we started making broccoli-cauliflower crust pizza. Pasta is another favourite, so we started adding nutritional yeast just like you would Parmesan cheese. It sometimes takes a few tries to introduce, but it's been successful so far.
"Our youngest is the exact opposite and will literally eat anything, so we feel it just depends on the kids – or maybe it's plain luck!"
Familia de Iturmendi – Parenthood4Ever
Familia de Iturmendi is an expat family constantly moving around the world while raising a child. Since becoming parents, they realized the truth of the phrase 'Parenthood4Ever', so they decided to motivate and support other young families and travellers with kids by sharing their experience and crazy stories. Moving around so much leaves little time to build long-lasting relationships so the family loves social media – you can find them at Parenthood4Ever, on Instagram as @parenthood4ever_ or on Facebook.
Ana says that as children go through lots of different stages each month, we can't always understand what's going on in their bodies. They might not want to eat because they feel unwell or about to start teething, for example. She has four tips for encouraging a child to eat well but says it's important to make sure they know who's in charge.
"If they feel you can be controlled, you will be. No parent likes their child to cry, but it's important to show them who's boss. It's important to follow these guidelines:
Don't insist on food. Trust me, no child will starve themselves to death – but insisting they eat something may mean they refuse it.
Don't confuse your child by offering a variety of foods at once. A typical mistake is to say ok, if he didn't eat the chicken with broccoli, I'll offer him some banana instead.
Remember children don't automatically know what tastes best – their preferences will be built on the food you provide for them.
If your child refuses to eat something, offer him the same food a bit later, and then a bit later again if you have to.
Cook something your child really likes best, and little by little add something he or she doesn't like to eat too much."
Danielle – My Life with Littles
A wife and mother to two children, Isabella and Henley, Danielle is chronicling her journey on Instagram. She's passionate about raising awareness of mental health as well as covering all things mum and baby related. You can find her at @danielle_andlittles.
Keep it simple, is Danielle's advice – if you're really worried, use a couple of tricks so your kids don't even know they're eating the good stuff.
"The best way to manage this is by hiding vegetables. If you make a pasta sauce, just blend vegetables such as carrots, peas and spinach into it. Pour it over the pasta and they won't even know. You can also do this for any type of sauce, casserole or curry. If you cook a roast dinner, you can even blend vegetables into the gravy.
"It really does work. The children are happy, and you know they're eating their vegetables – even if they don't."
Jessica Baxter – Real Home Truths
Jessica is an experienced writer and editor living in Cape Town, South Africa, where her two toddlers provide all the inspiration she needs for her blog. She enjoys sharing her no-filter views and experiences of motherhood – both the mess and the magic. You can read more at Real Home Truths or find her on Instagram as @realhometruths.
With a son who could also be described as a 'picky eater', Jessica says she can sympathise – and offer some first-hand tips.
"My daughter loves her food and isn't fussy at all, but my son often doesn't want what's on offer or simply doesn't eat much of it and inevitably wakes up hungry! I think you need to find the balance between setting boundaries (which kids thrive on) and giving in.
"Make dinner for the family, ensuring you always cook at least one thing your kids enjoy so there's something on the plate they will eat, and then insist they at least try the rest. If they refuse, incentivise it for them – 'If you try a few bites, you can have that pudding after dinner.'
"Of course, you don't want to get into a habit of rewarding them with treats for eating their veggies, but it might be a good starting point. You could also get your older child involved in the cooking process which might make it fun and encourage him or her to want to eat the meal they made."
Yocana Salete Okonwo – MummyYoYo
As a full-time mum to son Zayne and daughter Cataleya, Yocana's mission is to be transparent about family life. By sharing her stories and experiences, she hopes to comfort mothers who might be struggling and inspire them to keep following their dreams. You can find her at Mummy YoYo, on Instagram as @mummyyoyo, on Facebook and on Pinterest.
After facing her own trials with children and food, Yocana agrees nobody should be cooking separate meals.
"Start involving them in making some easy foods. They'll enjoy cooking with you, and also get them involved when you buy the ingredients. Limit the number of snacks you give them during the day, as the hungrier they are, the more likely they are to eat what you cook," she says.
"Keep offering the things they reject but add something new on the plate. Making colourful food sometimes helps my kids want to try it. There's also nothing wrong if they want to add a bit of mayonnaise – my son and daughter absolutely love it with cucumbers and carrots as snacks!"
Yocana advises parents not to worry too much about mealtimes, too.
"Don't stress – even though they aren't eating a lot, they are eating something. Kids love to see us frustrated so the more you tell them to eat, it becomes a battle and they refuse. I had moments when my kids would just around the table – they loved seeing me get wound up! Once I stopped giving them attention and left them to it, they started eating. So don't beat yourself up about it – they will change eventually!"
Do you have a question for our panel? Click here.
Also read: