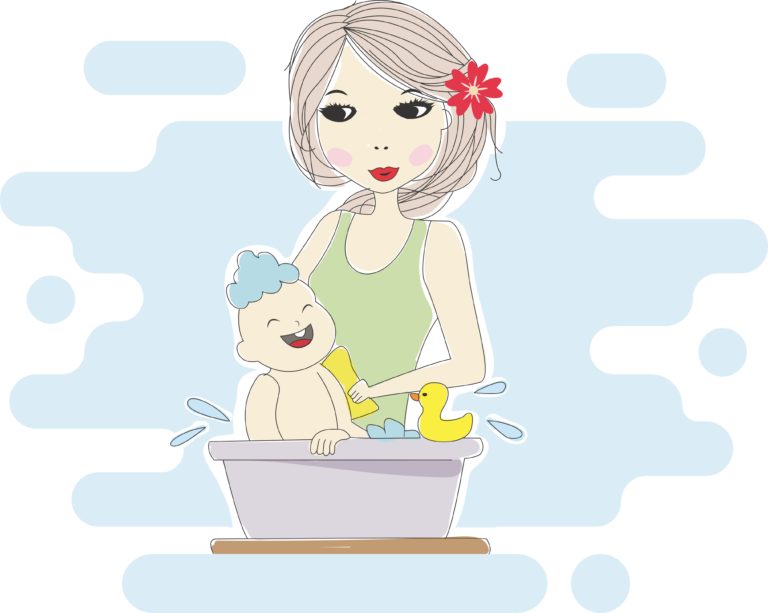 When you think of baby's bath time, the image that comes to mind is of a cooing, smiling infant, a laughing parent, and lots of bubbles. The reality is that many of us struggle as we try to clean our tiny, wriggling bundles, especially in the very early days. If that's you, then take comfort in knowing you're not alone – as Gemma, of London, UK, can testify.
"This might sound silly, but I find it really hard to bath my baby son, who's a month old. He cries and wriggles quite a lot and I'm worried about hurting him if I hold him too firmly. We've got one of those over-bath baby baths but I'm wondering whether it might actually be easier to just use the kitchen sink for now! Any bath time tips would be appreciated."
Kimberly Stanfel – Behind the Mom Jeans
Kimberly is a seasoned marketing professional who turned a few of her 'curve balls' in life into something positive by creating her platform, Behind the Mom Jeans. A blog that speaks to the everyday truths of being a new mom, wife and human being. You can read more at Behind the mom jeans or find her on Instagram as @behindmomjeans.
Kim agrees using the sink is a good option that will help you feel more confident.
"Bath time can be a seriously scary time. When they are that little, the bathtub is hard because you don't feel like you have control. I used the kitchen sink, probably longer than I should have, but it gave me peace of mind. I knew I had control."
Katy Mann
Katy Mann is an award-winning writer and mum to James, Emily and angel Charlie. She lives with her family in Cheshire, UK, and writes on a wide range of topics covering everything from losing a baby to living with a disability. You can find her on Facebook or on Instagram as @yetanothermumbloguk or visit her blog, Yet Another Mum Blog.
There's nothing wrong with skipping proper baths, says Katy – small babies rarely get that dirty, so don't worry.
"As your son is only a month old I'd forget about proper baths altogether. If it's causing him to cry so much, it isn't worth it. A good wash down with some warm water, using a soft flannel, is sufficient at this age unless he's had a particularly bad nappy. I'd avoid any bath products yet as he's only tiny and they can irritate such young, tender skin.
"I know a lot of people like to get into the routine of baths from an early age, but it really isn't necessary. Take away the stress of bath time for both of you and enjoy those precious early weeks with your newborn. He will be much calmer and happier as a result, giving you some much-loved bonding time."
Amber DeAnn Rojas
Amber DeAnn Rojas was born and raised in Texas, US, and married her husband Fernando, who is from Honduras, 12 years ago. She describes herself as 'a Jesus-lovin', holistic, natural-minded, oil-rubbin', wine-drinking mama of five' and says although her family is loud and busy, she wouldn't change it for the world. You can find her on Instagram as @justwhenyouthinkshesdown.
Her experience was similar, says Amber – and she found a different solution.
"I had two babies like this! Babies that small still feel better snuggling and being held, especially since that's all they have known for nine months. Mine seemed to calm down if I showered while holding them – they seemed to find comfort that way, or even with my husband holding them while he showered.
"But I'll tell you this – if you do decide to shower with them, it will take two of you to manage it. Babies' bodies are extremely slippery when soapy. It's a great way to do it, though, and less stressful for everyone – creating positive experiences is so important."
Familia de Iturmendi – Parenthood4Ever
Familia de Iturmendi is an expat family constantly moving around the world while raising a child. Since becoming parents, they realized the truth of the phrase 'Parenthood4Ever', so they decided to motivate and support other young families and travellers with kids by sharing their experience and crazy stories. Moving around so much leaves little time to build long-lasting relationships so the family loves social media – you can find them at Parenthood4Ever, on Instagram as @parenthood4ever_ or on Facebook.
It's important to remember how alien the experience is for your newborn, says Ana – it's not surprising babies cry when they're getting used to their new world.
"When my baby son, Teo, was born we had no idea how to give him a bath or wash him – then the time came to give him his first bath. I realized then, that although babies spend around 40 weeks surrounded by amniotic fluid, that doesn't mean they'll enjoy bath time or being crowded by their parents. That's how it was in our case – our son cried a lot! – and we know it's the same for many parents out there.
"You're right about the sink – that will help your baby to feel safe and comforted. There are also some other suggestions here that we found stopped Teo crying so much."
Also read: