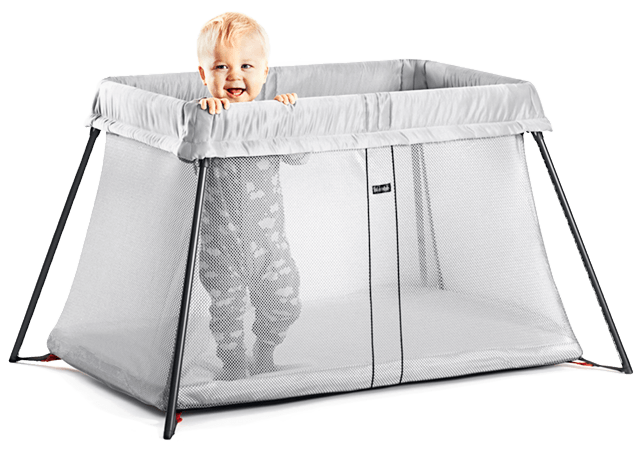 Every parent knows how complicated it can be to travel with your child. Even an overnight stay involves lots of luggage and equipment, and being sure the sleeping arrangements are suitable can be a real headache.
That's where the Baby Bjorn Travel Crib Light comes in. Suitable for use from birth to around three years old – or until your child can climb out of it – this lightweight, sturdy travel cot weighs in at just 13lbs. It's simplicity itself to set up and pack away, with no loose parts, and the smart storage bag makes it easy to carry and stow in any baggage space – making it perfect for all kinds of trips.
Superb quality; excellent design
The breathable mesh sides are safe for your baby or child and let them look out – as well as making it easy for you to keep an eye on them. The soft, comfortable mattress is kept firmly in place with special hook-and-loop attachments. Both the cot fabric and mattress cover are easy to remove and machine washable. The built-in base plate gives the travel cot stability and keeps it standing firmly on the floor, so you can be assured your baby is secure.
The Baby Bjorn Travel Crib Light is 'lightweight in the best possible way', according to one dad. "This is the one you want. Why? Because it's light. It's super light. It's a feather compared to a regular pack-and-play."
The safe choice
Another reviewer added: "If you're researching different travel cribs, just stop now and buy this one. We looked at them all, and this is far superior. Worth the cost. Lightweight, great travel case (size of a large briefcase), easy to set up and break down, thicker mattress than most, shape that doesn't encourage baby to climb the walls."
Most importantly, it's safe: "It's made entirely of mesh so the risk of suffocation during sleeping is much reduced. Baby squashes her face against the side to sleep and is just fine. Absolutely worth the price."
The Baby Bjorn Travel Crib Light is available from Amazon starting at £189.99. Click here to order yours.