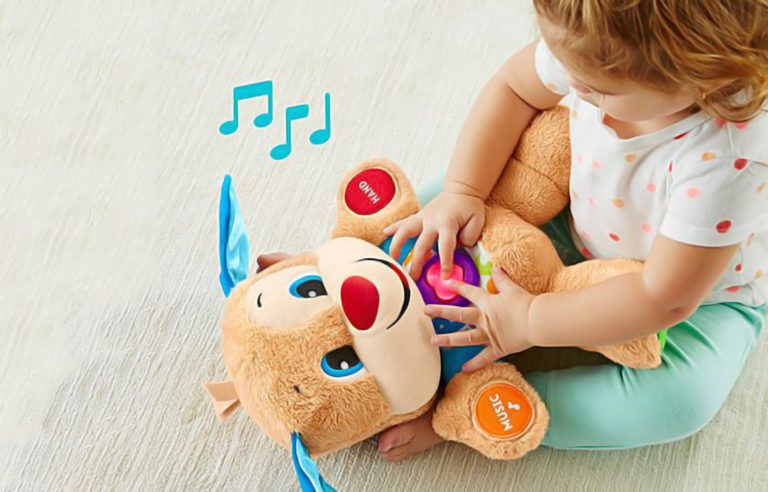 Say hello to this adorable puppy from the Fisher-Price Laugh and Learn range – the perfect first best friend for your baby. Soft, cuddly and packed full of features, the Smart Stages puppy makes learning fun and will soon become your child's adored companion.
The cute plush character responds to your baby's touch to encourage sensory development and fine motor skills and features sing-along tunes, sounds and phrases. In fact, more than 100 words covering the alphabet, numbers, body parts, shapes, colours and more will get your child's vocabulary off to a great start.
Smart technology
Every child learns at a different pace, so integral Smart Stage technology allows you to choose from three different levels to suit your little one's development. Each includes different songs, phrases and activities, from lights and sounds through to encouraging imaginative play. Changing between the levels is as easy as sliding a switch.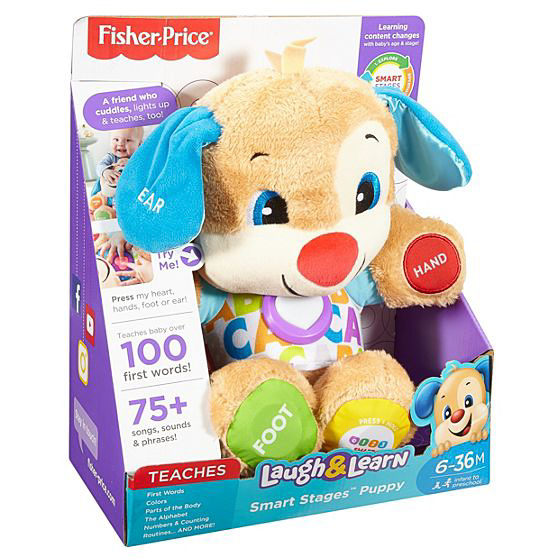 Suitable for babies aged from six months, the Fisher Price Laugh and Learn Smart Stages Puppy will keep your child entertained and learning right through to the toddler stage.
Hours of entertainment
One parent loved the range of activities: "There's such a variety of songs and sounds, and three different levels to use as babies get older. Definitely a good buy and I think we'll get many more months of use and enjoyment out of it. It's also well made, very soft and cuddly, and the music isn't too loud. Far less annoying than many of the other baby toys around!"
Another said: "My baby is entertained by this every day. It sings a surprising number of songs – my baby has played with it since four months old and will probably stay interested in it for at least another year. Fisher Price have knocked it out of the park again with this puppy – they may be a little pricier, but they really know how to make toys educational as well as fun."
And a third reviewer added: "This is my one-year-old's favourite toy. She carries it everywhere and it's a lifesaver on road trips or even just going into town. I think she'll learn from it for a few years yet as it can be turned to more advanced modes – she uses all three, but isn't getting full use from the top level yet."
The Fisher-Price Laugh & Learn Smart Stages Puppy is available from Amazon for £15.96. Click here to order yours.