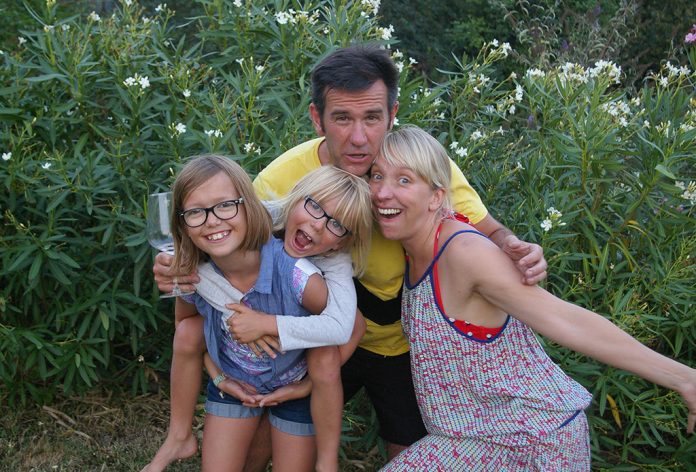 Like much of the preceding two years, Father's Day 2017 passed – not quickly enough – in a panicky, irrationally terrified blur.
Sapped both mentally and physically by long-term clinical depression to the point where thinking about making a decision – let alone making one – would leave me in a state of heart-thumping terror, a day spent celebrating fatherhood seemed neither relevant nor important.
I couldn't tell you what we did on the day itself and a glance through my online calendar and iPhone photo library this time last year tells its own sorry story.
In the month surrounding Sunday June 17thmy multiple doomsdays diary is littered with psychiatric appointments, visits from local mental health crisis teams, medication reviews and a futile daily reminder in capital letters to "HALT THE NEGATIVE THOUGHTS".
Thoughts that had been plaguing me for months and making me believe that perhaps stepping front of that Tube train or taking a dive from an inviting bridge might be the solution to the pain that was continuing to consume me 24/7.
A snapshot of me in a medical gown reminds me of the 48 hours I spent a fortnight before Father's Day on a morphine drip in the local hospital for a urinary tract infection that left my right testicle the size of a honeydew melon.
At that moment it felt like the mental fog that had obliterated my ability to think had now spread to my body. Such is the power of mental illness to warp perspective I even began to gaze at cancer patients enviously wishing my affliction was as simple as theirs.
"Thoughts had been plaguing me for months and making me believe that perhaps stepping front of that Tube train or taking a dive from an inviting bridge might be the solution to the pain that was continuing to consume me 24/7"
Unsurprisingly, this compulsive introversion and self-obsession leaves little room for anything or anyone else. And sadly that included my wife Kirsten and two children Aoife and Art.
Although I'd been physically present throughout my depression – except for the few occasions where I'd stormed out in desperation, pointlessly hoping that a change of location would somehow exorcise my psychological torpor – emotionally, I'd been a shadow. I would yo-yo between being an ineffectual mute unable to provide anything but the most rudimentary parental support to being a short-tempered Victorian dictator barking intolerant orders at the expense of calm reason.
Only time will tell how deep the psychological damage caused by the ripple effects of my mental illness will be to my family and, while still in its grip, that pervading guilt perpetuated the whole negative cycle, reminding me what a worthless loser and pathetic father I was.
Two weeks after Father's Day 2017 I found myself at a psychological crossroads.
After 18 months of cripplingly expensive and ultimately ineffectual schema therapy at an unnecessarily lavish Sloane Square practice – my son, eight at the time loved the Werthers' Originals in the waiting room – I'd returned to a previous consultant to discuss possible next options. After learning that ECT wasn't too far off on the horizon, he told me about a therapy called chronotherapy, which, when it works, recalibrates the often very impaired sleep cycles of long-term depressed patients.
In practice, this meant voluntary sleep torture; deliberately staying away at a residential psychiatric hospital in north London in the hope that my distorted circadian rhythm would be repaired and my depression would miraculously lift.
Anecdotal figures suggested a 50% success rate so I – along with an incredibly high-profile A-list British actress with whom I shared breakfast on several days – jumped at the chance but sadly for me and my award-winning thespian friend, we were in the wrong 50%.
"It's a flip of a coin," reasoned the flip consultant, leaving me even more out of pocket and pretty much out of hope.
School sports day arrived and rather than face the imagined terror of interacting with my son's classmates' parents I found myself sobbing in the local NHS mental health unit; a building so shabby I'd always assumed it had been rejected as a location for One Flew Over The Cuckoo's Nestfor being too rundown.
Dilapidated it may have been, but unlike when I'd first tried to access the local mental health services during a previous depression many years ago – the reason I entered the private system in the first place – I was offered help immediately and within days a comprehensive, joined-up care plan was devised.
I began a course of back to basics CBT with a spectacularly understanding and plain-speaking therapist. My medication was altered and carefully monitored. Most importantly, there was no sense of clock-watching by my professional helper. For the first time in my mental health journey, it felt like every single person helping me actually genuinely cared.
Whether it was all of the above or whether the psychological parasite than had been so deeply imbedded in my psyche just ran out of energy, I'll never know but either way, my recovery began. The positive momentum that had eluded me for so long began to gather pace and my strength –physically, mentally and emotionally – gradually resurfaced.
There's a long way to go. Mindful awareness of all the triggers that tend to spark my self-destructive spiral is imperative. But the perpetual anxiety, mental confusion and emotional volatility is now manageable, and with that comes space.
Space to think clearly. Space to feel fully. And space to re-engage with all the relationships I'd been sleepwalking through for so long. Most importantly, my relationships with my immediate family.
My wife's birthday falls within a few days of Father's Day so it tends to take precedence in our family, and this year will be no different.
We've no plans for an elaborate celebration of my majestic parenting skills.
I don't expect to receive a glut of shiny cards and expensive gifts. But what will be very, very different from last year's Father Day – and those in 2016 and 2015 – is that whatever we choose to do as a family, I will actually be present. Not just in the room but properly, emotionally present.
The children will do their own thing and run around and play and bicker and laugh and cry and shout and probably won't even give a second thought to the transformation that's taken place since the last Father's Day.
I won't be shouting it from the rooftops either, but I'll be quietly aware whatever damage the depression did cause, those wounds are slowly starting to heal. And the longer I can stay well, the more comprehensive that healing will be, and the better the father I will get back to being.