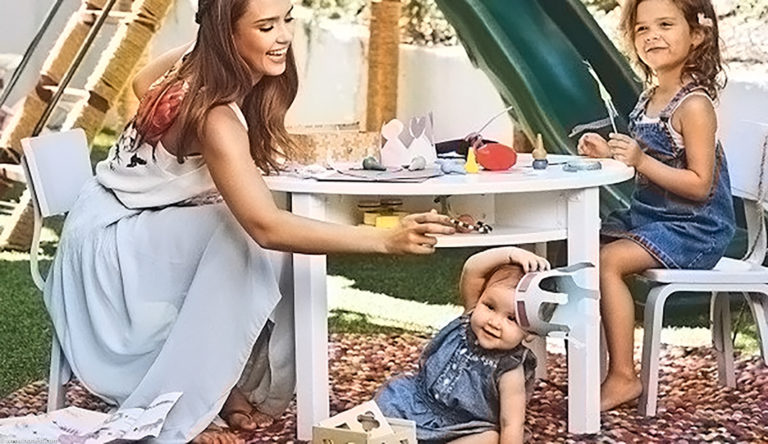 Since playing the lead role in Dark Angel, Jessica Alba has established herself as a talented, award-winning actress. She's also co-founded The Honest Company, a baby, personal and household products business. She and husband Cash Warren have three children – daughters Honor and Haven, and son Hayes.
1
Don't be so hard on yourself
Alba says new parents should be more forgiving of themselves. Yes, there'll be times when you run out of nappies (diapers). The day you forget to pack a spare sleepsuit when you're out visiting is the day your baby vomits all over him or herself. Don't feel bad.
"Whatever you are doing is enough. As long as your baby is loved, that's all that matters," she says. Everything else can be managed.
2
You're their parent, not their friend
Sometimes, being a parent means making decisions that are unpopular with your kids. It's not nice to feel they don't like you because you won't let them eat sweets before mealtimes or stay up late. But it's important to remember kids need to learn respect for the boundaries you set. Ultimately, you're teaching them good habits and behaviour.
"Enforcing the rules means sometimes I'm not my kids' favourite person, and that's ok," says Alba. "Manners and respect are fundamental tools to give them now that will help them their entire lives."
3
Rules are there for a reason
A consistent routine helps parents as much as it does kids, believes Alba. Mealtimes and bedtimes should be adhered to as strictly as possible, even during holidays and while travelling. It makes life easier all round.
In the Alba household, limiting screen time applies to tablets and phones as much as it does the television. And that goes for the parents too. Alba says kids deserve your full attention, and they know when you're not focused on them. "Pick one night a week for no-screen enjoyment together, like board games and cards," she suggests.
5
Kids don't always need the truth
When her eldest daughter was younger, Alba told her 'brown soda' was just for grown-ups. Instead, she'd give her sparkling water – and say it was soda for kids. Honor believed her and didn't beg to try sugary drinks.
Whenever paparazzi follow them, Alba tells the children they're just taking pictures – and says they do it to everyone. She doesn't want her kids to get stressed out or anxious about being in the public eye.
Remember you're important, too. Alba says parents should look after themselves more. Eat healthily and make time for exercise. If you have to, plan early nights so you can get some extra sleep. Book a date night to enjoy time for the two of you. Arrange separate nights out with friends and drink wine!
Also read: