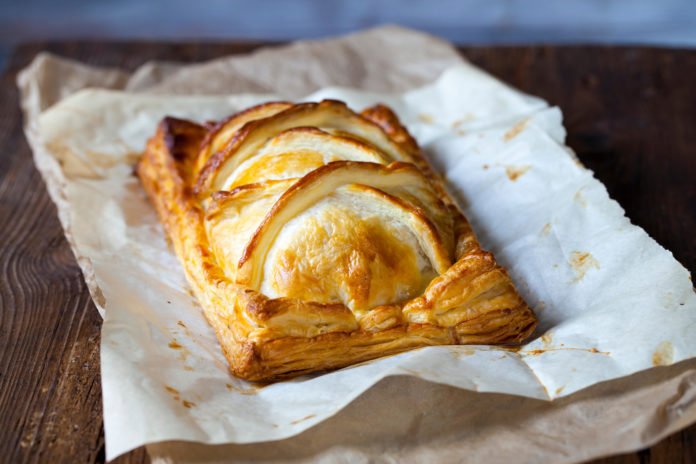 'En croute' always makes me think of restaurant-quality dishes, even though it simply means anything baked in pastry. The kids always love it – probably because it didn't feel too healthy – and it was a great way of getting them to eat broccoli. If you like, of course, you can always make your own pastry instead of using pre-prepared.
Prep time: 10 mins approx
Cook time: 25-30 minutes
Serves: 4
Ingredients:
250g cooked chicken
125g broccoli
1 red pepper
75g mature Cheddar cheese
50g mayonnaise
Small handful of fresh parsley
1 sheet ready-made frozen puff pastry
1 egg
Salt & freshly ground black pepper
Method:
Make sure the puff pastry is thoroughly defrosted before you begin. Preheat the oven to 200°C/390°F/Gas 6.
Chop the chicken and broccoli into small chunks. Dice the red pepper, grate the Cheddar cheese, and finely chop the parsley. Place all five ingredients into a bowl with the mayonnaise and season with salt and freshly ground black pepper. Combine thoroughly.
Place the raw pastry sheet on a lightly floured surface and roll out into a rectangle roughly 35cm x 25cm. Transfer to a baking sheet, either greased or lined with non-stick baking paper. Spoon the filling down the middle third of the pastry rectangle, from top to bottom.
Using a sharp knife, cut the pastry overhang on each side into eight horizontal strips (so from the edge towards the middle). Fold alternating strips over the filling, pinching the ends together to seal, to give a plaited effect.
Crack the egg into a cup with a tablespoon of water and whisk with a fork. Brush the egg wash over the pastry. Bake the en croute in the oven for around 25 minutes, until the pastry is golden and the filling heated through.
Serve with new potatoes and your choice of side dishes.
Tips
After rolling out the puff pastry, the easiest way to transfer it is to roll it loosely around your rolling pin and unroll it onto the baking tray.
Switch up your flavour combinations. Add sweetcorn, or use ham and Swiss cheese instead of chicken and Cheddar.
If you don't have fresh parsley, substitute with 1tsp of dried.
For a professional look and added texture, sprinkle a spoonful of poppy seeds over the pastry before baking.
Also read: