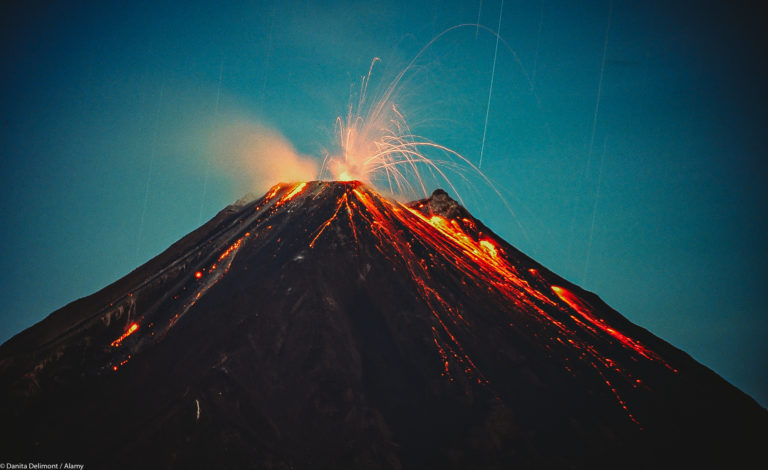 Why do volcanoes erupt? – Nicholas, age 3 years and 11 months, Northmead, NSW, Australia.
---
The rock inside the planet we live on can melt to form molten rock called magma. This magma is lighter than the rocks around it and so it rises upwards. Where the magma eventually reaches the surface we get an eruption and volcanoes form.
The top part of the Earth is made up of a number of hard pieces called tectonic plates. Magma and volcanoes often form where the plates are pulled apart or pushed together but we also find some volcanoes in the middle of tectonic plates.
Volcanoes have many different shapes and sizes, some look like steep mountains (stratovolcanoes), others look like bumps (shield volcanoes) and some are flat with a hole (a crater or caldera) in the centre that is often filled with water.
The shape of the volcano and how explosively it erupts depend largely on how "sticky" and how "fizzy" (how much gas) the magma is that is erupted.
For example, if you try to blow bubbles in cooking oil though a straw, the bubbles can escape quite easily because the cooking oil is runny.
If you try to blow bubbles in jam or peanut butter you would find it very difficult because the jam and peanut butter are very sticky, they wouldn't move much at all if you tried to pour them out of the jar.
It is the same with volcanoes. When magma rises towards the surface gas bubbles start to form. Whether or not they can escape as the magma is rising affects how explosive the eruption will be.
Where the magma is runny like cooking oil and doesn't have much bubbly gas mixed in it, such as places like Hawaii, then we see lots of slow-moving lava flows and shield volcanoes. Lava is what we call magma when it reaches the surface.
Here are some pictures of a recent Hawaiian eruption:
Lava fails to yield while crossing the highway, Kīlauea Volcano's lower East Rift Zone. https://t.co/BoocVmqG7v pic.twitter.com/wUACs6XcLo

— USGS Volcanoes🌋 (@USGSVolcanoes) May 30, 2018
How much #KilaueaEruption #lava since May 3?
113,500,000 cubic meters (4,008,200,000 cubic feet)
OR enough to:
fill 45,400 Olympic-sized pools
cover Manhattan Island 6.5 ft deep
fill 11.3 million average dump trucks

But, it's only 1/2 the amount of 1984 Mauna Loa eruption. pic.twitter.com/HeGEvorAze

— USGS Volcanoes🌋 (@USGSVolcanoes) June 7, 2018
AM overflight of Kīlauea Volcano's lower East Rift Zone: fissure 8 continues to fountain to heights of 100-130 ft; lava flows out of fissure 8 into lava channel that enters the ocean at Kapoho Bay, Vacationland. https://t.co/tnk4iEOJgY pic.twitter.com/QIki939ZwO

— USGS Volcanoes🌋 (@USGSVolcanoes) June 12, 2018
However, where the magma is very sticky, like jam or peanut butter, and if it contains a lot of bubbly gas then the gas can get stuck and eruptions can be very powerful and explosive, like the recent eruptions at Fuego volcano in Guatemala.
Damage caused by eruptions
In explosive eruptions the frothy, bubbly magma can be ripped apart into tiny bits called volcanic ash. This is not ash like you get after a barbecue or fire, it does not crumble away in your fingers. It is very sharp and is dangerous to breathe in.
Some explosive volcanoes can send ash high up into the sky and it can travel around the world over different countries. If aeroplanes travel through an ash cloud from a volcano it can cause a lot of damage to the engine.
Other explosive eruptions create fast-moving, hot clouds of volcanic ash, gas and rocks that travel down the sides of the volcanoes and destroy pretty much everything in their path.
The benefits of volcanoes
Despite the great damage they can cause, volcanoes also help us to live. Volcanic ash provides food for the soil around volcanoes which helps us grow plants to eat. The heat from some volcanoes is used to make energy to power lights, fridges, televisions and computers in people's houses.
You can find some more information about different types of volcanoes here and here.
---
This is an article from Curious Kids, a series for children. The Conversation is asking kids to send in questions they'd like an expert to answer. All questions are welcome – serious, weird or wacky! You might also like the podcast Imagine This, a co-production between ABC KIDS listen and The Conversation, based on Curious Kids.
Hello, curious kids! Have you got a question you'd like an expert to answer? Ask an adult to send your question to us. They can:
* Email your question to curiouskids@theconversation.edu.au
* Tell us on Twitter by tagging @ConversationEDU with the hashtag #curiouskids, or
* Tell us on Facebook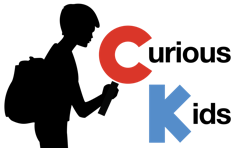 Please tell us your name, age, and which city you live in. You can send an audio recording of your question too, if you want. Send as many questions as you like! We won't be able to answer every question but we will do our best.

Heather Handley, Associate Professor in Volcanology and Geochemistry, Macquarie University
This article is republished from The Conversation under a Creative Commons license. Read the original article.
Also read: