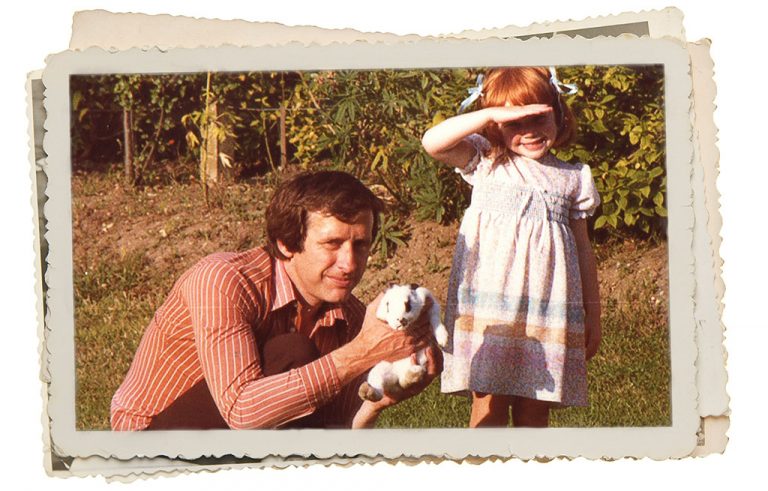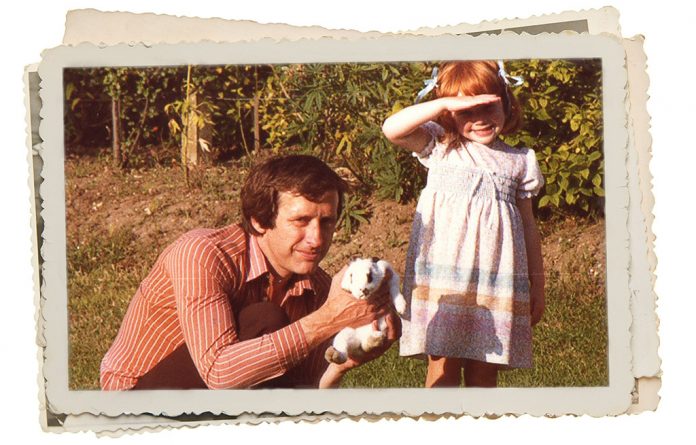 Dear Dad,
When there's a 'borrowed' screwdriver in my nine-year-old son Alex's hand, and the plastic back of yet another battery-operated toy lies discarded on the floor as he 'sees how the thing works', I always think of you.
Even when Alex was two, he tried taking the back off of a talking cuddly toy because he'd worked out something mechanical inside was making the noises happen.
The phrase: "Ah, teddy's talking," never worked with him. He'd raise an eyebrow even then as if to say: "No, Mummy, a battery's making it talk."
"You're just like Granddad," I often say.
But Alex never knew you. Neither did my daughter Adriana. Nor my husband Cornel.
You're not here, you see. You've not been here for 15 long years.
The life, in which you once filled an enormous space, has closed up around you, washing over you. Only photos and memories prove you were ever here.
It's been 15 long years since you died
You were an electronics engineer and I'm convinced Alex has inherited your mechanical, questioning mind. The only shame is you're not here sitting beside him, egging him on to take the backs off more toys or do chemistry set experiments together.
I often tell him of how you, when you were 12, made a home-made chemistry experiment which exploded, destroying your cousin's hearing for over a week.
Alex laughs. Then he moves on to something else and, again, life closes over you once more.
You've gone again.
It's been 15 long years since you died. The older I get – now aged 42 – the more your young age at your time of death astounds me. You were 59. Too young by far.
The cause of death? The ubiquitous, evil cancer. The C word that ruins so many lives stole you away before you'd even left middle age.
I was 27. At first I was too stunned to feel. Then grief came like a tsunami. But, as the years have passed, it's got easier.
And so, as Father's Day arrives I feel it's time for a catch-up.
So, what's happened since you went?
Well, when you died I was married to my first husband – a first time, 'starter' marriage that didn't work out. You'd been relieved to see me married and loved the big day. You'd even made a speech despite the pain in your jaw and tongue – you had head and neck cancer. I'm still amazed you managed a speech at all.
But just a year after you died and after just two years of marriage, I broke up with my husband and went into freefall.
My career as a deputy editor on a national UK magazine suddenly seemed empty and pointless. My daily commute to London – an hour-and-a-half each way – suddenly madness.
What was I doing it all for?
I broke up with my husband and went into freefall
Someone I loved had died at just 59. Life was so short.
I went on a weekend break to Venice where I sat outside the famous cafe Florian in Saint Mark's Square.
There I met a Romanian pianist called Cornel. It sounds mad, but we fell in love instantly. Eight months later, I'd quit my job, separated from my husband, sold my house and moved to Venice.
What would you have said?
"Jules, you've worked hard to get to where you are. Why give it all up?"
I heard that ringing in my ears for many months.
But I also remembered the words you'd said a week before you died: "I wish I'd travelled more, wish I'd not cared so much about what people thought of me…it all seems so daft now…"
Those words – the truthful, honest words of the dying – had more impact on me than you realised. I'm convinced they kick-started me into ditching a life that was truly futile and finally seizing the day – however mad I seemed to those around me.
So, what happened next?
In time, Cornel and I married and had two children – Alex and Adriana.
Alex, as I say, has your mechanical, enquiring mind. Adriana, age four, is softer, has a gentler and caring nature. She often points to the photo of you on the bookcase in our living room and asks: "Who's that, Mummy?"
"That's Granddad," I'll reply for the umpteenth time. She forgets, you see. Because you're not here; not visiting every few days or giving her little gifts or piggy-backs or cuddles. There is no Granddad to visit or laugh with.
How can she be expected to remember who the man on the bookcase is?
As for me, I didn't go back to working in an office in London. Losing you made me appreciate how short life was.
Instead Cornel and I lived in Venice for seven years. I worked as a writer from my laptop, sometimes on our balcony hearing the shouts of tourists drifting up from the side-street where we lived, sometimes on the beach at the Lido.
Food shopping wasn't done in a huge supermarket, but at a vegetable boat which moored in the canal where we lived.
The sun always shone. It warmed me up and slowly eased my grief.
Life was rich, vivid and in glorious technicolour after grey years of commuting and chasing the next pay rise. I often silently thanked you for my new life in a beautiful ancient city.
I've got something to admit, though: I deleted your last texts to me.
I sat on the steps of the famous Madonna della Salute church in Venice; the one with the giant wedding cake style dome that appears in all the postcards.
Was that wrong of me? Were you angry?
I'd been reading those last texts you'd sent for years, greedily storing them, sometimes pretending if I tapped a message back and pressed send, you might reply.
Until one day, a couple of years after you'd gone, I realised you wouldn't. Storing your last messages was only painful.
I looked out at Venice's Grand Canal and pressed delete. Your texts spiralled away and were gone.
Was that wrong of me? Were you angry?
Technology – moving on at the speed of light it seems – has meant that I've changed phones many times since then. But should I have stored those messages somehow?
Speaking of technology, how you'd have loved how things are moving so fast.
When I was a child in the eighties – the era of giant grey TVs with just four channels – you'd tell me how one day in the future there'd be "TVs that are flat just hanging on the walls. You'll be able to talk to them, call people, see people and communicate through them. It's exciting, isn't it?"
I'd roll my eyes. You were technology-mad. I would rather go to drama club and read Thomas Hardy.
TVs on the wall? Talking through them? It all sounded too George Orwell to me. Utter madness.
Dad, you were right, though. Many things you said came true. You'd have lapped up the developments in AI, the internet, the amazing cameras on phones.
But you never saw any of it. That makes me almost as angry as losing you too young. You died just before a huge technological revolution. It would have thrilled you.
So, as Father's Day arrives this year, we'll give Cornel some chocolates and perhaps his favourite cider. Poor fathers and their dull gifts…I was never that imaginative with your gifts either. It was usually socks. Sorry about that.
But we'll bring your photo a little further forward on the bookcase. And we'll talk about you. I'll tell the kids about how you blew up a shed with a chemistry experiment in your youth (again) and how you would have loved them and been so proud of them.
Then Father's Day will pass and, inevitably, that life that laps over memories and the past will ebb on, erasing your name from our lips for a time. But you'll always be there, on the bookcase, remembered, loved, missed.
So, until next time, Dad…
Julie
Also read: