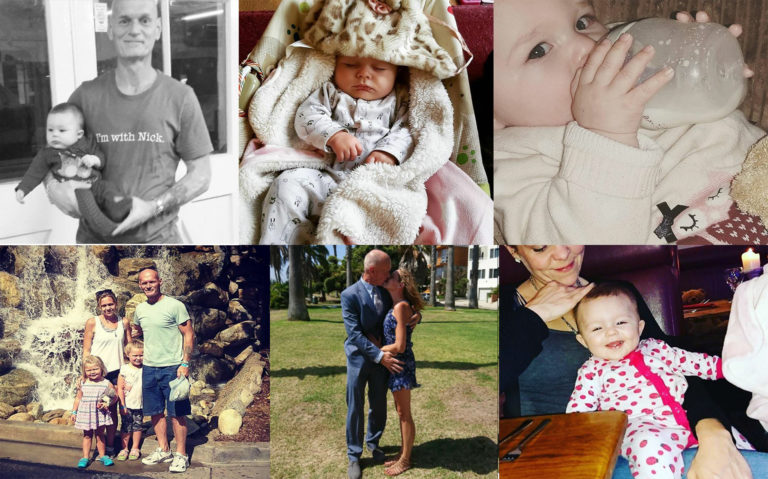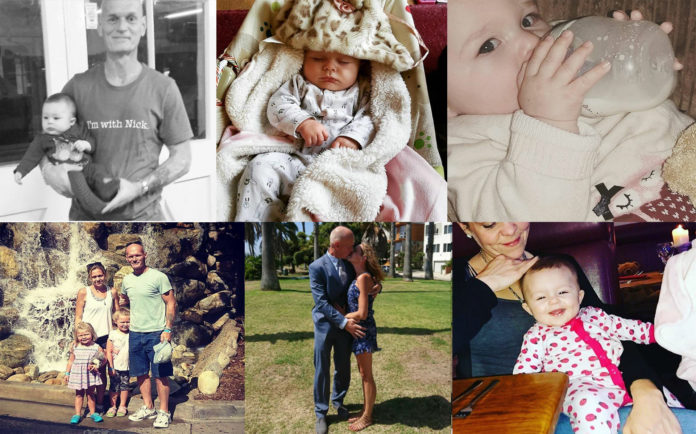 It's fair to say I was somewhat shocked when I learned I was pregnant with my third child. My relationship with Nick was going well, but it was still fairly early days – a child wasn't something we'd discussed or planned.
I already had two young daughters from a previous relationship, and we were living in a small apartment with a very modest income. No, having a baby wasn't high on my 'to do' list.
By the time I got round to taking a test, having felt sick and exhausted for a while, I was already three months pregnant. Nick was delighted and immediately began making plans; I wondered how the hell we were going to manage with three small children and our limited means.
But his enthusiasm was infectious, and we were both excited when we learned at my 20-week scan that we were expecting a daughter. We also discovered I was placenta previa – where the placenta lies across the cervix, meaning I'd need a C-section unless it moved as the baby grew.
We discussed names, of course. There were a few I was considering, but none I felt passionately about. At least, not until Nick suggested 'Jaymie-Leigh'. It was perfect – I loved it immediately. The weeks passed, Jaymie-Leigh grew bigger, and so did I. Nick was travelling back and forth between the US and UK fairly frequently for various professional and personal commitments; I was busy looking after the girls and preparing for the arrival of the newest bundle of joy.
We found out I'd definitely need a C-section to deliver Jaymie-Leigh, and the operation was scheduled for August 11 – my late father's birthday. I loved the coincidence – knowing my daughter and my father would share that date was somehow comforting.
Finally, the day arrived. Nick and I left for the hospital, leaving my mother and sister to take care of the girls. Around ten minutes into the procedure, my blood pressure became erratic. They discovered that, somehow, my placenta had attached to the womb lining. A general anaesthetic was suggested, but I refused – I wanted to be awake when my little girl made her entrance into the world. Instead, I focused on breathing and chatting to Nick about everyday stuff.
My stats began to stabilise, and before I knew it Jaymie-Leigh had arrived. She had a mop of dark brown hair, deep blue eyes, and was a 5lb 7oz bundle of total perfection.
I started bleeding when the medical team tried to remove the placenta, so they left a tiny piece attached and inserted an IV to collect the blood; that way, they could check if the flow was getting faster or slower. To be honest, I barely paid attention to what was going on. All I wanted was a hot drink and some peace and quiet while I got to know my tiny daughter.
Three days later, I was allowed home. There was more drama when they removed the drain – tissue had already started to attach to it. It hurt like hell, which was a shock as I'd thought it would just pop out. But it was done, the wound was stitched, and we were finally able to go home and get on with being a family of five.
And that's what we did for the next 21 weeks. Life settled into a routine, punctuated by the occasional birthday or holiday. Nick and I were happy, all our girls were happy, and things were good.
Then, on January 5, 2017, our world crumbled.
After dropping the girls at pre-school, I got home and gave Jaymie-Leigh her breakfast. I was exhausted – I'd had a lot of disturbed nights while my eldest daughter was getting over a nasty cold. So, when Jaymie-Leigh went down for her nap, Nick and I decided to have one too.
Less than an hour later, I woke up. I knew Jaymie-Leigh would be hungry soon, so Nick said he'd go upstairs and get her. A moment later I heard him yell: "Babe – there's something wrong with the baby!" He came flying down with her in his arms, lying still and floppy. All I could do was scream, over and over, unable to believe what was happening. My neighbour, hearing me, burst into our apartment. She checked Jaymie-Leigh, desperately searching for signs of life, while Nick called an ambulance.
I'm not completely clear on exactly what happened – the details are all smudged together in one big ball of horror. I know the air ambulance arrived and I was still screaming. There were people staring up at our window, wondering what was happening. The apartment seemed to be full of police officers and paramedics, and I was curled up in a ball in the kitchen when they called me to announce the time of death. What? How could my baby girl be dead? She was barely five months old. There had to be a mistake.
We travelled to the hospital, me holding Jaymie-Leigh wrapped in her Peppa Pig blanket. I kept hoping she'd suddenly look up and smile at me, that we'd suddenly discover she was ok after all…of course, she didn't.
I was allowed to hold Jaymie-Leigh one last time before she was taken to the mortuary and offered sedatives. I refused them – all I wanted was to go home and cuddle my older two girls. We were told that Jaymie-Leigh's death had to be classed as 'unexplained' until more information was known. That meant police and health professionals in our home, inspecting our little girl's cot and living arrangements, interviewing us, talking to our neighbours. I knew they had to do this, but it didn't make it any easier to endure.
The coroner said Jaymie-Leigh's body had been sent to an infant death specialist so they could be sure they hadn't missed anything – either medical or something that indicated she'd been harmed. Eventually we were told we could arrange her funeral. There was nothing wrong with my baby girl – she had been perfectly healthy right up until her heart stopped beating.
Jaymie-Leigh became a statistic – another victim of Sudden Infant Death Syndrome – or cot death, as many people still call it. We had her cremated during a small, private service while her sisters were at school, and then we went home and wondered how on earth we'd ever be able to live normally again.
This wasn't fair. It was heart-breaking, tragic, and I couldn't understand why it had happened to us. Every time I closed my eyes, I saw Jamie-Leigh's face. I couldn't do the most normal things in life – have a shower, take my girls to school – without bursting into tears. I missed my baby girl. I wanted her back.
And then came the gossip, the rumours, the incredibly wicked lies. People speculated that Nick and I were somehow involved. Some downright accused him of murdering our baby. Some were strangers but others were people we knew, like mums from our elder daughter's primary school.
There's something I should explain, I guess. To some, the name 'Nick Yarris' might be familiar. That's because my husband, who is American, spent 23 years on Death Row after being wrongly convicted of murder. In 2003, DNA evidence proved he was innocent and Nick was released – if you're curious enough to want to know more, there's a Netflix documentary about him, The Fear of 13. Nick has since gone on to establish himself as a writer and professional speaker.
When we met, in the UK in early 2016, he was completely open about his past – what had happened before his conviction, what he'd experienced, how it had changed him. I'm an open-minded person and I could feel his sadness and his honesty. I decided our relationship was worth a shot. Not everyone has that outlook on life, and they were quick to assume the worst after Jaymie-Leigh died.
Our time together meant I knew there was no way he could have hurt our little girl, even without the medical evidence that pointed to SIDS. And yet people still claimed he was responsible. I received messages of real hatred from complete strangers, telling me I was 'disgusting' for staying with the man who had murdered my daughter.
We rode it out as best we could. I asked the headmaster at my elder girl's school to speak to the parents who were gossiping and tell them they had to stop. I tried to be kind to others and put aside the bitterness I felt – it wouldn't bring Jaymie-Leigh back to us, and the last thing I wanted was for it all to affect my older daughters any more than it had to. I didn't want their baby sister's death to overshadow their lives. I tried to lead by example, showing them strength and grace.
Then, in May 2017, Nick heard a move was being made about his life. This was our opportunity to move on, we decided. We could leave the UK and start again – make the most of our lives because, after all, you never know when they will end. So we did. We flew to LAX and got married on a beach in Los Angeles on July 29, 2017. We travelled to the Canadian border and back down again. And then we found Oregon, a truly wonderful place, where we've lived for the past two years.
Moving to the US was the best thing we could have done as a family. We didn't bury Jaymie-Leigh in a patch of land – we had her cremated and took her with us. We're not religious and sobbing at the graveside would have brought no comfort. I don't believe I will see her again – I hate to think of my little girl waiting for me somewhere like an unclaimed ghost.
So far, we have scattered some of her ashes in every state on the west coast of America. We live as she taught us to in the short time we had her; I like to believe she somehow knew her time would be short, so she was determined to find the joy in every moment. We have learned that kindness and grace are better than bitterness and judgement.
Despite suffering the worst pain any mother can feel, I am happy now. Of course I miss her, sometimes to the point of physical sickness. I still wake sometimes and cry because she is no longer here. But if I allowed myself to be sad and bitter, then all the joy and love Jaymie-Leigh brought into our lives would no longer be real.
Time doesn't heal, but it does ease the sharpness of the pain. I will forever mourn Jaymie-Leigh, but I am grateful to have had her in my life even for such a short time. I won't let loss ruin my world – I choose instead to embrace the good things in it.
If you have lost a child to SIDS or would like to know more, there are a number of organisations that can offer support and advice. In the US, contact The American SIDS Institute; in the UK, The Lullaby Trust; in Canada, Baby's Breath; in Australia, Red Nose; in New Zealand, SIDS And Kids.
Also read: