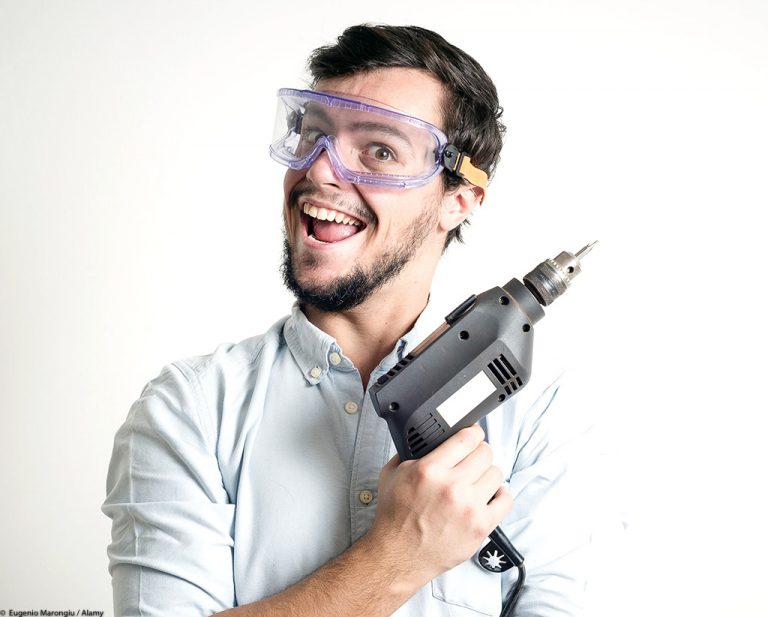 1
A basic "how to" DIY book
Even if Dad is convinced he's got a few tricks up his sleeve, this is a good place to start. The simplest skills will come in useful time and time again. And yes, we know most men aren't that great at reading instructions – so maybe you should choose one with lots of great photographs.
2
A can of WD40 (or similar lubricant)
No self-respecting DIY fan would be without this, it has so many uses. It can stop a door from sticking or creaking, protect tools from rust, remove sticky residue, it cleans… It definitely earns its place in the home, not just the toolbox. In fact, buy two. Or six.
What a wonderfully versatile – but often underused – tool. From putting up a shelf to hanging pictures or fixing a cupboard door, the spirit level will keep you straight. Literally.
Trying to hold a light, shine it in the right place, and perform whatever task you're doing is almost impossible – even when you're an expert. Make life easier and get him one of those nifty lights on an adjustable headband. Some are also free-standing, or have the bonus of being magnetic
Popular brands include Leatherman or the Victorinox Swiss Army knife – a must-have for anyone serious about DIY. The more gadgets on it, the better – they look good, even if he only ever uses the bottle-opener and the pliers. We'd bet on this fast becoming Dad's favourite gadget, and something he refuses to leave home without. After all, you never know when you'll need a toothpick.
Some jobs involve lots of small metal pieces – nails, screws or washers. They fall on the floor, roll under furniture or – ouch – get stepped on. Magnetic wristbands will keep them secure and in one place.
We've all seen the comedy shows and cartoons. The one where someone ends up hitting their thumb instead of the nail, with a hammer. If Dad isn't great at DIY, he definitely needs a nail-set. Essentially, it helps you position the nail in place and you then hit that, rather than the nail. Much easier, and no more throbbing angry-red thumbs.
8
Compartmented storage boxes
An absolute must. That collection of screws, nails, nuts and bolts will only grow over the years, and they'll need sorting according to size, type and various other criteria. You can even buy them ready-stocked – though that might take away some of the fun that's to come. You can never have too many, though.
They simply make life so much easier. No worrying whether the cord is long enough or hunting around for an extension cable, and you can use it at any angle and in quite small spaces. If you want to spoil him, buy a holster, too – as well as space for the drill, there are pockets for other tools. It'll keep everything together and make him look as though he knows what he's doing.
10
A decent set of screwdrivers
There's a reason for the saying "you get what you pay for". Use cheap ones and there's every chance the end will snap off the first time it encounters any serious resistance. Find a good, basic set with around ten different heads – magnetic ones are even better. Or an electric one by a reputable brand, with a good range of tips, is even better.
11
A socket wrench and socket set
For loosening, tightening, using around the house or on cars and bicycles – there are many occasions when you need a socket set. The main difference between different sets is the number of pieces, which are all a slightly different size – obviously, a larger set gives you more options.
12
A bottle of his favourite tipple
Well, come on. Once he's finished all those jobs he deserves to sit down and rest with some hard-earned refreshment. Well, doesn't he?