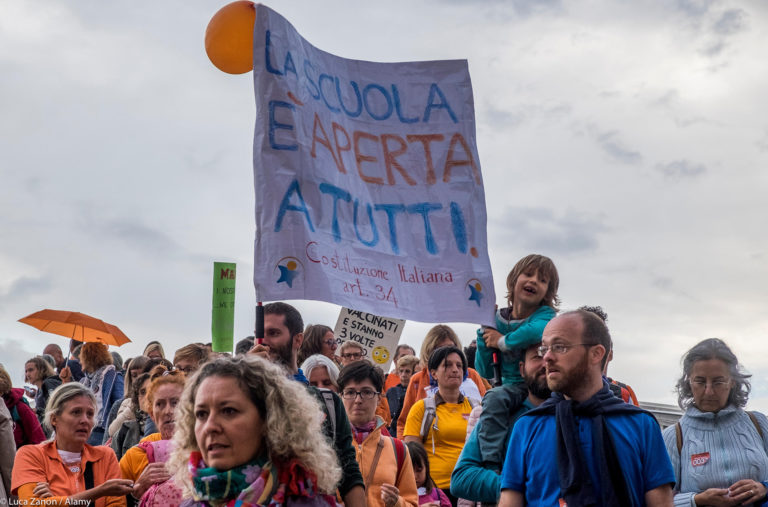 Parents in Italy have been told not to send their children to school unless they can prove the youngsters have been properly vaccinated.
A new law introduced last year made vaccination mandatory against a range of illnesses – including chickenpox, polio, measles, mumps and rubella – before a child could attend school. A 'grace period' was granted until March 10 to allow parents time to comply.
With the deadline now expired, nurseries and kindergartens will refuse admission to children aged under six years old whose parents can't prove they have been properly immunised.
While those aged from six to 16 can't be excluded, their parents can be fined up to €500 (around £430 or $560) if their children have not been vaccinated.
'No vaccine, no school'
"Now everyone has had time to catch up," health minister Giulia Grillo told Italy's La Repubblica newspaper. She added the rules were simple: "No vaccine, no school."
Some regions are believed to have granted a few extra days beyond the official deadline for parents to comply with the law. It's understood around 5,000 children in total do not yet have up-to-date vaccination records.
Debate has raged about the ethics of mandatory vaccination, but the Italian government hopes the law will curb the dramatic rise in the number of measles cases in the country – in 2016, Italy had the third-highest rate of measles cases per capita in Europe.
The legislation also aims to raise Italy's vaccination rates from below 80% to the World Health Organisation's target of 95% – the level at which 'herd immunity' kicks in and the spread of disease becomes unlikely.
This then protects those who can't be vaccinated, such as very young babies or people with certain medical conditions.
An eight-year-old cancer survivor was unable to return to his school in Rome earlier this year due to the risk of infection from unvaccinated pupils.
After undergoing nine months of chemotherapy for leukaemia, the boy has a weakened immune system and exposure to a disease such as measles would put his life at risk.
It's believed up to 30% of pupils have not been vaccinated, with five unprotected children in the boy's class.
Also read: