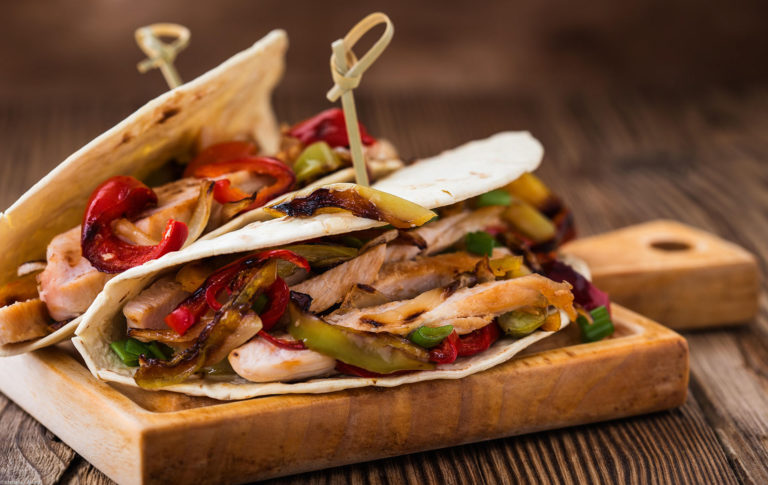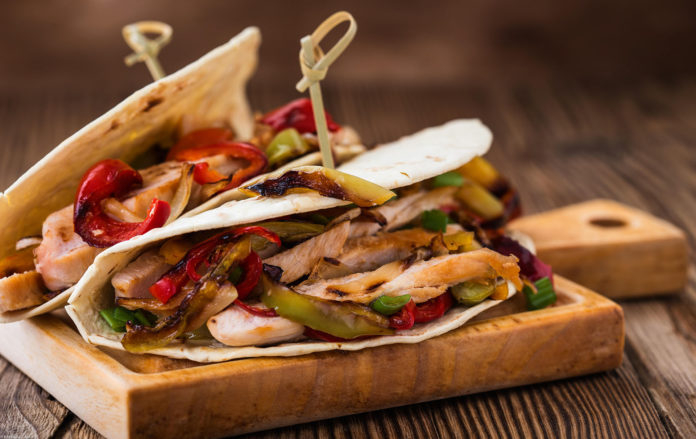 Quick, easy and delicious – chicken fajitas are high on our list of favourite family meals. You can keep it simple and buy a ready-prepared spice mix, or follow our simple recipe and make your own. The perfect weekend family supper!
Prep time: 15 mins approx.
Cook time: 15 mins approx.
Serves: Makes enough for 8 fajitas
Ingredients:
450g boneless & skinless chicken breasts
1 large onion
1 red bell pepper
1 green bell pepper
2-3 tsp fajita seasoning (shop bought or see recipe)
1 jalapeño (optional)
1 tbsp olive oil
8 medium tortillas
Suggested toppings:
Guacamole
Tomato salsa
Sour cream
Grated cheese
Sliced jalapeño
Method:
Cut the chicken breasts into long strips. Slice the onion and peppers into long pieces. Chop the jalapeño if using.
Heat 1tbsp olive oil in a pan. Add the chicken and sprinkle over around half of the fajita seasoning. Mix well. Cook, stirring occasionally, for 5-10 minutes until no longer pink. Use a slotted spoon to transfer the chicken to a warmed plate and set aside.
Add a little more olive oil to the pan if needed. Cook the onion for 3-5 minutes until translucent, then add the peppers, the jalapeño if using, and the remaining fajita seasoning. Mix together and cook for approximately a further five minutes. (You want the peppers to remain slightly crunchy so don't overdo it.)
Return the cooked chicken to the pan and toss together. Warm the tortillas in the oven or microwave.
Serve with our suggested toppings or your own favourites. The joy of fajitas is that everyone sits around the table making their own according to preference – it always seems to make for a happy, relaxed meal with plenty of chatter and laughter.
For the fajita seasoning
Making your own fajita seasoning is easy. It's ideal for tacos, soups and sauces too.
Prep time: 5 mins approx.
Makes: Approx 2.5 tablespoons
Ingredients:
1tbsp chilli powder
1tsp ground cumin
1tsp paprika (sweet or smoked, depending on preference)
1tsp salt
1tsp ground black pepper
Method:
Place all the ingredients in a bowl and mix well to ensure they are all blended. Store in an airtight jar in your spice cabinet or a cool, dark cupboard.
It really is that simple!
Also read: