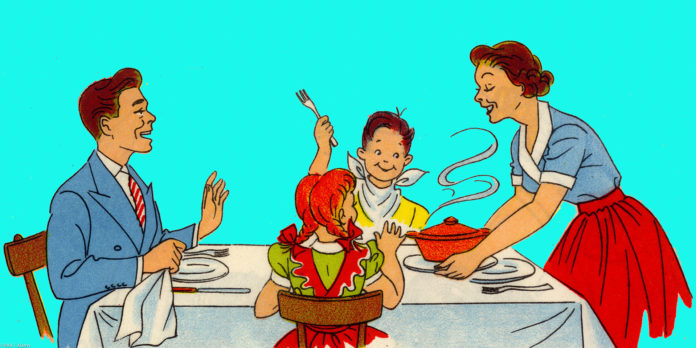 Some kids will wolf down anything you put in front of them – and if yours is one of them, you're lucky! Most of us have at least one picky eater in the family, so we've put together a few easy easy meal ideas that taste good and are simple to make. The kids won't realise they're healthy too!
Pasta with a simple tomato sauce is delicious. For a vegetarian option, omit the tuna and add a handful of torn fresh basil leaves at the end.
Heat a tablespoon of olive or sunflower oil in a pan on the hob. Finely chop a small onion and a clove of garlic and soften in the hot oil for a few minutes. Stir in a tablespoon of tomato puree and a can of chopped tomatoes. Add a teaspoon of dried oregano or Italian herb blend and some freshly-ground black pepper. Drain a can of tuna in brine and stir it in to the mix. Heat through and serve with your child's favourite pasta shapes, cooked according to instructions. Lovely topped with grated cheese.
Often the kids' favourite Chinese takeaway dish – so why not make your own?
Chop 500g of skinless, boneless chicken breast into chunks; slice a small green and small red pepper, finely slice (julienne) one large carrot, and mince a clove of garlic. In a small bowl, combine 1 tbsp of cornflour with 4tbsp of soy sauce.
Heat a splash of vegetable or sunflower oil in a wok or large pan, then brown the chicken for a few minutes. Add the sliced peppers, carrot and garlic, and stir-fry for a couple more minutes. Pour in the cornflour/soy sauce mixture, along with 1tbsp rice vinegar, 1 tbsp light soft brown sugar, half a teaspoon of ground ginger, and a small tin of pineapple chunks, including the juice. Mix it all together and bring to the boil. Simmer for a few minutes then serve with rice.
3
Roasted Red Pepper & Butternut Squash Soup
Soup is comforting, delicious, easy to make and a brilliant way to hide those hated veggies. This one is slightly sweet, so appeals to younger tastebuds.
Chop the squash into chunks, removing the seeds, then place on a baking tray with the whole peppers. Drizzle with olive oil, salt and pepper, and bake at 190C/375F for around 45 minutes. Scoop the soft flesh from the outer rind of the squash and place in a large saucepan. Pop the peppers into a clean plastic bag, seal and leave for ten minutes – the skins should then peel easily. Slice open and remove the seeds before adding the flesh to the saucepan.
Add a tablespoon of tomato puree and half a litre of chicken or vegetable stock – from a cube is fine – and bring to the boil. Add a few dried chilli flakes if you think you can get away with it. Simmer for around ten minutes before blending to a lovely smooth soup. Check the seasoning and adjust as necessary. Delicious topped with a dollop of crème fraiche.
This is always a great opportunity for hiding extra vegetables – just chop them small enough. Shepherd's pie uses minced (ground) lamb, whereas a cottage pie uses beef. You'll need plenty of mashed potatoes; we like ours with milk and butter whipped in.
Brown 500g of minced lamb or beef in a large pan on the hob, along with a finely chopped onion and minced/finely chopped garlic clove. Stir in 2 tbsp tablespoon of tomato puree, 1 tbsp of Worcestershire sauce, and around half a litre of beef stock. This is where you can get creative – add frozen peas, a can of sweetcorn, finely-diced carrots or peppers, or other vegetables of your choice. If you like, pre-cook and puree them to make absolutely sure they won't be spotted. Bring the mixture to the boil, season, and simmer for 15 minutes before transferring to an oven-proof dish. Top with the mashed potato, top with grated cheese if desired, and bake at 160C/320F for around half an hour.
Let's face it, we're never going to stop our kids' obsession with them – so we might as well make our own and know what goes into them. This baked version is healthier than fried.
Preheat the oven to 190C/375F. Have three dishes ready – one containing 50g plain flour, one with two large beaten eggs, and the third with around 200g of fine breadcrumbs. Add some salt and freshly ground black pepper to the breadcrumbs. (You can also add a pinch of cayenne pepper or dried herb such as oregano or thyme if your child will eat it.) Chop 500g of skinless, boneless chicken breasts into chunks.
Dip the chicken pieces in the flour, then the beaten egg, and finally coat in the breadcrumbs. (You could even get the kids to help and set up a sort of conveyor belt.) Shake off any excess and place the chicken nuggets on a baking tray, then drizzle over a little vegetable oil. Bake for 30-35 minutes, turning once, until cooked through and golden-brown. Serve with ketchup, barbecue sauce or your child's favourite dip.
Also read: [plus links]