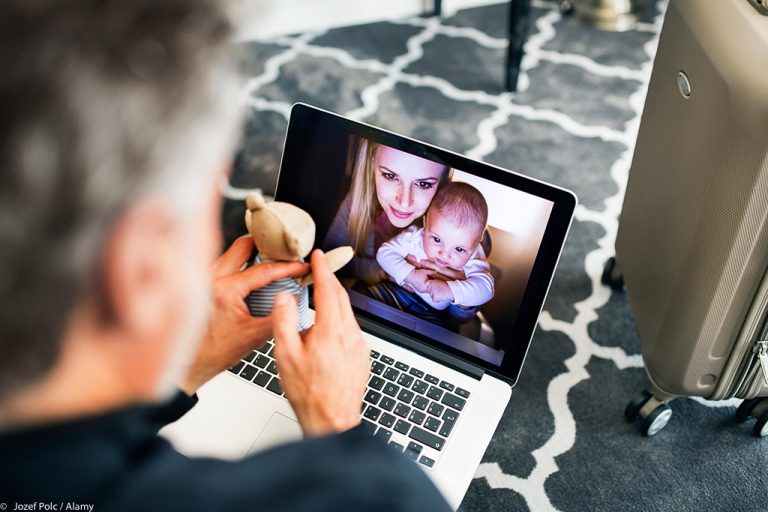 During these strange Covid-19 times, it's not unusual nowadays for families to find themselves spread across different continents. More people than ever travel abroad for work, seek a new life in another culture, or retire in the sunshine and some of us are not allowed to travel yet.
But living away from your children, parents or other close family can be hard. There will be times when your heart aches to be with them, or you're painfully aware of missing a special occasion. Here's how to stay close when you're apart.
There are times when all you want to do is pick up the phone and hear a familiar voice. If you're in another country, though, the costs can be astronomical if you use a standard landline – and worse if you call mobile-to-mobile. Luckily, there are several alternatives that are either free or low-cost.
WhatsApp lets you make voice calls to another user free of charge, as well as sending text messages, and is available on both IOS and Android. All you need is a wifi or mobile internet connection, and for both you and the other person to download the app.
Skype is one of the most popular ways to call long-distance, and can be used on mobile devices and desktop/laptop computers. If you both sign up it's free, but if not then this platform gives you low-cost calls to any number – not just other Skype users. Zoom is an even easier-to-use alternative.
VOIP phones. VOIP stands for Voice Over Internet Protocol and is essentially a landline that uses the internet. The beauty is you can take it anywhere in the world, plug it in, and benefit from cheap phone calls. You generally pay a monthly fee to a provider, but if you're permanently overseas it can be a worthwhile investment. You also get to keep your original number no matter where in the world you go.
Talking is great, but being able to see the other person – or people – is even better. Video-calling is especially good with younger children, helping them build relationships with grandparents and other relatives rather than seeing them solely on photographs or hearing a disembodied voice.
Skype is one of the most popular video-calling platforms, while anyone with an Apple device will be familiar with FaceTime. This is free to use and supports both video and voice-only calls, as does Facebook Messenger. The only disadvantage is that whoever you are calling also needs to have the app.
If you want to video-call people in different locations at the same time, a service like Zoom is worth exploring. The basic plan is free and allows up to 100 people to connect at once; the downside is that you are limited to 40 minutes per call.
With the best will in the world, it can be hard to arrange calls when you're in different time zones. You might be ready to talk just as the other person is going to bed.
A group chat could be the solution. Both WhatsApp and Facebook Messenger let you set up text conversations with more than one person – so you could have a group for mum, dad and any children.
Agree to post any general messages between you into the group – it really does make you feel more involved in the other people's lives. You'll end up 'talking' more regularly, making everyone feel that bit closer.
Most of us use social media without a second thought. Facebook, Twitter, Instagram or Snapchat – they're part of our daily routine. When you're apart, they're invaluable for keeping up with other people's lives and especially for sharing photographs.
Don't forget to set your privacy controls, depending on how much you want others to see – you might only want immediate family to look at pictures of your new-born, for example
Occasions such as birthdays or Christmas can be difficult when your family is far away, but most businesses now offer online shopping – and often have a gift-wrapping service too.
There are also websites and apps that send cards on your behalf for any occasion, either printed or in e-format.
If you're sending to countries with a dubious postal service, think about gift cards that can be sent and redeemed online, such as from iTunes or Amazon.
It's not the same as delivering a gift in person, but you can still let people know you're thinking of them.