As I watch my youngest son, Robbie launch his favourite toy car down the garden slide and roar with laughter as it splashes in a puddle, I can't help but smile.
At the same time, I am struck with a wave of regret: I know that the car Robbie is playing with – a tiny representation of a pickup truck from a Disney movie – is his favourite car, that he takes it to bed, to the park; that we had a near disaster when he buried it on a recent trip to the beach.
Looking at my son scrambling up the steps of the slide for another turn, I can't help wracking my brain for similar memories of my older children at the same age: the three (now grown-up) children from my first marriage, who are now in their thirties and forties.
To my dismay, I realise that I don't even know whether they played with toy cars, let alone which was their favourite.
I've been mistaken for my kids' grandfather more than once; and I'm in no doubt that at least some people think I'm far too old to parent young kids
At sixty-nine years old, and the father of five children under 11, I'm a little greyer than the other dads at the school gate. In fact, I've been mistaken for my kids' grandfather more than once; and I'm in no doubt that at least some people think I'm far too old to parent young kids.
But as someone with the experience of bringing up two sets of children – the first in my twenties and thirties, the second in my sixties – I can say that, apart from my bad back and the odd creaking joint, I'm a much better father the second time around.
Don't get me wrong – I don't think I did a terrible job the first time. But in 1976 when my first son was born, my life was very different. Having been brought up in care from the age of 11, and started my first job at 15, I was used to having to work hard and be self-reliant. Having a child to provide for drove me to work even harder; the moments I spent with him were few and far between.
By 1986, my first wife and I had three children and I had retrained as a secondary school teacher. I loved being a father, and as my children – two sons and a daughter – grew, I enjoyed taking them to football practice or playing in the park on Sunday afternoons.
But life got in the way of anything more – long hours at the chalk-face teamed with evenings spent marking or at seemingly endless parents' evenings meant that I missed out on picking them up from school; watching them play in the garden on summer afternoons; or snuggling on the sofa in front of a Disney movie on winter evenings.
The thing is – I didn't realise I had missed out on anything at the time. Sadly, when my first wife, Helen, and I divorced in 2001 and I briefly lived alone, I had plenty to reflect on – not least the fact that my relationship with my children had been damaged by our break-up (my eldest son and I are still estranged). But as far as their childhood went, I was pretty sure I'd done OK.
In 2002 when I met my second wife, Gill, a fellow teacher, I knew that – aged 28 years my junior –she'd probably want to start a family at some point if our relationship became serious. The thought didn't daunt me – even at 52, I felt up to the task!
It took a little longer than we'd hoped for our family plans to come to fruition, but at 59, when I cradled my new daughter, Lily, in my arms I felt as overwhelmed with love as I had with all of my previous new-borns and relished the prospect of being a father for a fourth time.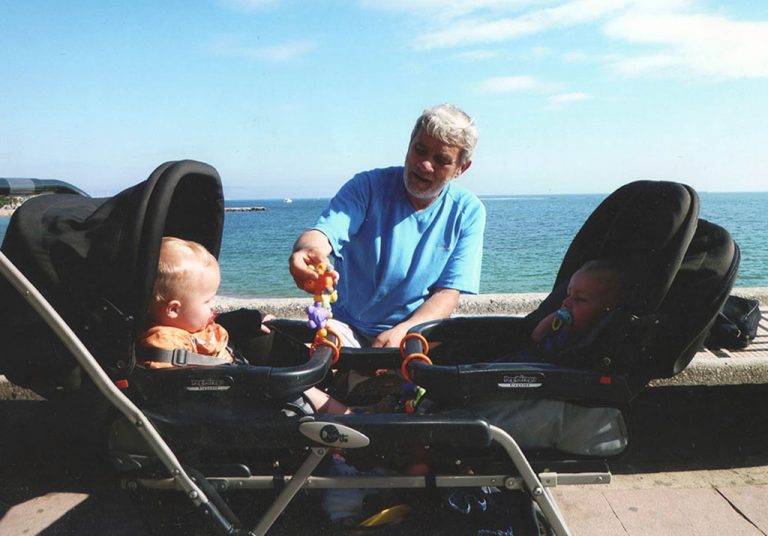 Twins, Joe and Tim, followed in 2012 when I was 61 and although we thought at that point our family was complete, two surprises came our way after that: Evie, born in 2013 and Robbie, born in 2015. Suddenly, I was a father of eight children – five of them aged under 6.
It was when I watched Lily's first faltering steps at 11 months that I first realised the difference between fatherhood now and fatherhood then. It was 2010 and, having taken early retirement from teaching, partly to renovate a house and partly to (in theory) relax, it was no longer necessary for me to leave the family home for hours at a time, or spend evenings working in my study.
Because of this change in circumstances, while I didn't spend all my time playing with toys or building castles in the sandpit; I spent the majority of each day at home with my little girl from the moment she was born.
I'd witnessed the first steps of my older children, but this time I had the joy of seeing how one tentative foot forward evolved into a couple of stumbles towards a sofa and finally a toddle across a room. When Gill asked me what age my others had walked at, I hadn't been able to remember. Yet that moment when Lily first staggered towards me – arms outstretched – is etched into my memory.
I realise how important it is to really live the moments you have
Spike Milligan once said that "children don't grow up, they disappear." My first children are no longer children: I have the chance to form new bonds with my adult kids, but I'll never have the unconditional closeness, the sense of knowing someone intimately that I do with my younger children with whom I've been able to spend more time.
As you grow older, you realise what a gift time is. When you're rushing around in your thirties, it's hard to see beyond the next work meeting, pay check or Friday debrief at the pub. Now, I realise how important it is to stop and really live the moments you have – appreciate spending your time and spending it wisely.
Whilst I hope to be around to a ripe old age – or at least see my youngest to his 20s – I do know that in some ways my new family have missed out on knowing my younger self: more able-bodied, fitter; possibly less grumpy in the mornings. But I think that they've benefitted, too, from having an older dad on his second time around the block.
I'm calmer than I was thirty years back, I've been through the ups and downs of life and know not to sweat the small stuff. And more than anything, I am able to give them the gift of myself. Of having a father who knows them inside out, who appreciates the time we spend together and is able to realise the value of just being there.