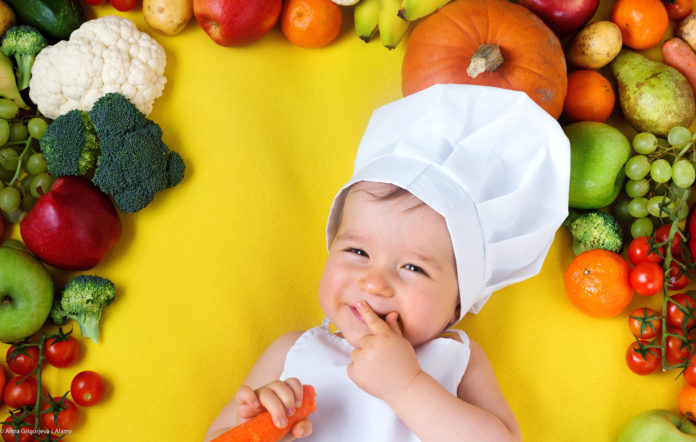 If you are considering feeding your baby a vegetarian diet, there is a lot to consider. Vegetarianism is a choice made for many reasons and based on a variety of values. The choice to live a meat-free life is valid and wanting to share that with a child is also valid.

There will certainly be critics of your choice, so be prepared to have to seek out a physician who is on the same page with you. The reality is that many vegetarians – adult or child – do not get enough of the necessary nutrients. But, that does not mean that eating a balanced and healthy vegetarian diet is impossible or that a vegetarian diet is not viable.

With that said, nutrition is such an essential part of a baby's development that vegetarian babies should be closely monitored to make sure they are getting all of the proper nutrients. This is why baby vegetarianism may sometimes be met with opposition.
Feeding and nourishing a vegetarian child

Here are some tips to keep in mind for feeding and nourishing a vegetarian child.

Ensure that your baby's first foods are iron-rich.
Baby cereals are typically fortified with iron and a great way to get babies started trying solids. If your child is not breastfed but is vegan, soy-based formula is recommended.
Protein, fat, omega-3 fats, vitamin B12, vitamin D, iron, calcium and zinc can often be absent or lacking from vegetarian diets so be vigilant about those nutrients in particular.
The chart below may serve as a helpful dietary reference:
Vegetarian sources of vital nutrients:

Protein
whole milk after 9 months
eggs
cheese
yogurt
tofu
beans
peas
lentils
nuts (be careful when introducing these and ask your doctor)
Fats
whole milk (after 9 months)
yogurt
avocado
pasteurized cheese
nuts (talk to your doctor)
Omega-3 fats
canola oil
soy oil
soybeans
walnuts
tofu
Vitamin B12

eggs
yogurt and cheese
whole milk (after 9 months)
Vitamin C (particularly important because it helps the body absorb iron.)
Orange
grapefruit
kiwi
melons
sweet potato
Zinc (supports normal growth)
whole milk (after 9 months)
nuts/seeds (talk to your doctor)
beans
peas lentils
yogurt
cheese
Calcium (supports bone health)
whole milk (after 9 months)
yogurt and cheese
calcium-fortified tofu
beans
peas
lentils
Though it requires careful planning and intention, it is quite possible to give your baby all of the nutrients he or she needs on a vegetarian diet. Follow your baby's lead and, if you have concerns, call the pediatrician.
Also read: