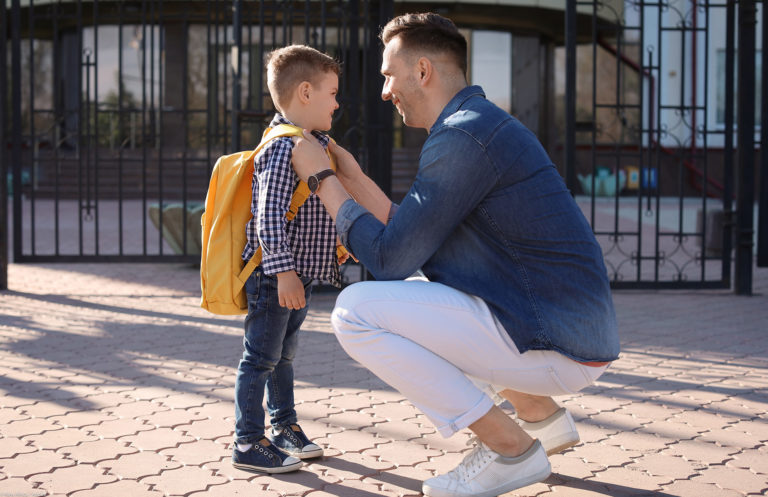 A child's first day at school is a major milestone. Parents around the world are getting ready – and trying to make sure their children are prepared, too.
And if it feels like a big deal to you, imagine what your child is thinking. Even if they're used to going off to day care, it's still a major change – a new place, a new routine, new people.
There are a few things you can do to make it easier and ensure your child settles in as quickly as possible.
Develop a special signal with your child that means 'I love you' – like squeezing their little finger three times or tapping your nose in a certain way. Most children are embarrassed by big, public displays of affection from their parents, but they'll love this secret way of communicating. It will give them the reassurance they need as you say goodbye.
If your child is having lunches at school, spend time at home making sure they're comfortable using cutlery on their own. Teach them how to clear leftovers from their own plates and how to stack them. This is something they'll probably need to know.
For packed lunches, have some mealtimes at home where they eat out of a plastic lunchbox. Make sure they know what to do with any rubbish (trash) and which items to bring home, such as an integral icepack.
Don't pack anything they can't open themselves. Plastic yoghurt tubes might seem like a great idea, but not if your child can't rip them open without squirting the contents everywhere.
Make sure your child can put on their own coat, hat and gloves, take them off and hang them up. It's likely there'll be a shared – and small – cloakroom. Knowing what to do will help them feel confident and independent.
It's also a good idea to let your child practise changing out of their uniform, into their gym/PE kit, and then back into their uniform. Most schools will expect this, and your child will feel less anxious if they know what's involved.
Unless your child can tie their own laces or fasten buckles, it's also a good idea to choose footwear with Velcro-type fastenings.
At first, it's likely the teacher will encourage their pupils to go to the toilet at set times. Make sure your child knows to try even if they don't feel the need. Ensure they're comfortable with going on their own, too – don't buy trousers with complicated belt buckles. For girls, remember tights can be really difficult for little hands to cope with.
If your child has an inhaler or needs to take medication, check the school's policy on storing and administering items. Be sure your child understands what to do when they need it. If your child has allergies then everyone who cares for your child needs to know what to do if anything happens.
7
Label absolutely everything
We can't stress this one enough. Everything. We mean it. Even then, we guarantee you'll end up hunting through lost property at regular intervals, searching for an elusive jumper or an odd sock. If you don't like sewing, buy an indelible laundry pen and write on the labels. It's not just clothes, either – pencil cases, classroom supplies and lunchboxes should have your child's name on them too. Check that your child can recognise their own name when they see it, too – it will help.
On the day
Many schools operate a 'line-up' system where classes form their own queues before going into the building. Whether you choose to stay until the bell rings each morning is your own choice, but the first day is special. Stay cheerful – say goodbye and let them join their class. This isn't the time for you to be clingy.
Try not to fret if there are tears – it's normal. It's new and unknown, and you won't be there. Most children are perfectly ok within a few minutes of going inside.
Try not to get upset yourself until you've left school. Easier said than done, we know – it's an emotional moment. Once you're well away, feel free to give in to the tears – we've all been there.
Don't plan anything big for after school as your child is likely to be exhausted. They might even want a nap when you get home. We'd suggest their favourite meal for tea, a bath, and a much-loved story at bedtime. After all, they've got to do it all again the next day!
Some other useful tips
It's not just your child who has to get used to a new routine – you do, too. We've got some suggestions that might help.
Meet and chat with at least one other new parent, and exchange phone numbers. This is for the times your child comes home claiming tomorrow is non-uniform day, or that they need to take wellington boots for a nature walk. They will, we promise, and it will be the first you've heard of it. You'll be glad there's someone you can check with. Or, if neither of you can be sure, at least to agree on a strategy.
Empty your child's bag every day. Otherwise, those notes from the teacher and letters telling you about the non-uniform day will never see the light of day until it's too late.
Start a small change collection. There will be cake sales, raffles, school discos and charity collections. Each of them will require you to part with money. It won't be much, but you can guarantee it's at a time when you have nothing smaller than a £20 note.
Also read: