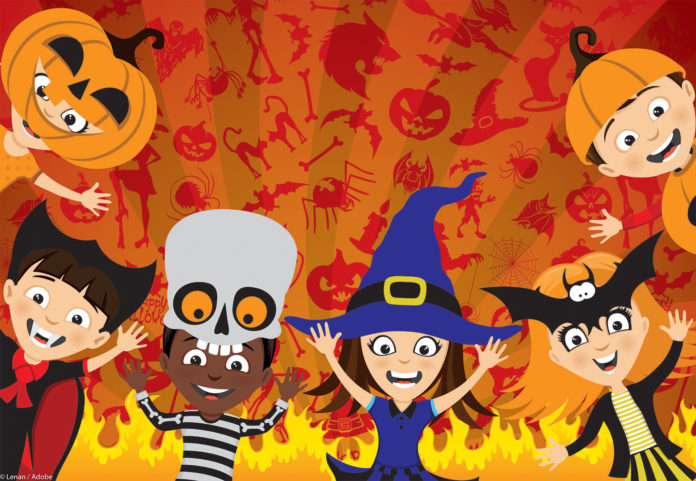 Leaves are crunching underfoot; pumpkins adorn almost everyone's doorstep. Stores are decked out in spooktacular fashion. There's no doubt that Halloween is right around the corner. Family and friends are going to be throwing Halloween parties everywhere. You may even be planning your very own! Here are five great games for Halloween!
1
Find The Creepie Crawlies!
Items Needed:
Pumpkin buckets, 1 per player
Mini plastic pumpkin buckets, 1 per player
Plastic spoons, 1 per player
Cocoa Pebbles (or generic equivalent) cereal
Gummy worms (or plastic bugs like spiders, millipedes, etc., if you don't want to add more sugar)
To set up the game, fill the larger pumpkin bucket about ¾ full with Cocoa Pebbles. Mix in the creepie crawlies and gummy worms. To begin the game, have each player get in front of their pumpkin bucket. The fun part of this game is that everyone only gets to use their mouth to play. They can't use their hands!
Everyone puts a spoon in their mouth. When the game begins, participants begin "digging" through the "dirt" made of Cocoa Pebbles, to try and find the bugs you've hidden in there! When they see one with their spoon, they have to delicately transfer it over to the smaller pumpkin bucket. The first one to find and successfully transfer a creature into the smaller bucket wins the game!
Items Needed:
Curtain or heavy sheet with a small slit cut into it
Doorway
This one could be fun; you can have the kids play against the parents, or have everyone mixed, the choice is yours! Make sure the doorway that you are using is one that people aren't going to be continually going to be needing to be going in and out of. Hang the curtain up in the doorway, with a slit cut into the middle of the sheet. It doesn't have to be a big slit.
Choose a game leader. Now, divide your guests into two groups. Send each group onto their respective sides of the curtain. The game leader chooses which team will go first, and chooses a person to stick their nose in the slit. The game leader now chants "The witches have stolen somebody's nose. Who does it belong to, do you suppose?" The opposite team tries to guess whose nose it is. If they are correct, the team that guessed scores a point and the opposing team must continue to offer more noses. Otherwise, the other side begins to give noses. It can be a fun, but challenging game to play! It's one of the best games for Halloween.
3
Glow Necklace Pumpkin Ring Toss
Items needed:
Pumpkins of all shapes and sizes. Large, small, bumpy, oblong, etc.
Glow necklaces
This game is best played when it is just about twilight out when you can really see those glow necklaces light up! Have the pumpkins set up however you want. You choose which pumpkin is the winning pumpkin, meaning if someone tosses a ring from the necklace on it, they win a prize (of your choosing). Each person can take a turn. If they miss, the next person takes a turn, and the process goes on until someone throws a ring onto the winning pumpkin!
4
Halloween Tumbling Tower
Items needed:
Jenga game
Black and orange paint, or Halloween themed tape
Clear tape
List of silly actions (pretend to walk through a spider web, make a scary face, etc.)
Scissors
A good fun game of Jenga is always a fun family game. But why not mix it up a little for the spooky season? Take your blocks, and either paint the sides black and orange or place your Halloween themed tape on them for decoration. Next, come up with some fun actions! There are plenty of them! They can pretend to walk like a zombie, give their best Dracula impression, howl like a werewolf or give their best witch's cackle. Print out your ideas, cut them out, and glue them onto the top of the Jenga pieces. Set up the tower, and play as normal, except when a player pulls a block with an action written on it – then they must perform the action!
Items needed:
One apple per person
String to hang up apples
Tree, clothesline or another alternative to hang apples on
This is another great game where you can't use your hands, only your mouth. The apples are hung up, and the aim of the game is to have the players eat the whole apple, or just getting a bite into the apple, because without using your hands, snagging an apple with your mouth is sure to be a fun but difficult task!
Now you'll be Halloween ready, and your party will be memorable with the five great games for Halloween!
Also read:
6 Great Ideas For Kids' Birthday Parties