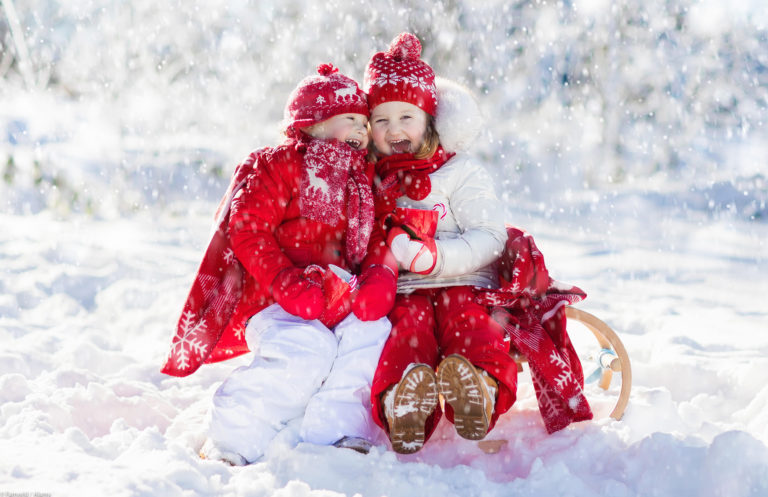 Snow days represent many different things to different people. For me, growing up in a warm climate in the southern states of the US, they almost always represented a day off from school because no one was prepared to drive in the icy conditions. I was never much of a fan of playing in the snow but I loved how the world seemed to shut down around me. Everything slowing to a near stop. My love affair with snow was almost always experienced through a pane of glass.
Now, as a mom, snow days mean bored children whining about a shortage of snacks or bickering over the TV remote. So, snow days can be hectic and loud at my house. However, they also represent a chance to slow down, look around and watch as nature transforms itself. A snowy day is an opportunity for relaxation and fun – by yourself or with your kids.
In these coronavirus days, if your kids are complaining and you're pulling your hair out, then consider how you can make snow days fun and exciting bonding experiences for your family. If you are lucky enough to be spending a snow day alone then spend some time doing the things that you love.
Here are some enjoyable activities to consider:
1
Snow cream and/or crockpot cocoa
Snow cream is a southern tradition. If you have never had it, it's just what it sounds like. Find some freshly fallen and clean snow; mix in some vanilla extract and milk or cream. Then, enjoy the creaminess of this homemade treat with your family. You can even set up a sundae bar with sprinkles, cherries and chocolate syrup or chips.
Speaking of chocolate, hot cocoa is another simple and delicious snow day treat. Here's a great quick recipe for your slow cooker:
You'll need:
5 c whole milk
1 c half and half
3/4 c sugar
1/2 c semisweet chocolate chips
1/2 c unsweetened cocoa powder
1 tsp. vanilla extract
1 c mini marshmallows
The steps are simple:
In a 2.5-4 quart crockpot, whisk together all ingredients (except the vanilla and marshmallows) until the powder has dissolved. Heat on low for 2 hours and then stir in vanilla and top with mini marshmallows.
Serve hot!
2
Snow painting and/or snow globes
Get ready to unleash your inner artists. Create a mixture of water and food coloring in old squeeze bottles (make a few colors if you can) and then go make a Jackson Pollock type of masterpiece on the snow. Let your kids get abstract as colors fly.
You can also use your food colored water for snow globes. This activity will require balloons. Take colored water and fill balloons. Set them outside until they are frozen solid. Cut away the balloon and voila! You will have stunning, colorful ice orbs!
3
Winter walk and/or nature photography
Walking in a winter wonderland is one of the most relaxing and peaceful ways to take a stroll. Carry your phone or camera and take pictures of things in the natural world that interest you. Encourage your kids to do the same. When you get home, go through the photos and consider making your own photo book of your family's winter nature photos. You will be able to remember your snow day fun forever!
4
Indoor picnic and/or living room campout
For those of you who do not particularly want to get out in the cold, you can bring outdoor fun indoors. Set up a picnic on the family room floor with a large blanket and tons of snacks. You can also build a fort or pitch a tent to create an indoor campsite. Turn out all of the lights and spend the evening by candlelight singing campfire songs and/or enjoying munchies. This would be a great time to enjoy your cocoa or snow cream, as well!
5
Journal, read and/or craft
Snow days are for slowing down. They often force us to sit back and relax. But, most modern people have a hard time with this idea. We are programmed for hustle and bustle. Use a snow day for self-care by reading or journaling. If you feel artistic, work on a craft. Do it on your own or with the kids but be sure to let your creative side come out.
Don't allow snow days to be dull. Whether you love to cook, read, write, create artwork, or spend time outdoors, there really are plenty of great ways to pass a snowy day. Try out some of these activity ideas on the next hoary day. They are fun for both kids and adults and will fill the day with fantastic memories. Your family can look back on snow days as pleasurable bonding experiences!