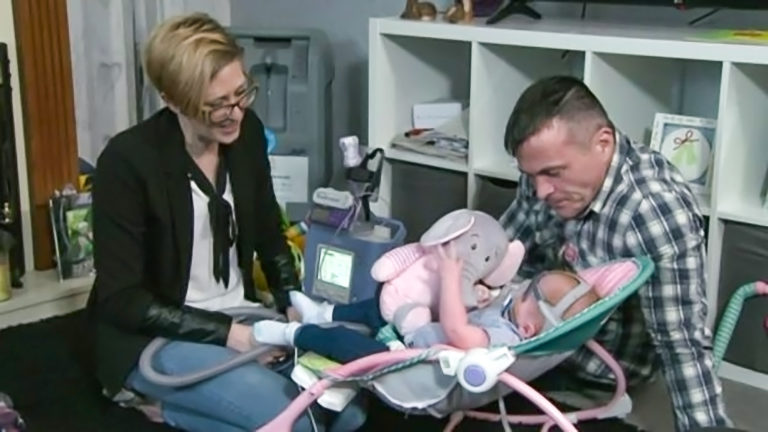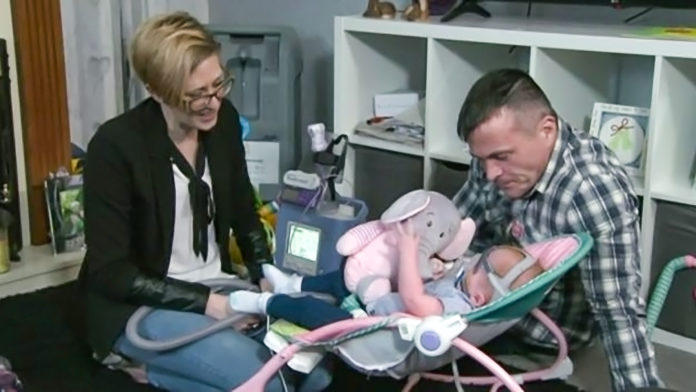 When Vanellope Hope Wilkins was born, nobody really expected her to live for long. The little girl had no breastbone – her heart was outside her body. The condition, known as ectopia cordis, is rare. Just a few babies in every million are affected, and most are stillborn.
A routine scan picked up the problem when mum Naomi Findlay was nine weeks into her pregnancy. She and Vanellope's father, Dean Wilkins, were advised to have a termination as there was just a one in ten chance their baby would survive.
It wasn't an option, as far as they were concerned. "To see, even at nine weeks, a heartbeat – no matter where it was. It was not something I was going to take away," recalls Ms Findlay.
Due on Christmas Eve 2017, Vanellope was delivered by C-section on November 22. Specialists said this would reduce the risk of infection or any damage being caused to the heart. A team of around 50 medical staff were present for the birth, at Glenfield Hospital in Leicester, UK.
First operation was within an hour of birth
Since then, Vanellope has proved to be a fighter. She has endured three operations to put her heart back inside her chest – the first when she was just 50 minutes old. The most recent procedure involved using Vanellope's own skin to cover the hole in her chest.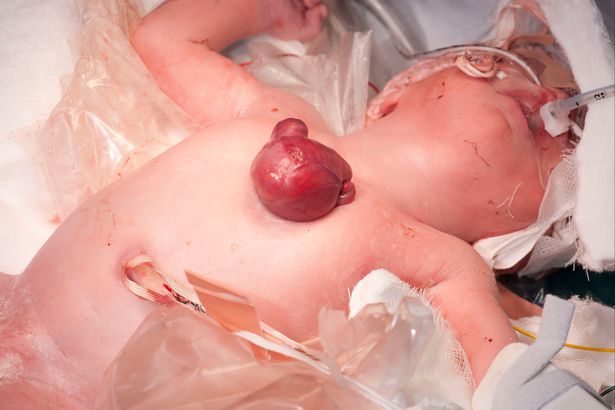 At six months old, she was transferred to Queen's Medical Centre in Nottingham to be closer to her family, who live in Bulwell. Since then she has had several overnight home visits but is now deemed well enough to be permanently discharged from hospital.
Ms Findley told the BBC it was "absolutely amazing" and "a massive relief" to have Vanellope home. "It's exciting but daunting at the same time," she explained. "It's been an incredibly long, emotional journey."
But both she and Mr Wilkins have said there's still a long way to go yet. Vanellope is reliant on a ventilator and needs round-the-clock care. They will receive support from a team of carers, but the couple will mostly look after their daughter themselves.
Looking forward to family life
"She's home and that's the first step," said Mr Wilkins. Now they will spend time bonding as a family, along with Vanellope's older brothers, Caleb and Jacob.
Ms Findlay has said they will just "take each as it comes". She added: "We're really looking forward to just enjoying family life at home now."
It's believed there is no other case in the UK where a baby born with ectopia cordis has survived.
Patrick Davies, children's intensive care consultant at Nottingham University Hospitals NHS Trust, said in one interview: "It's fantastic news for Vanellope and her family. She has been in hospital ever since she was born, so it's great that today has come.
"Vanellope's condition is extremely rare and has been a learning experience for us all, trying new techniques. It is fantastic to see her grow from being a baby to a little girl."
As part of Vanellope's treatment, a specialist shield was created to protect her heart. The next phase will include creating a sternum and working on other potential solutions to help her as she grows older.
Vanellope is named after the feisty, determined character in the Disney film, Wreck-It Ralph.
Also read: