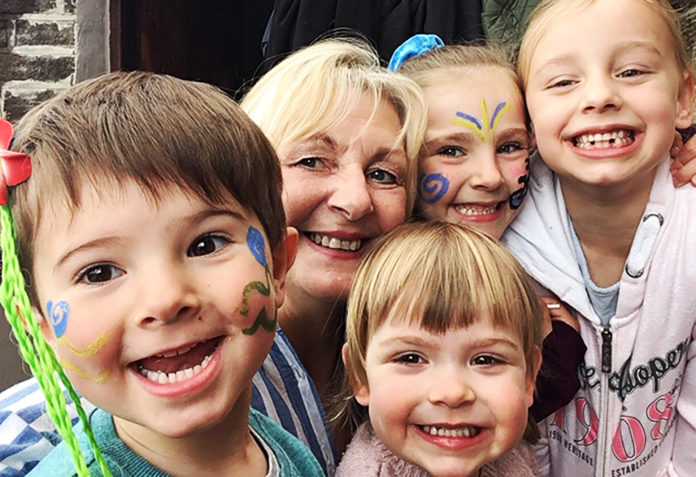 When a major crime story breaks and you see the police officer heading up the inquiry on television – giving an update or appealing for witnesses, maybe – do you ever think about their family? Can you imagine what life is like for their wife, their husband, their children?
My husband, Bob, was a detective superintendent in West Yorkshire Police. In the last three years of his 30-year CID career alone, he took charge of 26 murder inquiries, 24 major incidents, 50 suspicious deaths and numerous sexual assaults. In his 'spare' time he was also a force negotiator for suicide intervention, extortion, terrorism and kidnap.
We first met when he was promoted to Detective Chief Inspector in the Calder Valley, where I worked as a civilian support worker. Working together mainly felt like a blessing – it's hard to understand just how difficult the job can be if you're completely outside it. At least I had some 'inside knowledge'.
But sometimes it felt like a curse. When a serious incident broke, I knew Bob would be on his way there, the time of his return unknown. I could only imagine how dangerous a situation might be, based on the details I had – the type of crime, how many people were involved, whether there were knives or firearms. I'd hear snippets of information from officers' radios, hear calls for backup. Bob was assaulted on several occasions, which never helped my fears the next time.
We've had police cars pull up outside our home, sirens blaring and lights flashing, to whisk Bob away at high speed. Just moments earlier he might have been reading the children a bedtime story or eating his evening meal. We had to watch, helpless, knowing he was travelling at high speed towards a potentially dangerous situation that others had already fled. It might sound strange, but if it were me in trouble, I knew there could be nobody better coming to my aid – that was something of a comfort.
Could I sleep if Bob was called out in the night? Of course not! I coped by getting up with him after he got a call. I'd get his suit, shirt and tie out of the wardrobe while he shaved, make him a hot drink, put food and water in his bag so he had sustenance if he needed it; I knew eating and drinking would be at the back of his mind.
It's not like on the television, where crime programmes tend to focus on one major crime per episode. There was no limit – Bob would often oversee several at the same time. He was regularly called out more than once during the night, and all I could do was hope he was safe and wait for him to call or come home.
It was tough at times. We could never plan ahead – something would happen, and Bob would have to go. I felt somewhat isolated – it's not like the armed forces, where families often live in proximity and can support each other. Bob would say being the man in charge was lonely, but so was being the one left behind at dinner, in the cinema, out shopping…
But at least I was an adult, with the resilience and understanding that came from also working with the police. It was harder for the children. Stephanie, John, Gemma and Samantha knew their dad was a policeman, even though – as CID – he didn't wear a uniform. What was harder for them to comprehend was how he could appear to be a different person when they saw him on television.
"Daddy looks sad…and cross," they'd say, not realising that he couldn't smile or look happy as he was talking about a murder or other serious crime.
People often said we shouldn't let the children watch the news or see the newspaper when Bob's image showed him wearing the police officer's mask – but how could we stop them?
Samantha, the youngest Bridgestock, was six years old at the time when Bob would regularly appear on television, appealing for witnesses or information. Her elder siblings understood a little more about what Dad did – they were used to him not being there when they got up or came home because he had always worked shifts. For Sam, Daddy being 'on loan' to victims' families was harder to deal with. She wasn't used to seeing him look so tired and angry – at home, Daddy was fun. He made her feel safe and secure.
Sam became depressed. She'd often ask: "Where's Daddy? When is he coming home? Who has upset him?" She wanted to know why he didn't wave and smile and say hello, like her friend Jenny's mummy (who worked in television) did.
How do you explain to a little girl that Daddy couldn't smile because he was dealing with man's inhumanity to fellow man? We had to do something, though, and so we devised a plan. When Bob was on television, before he began speaking, he would touch the knot on his tie. To everyone else, it would simply look as though he was adjusting his clothing; but the children would know this was his sign to them.
Daddy was okay. He loved them, he missed them, and he'd be back home with them as soon as he could.
After that, I would often find the children sitting in front of the television to watch the news, waiting for their dad to appear. They weren't troubled by what they saw, because that wasn't their focus – they were just watching for their dad, waiting for that secret signal.
When it came, they'd shout through to me in the kitchen where I was cooking. "Dad touched his tie! He's fine!" He was. And so were they.
Also read: