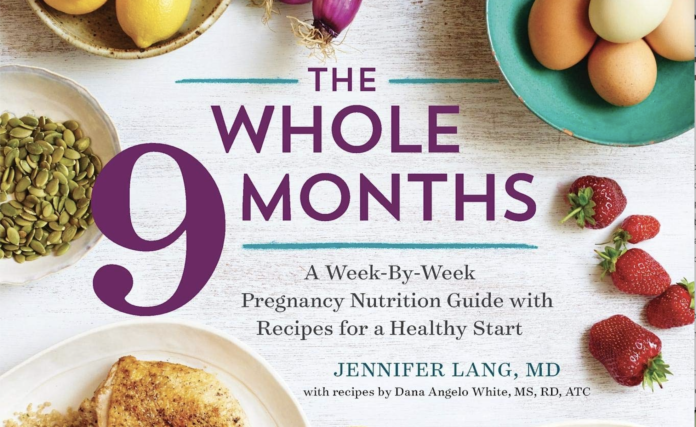 Research indicates that what women eat while pregnant has lasting effects when it comes to their child's health and brain development. But it can be difficult to make the right food choices, especially if you're suffering from nausea or experiencing food cravings (and aversions). How can you be sure to follow a good diet during pregnancy?
That's where this book comes in. The Whole 9 Months: A Week-By-Week Guide Pregnancy Guide With Recipes For A Healthy Start, by Dr Jennifer Lang, takes you through each step of your baby's development, with health-boosting food ideas and recipes.
Helpful hints and recipes
There are handy tips on handling nausea, cravings and aversions, and suggestions on how you can adjust meals to allow for your ever-changing appetites. Each recipe features calorie counts and nutritional information and you'll find foods for a variety of diets including vegetarian, vegan and gluten-free, as well as for those suffering from gestational diabetes.
An invaluable reference and cookbook during pregnancy, this book will help you make good food choices for both you and your baby. It's presented in a clear, easy-to-understand format – especially welcome, given the information overload that's available when it comes to pre-natal nutrition.
Celebrity fan
As well as receiving great reviews, The Whole 9 Months has been welcomed by actress Jessica Alba, co-founder of The Honest Company.
"I'm thrilled that Dr Lang has put her valuable knowledge into these pages. With this book in your hand, you're on your way to putting your health first and setting your baby up for lifelong wellness," she has said.
One reader wrote: "A brilliant book, full of accurate facts. Easy to read and understand, and answers all your questions with text and diagrams."
Another said: "This does exactly what it says. Pregnancy is about giving your body the nutrients it needs to 'grow' a healthy and happy baby, and this book helps you do this by breaking down all the key nutrients you and your baby will need and providing foods and recipe ideas that contain them."
The Whole 9 Months: A Week-By-Week Pregnancy Nutrition Guide With Recipes For A Healthy Start is available from Amazon for £12.99. Click here to order a copy.