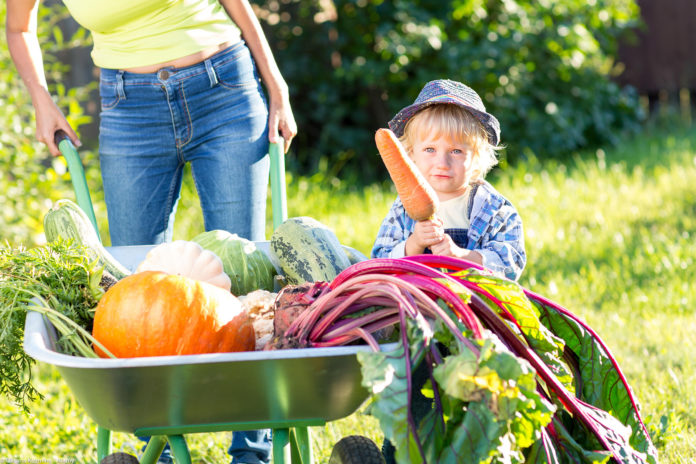 There is little more satisfying than the crunch of a good carrot, from a vegetable platter. Or perhaps you're more inclined to enjoy a delicious tossed salad, with a light vinaigrette as a dressing. While it's true that us "grown-ups," as it were, enjoy our veggies, the reality of life as parents is that many of our children don't share the same palate as we do. So, how do we encourage kids to make healthy food choices? There are a plethora of ways that we can encourage our wee ones to eat well!
Lead By Example
This one is pretty easy; children learn by doing what they see, more specifically, what they see their parents or guardians doing. While, for us, that bag of potato chips may be tempting as a snack, opting for a healthier option such as carrot or celery sticks is a great alternative. When they see you eating healthy, they will get the hint and start asking for healthier snacks as well.
Another great idea is to sit down together at family meals. This is pretty important, as sitting together can show children right then, and there will show them, as they watch what you put on your plate to eat. By letting your children see you eat fruits and vegetables, they will want to follow your model and eat them as well.
Let Them Help
Children are naturally curious creatures, and always want to see what mom and dad are doing, so, why not let them help pick out the veggies that will be on their dinner plate? You can even go so far as to let them help toss a salad once in a while! They will get a big kick out of it, and they will enjoy eating the fruits (and veggies!) of their labor.
Another way that the little ones can help is to let them get their hands dirty! No, not in the kitchen! Out in the backyard! What is better than vegetables picked fresh right from your backyard? Have your children help you to cultivate a garden with you, during the warmer seasons of the year. Have them help water it at night, weed it, and take care of it. They will love watching it grow, and when it is finally time to pick what they planted, they will be excited to give these healthy foods a try!
Taste Matters
Taste is a big factor in how we consume our vegetables and fruits. Obviously, if they tasted horrid, we wouldn't be going anywhere near them. The same goes for our kids, too. If they don't like plain steamed vegetables, try them with a little bit of butter, or perhaps you can roast vegetables with some lemon juice and some fresh herbs.
Smoothies are another great way to have your little one get their daily dose of fruits and vegetables. Use healthy veggies like kale, spinach, a little lemon or lime, a fruit of your choice, and you have your base ingredients for a yummy smoothie, that not only the kids will love, but the whole family will love, too!
Get Colorful
Fruits and vegetables come in such a variety of different colors; it's a veritable rainbow of food! You've got your red, green and yellow peppers, kale, spinach and lettuce for greens, yellow squash, and lemons, green and red apples, orange carrots, white cauliflower – the list could go on and on and on! Kids love color, and you can play around with it! Try putting different colors on their dinner plates each day.
Snack Attack
School is back in full swing, and the kids are hungry when they get home. How do we encourage kids to make healthy food choices? Have a healthy snack ready for them when they come through the front door! Carrot or celery sticks are always a great option, as are apples, oranges, and bananas. Keeping your home stocked with these tasty staples will give kids the choice to opt for the healthier option, rather than a bag of chips.
Try, Try Again
It has been shown that it takes approximately 8-10 times of being exposed to a new food before children will begin liking it or eating it regularly. So, if they don't like it in the very beginning, don't give up – keep trying!
Also read: 6 Foods You Should Never Feed Your Child