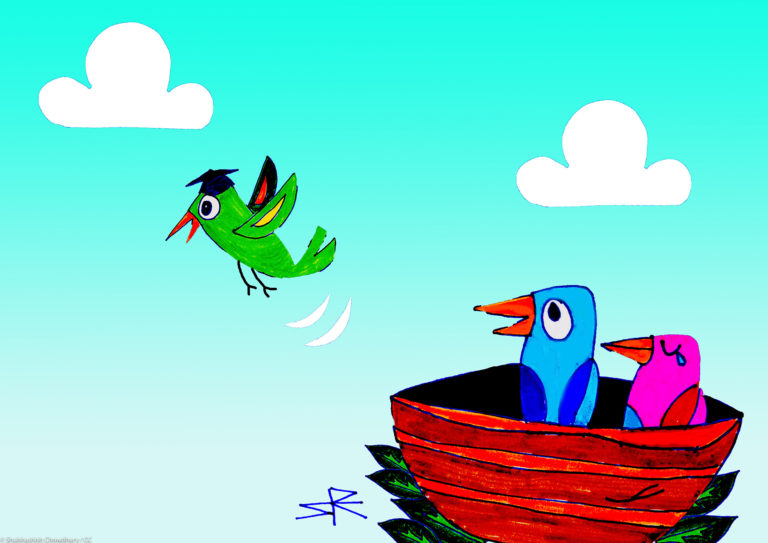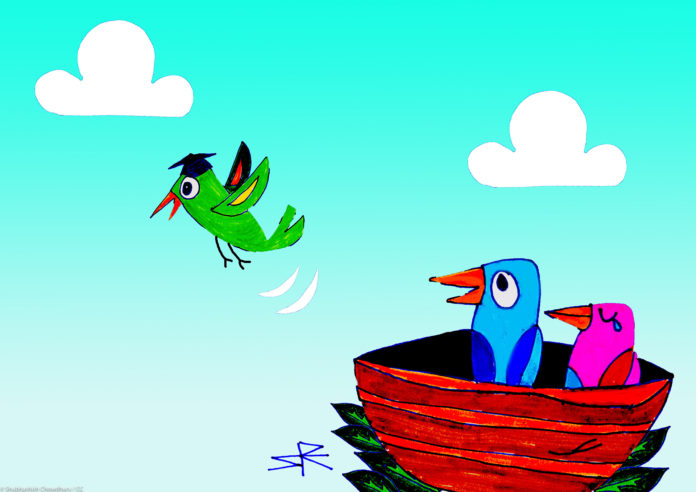 When my son left home to go to college, it wasn't too bad. I missed him tremendously, but he was only a couple of hours away. He'd be back at weekends and holidays. Oh, and his little sister was still at home. It was a gentle introduction to letting go, the first step towards being an empty-nester.
Fast-forward a few years, and it was the turn of our youngest. We were now living overseas, but she wanted to continue her education in the UK. Suddenly, it was just us. For the first time in 22 years, we were on our own.
I won't lie and say it was easy. We've always been a close-knit family, and there were times I'd cry from missing the kids so much. I'd feel far-away and helpless if they were struggling with difficulties in their lives. I'd regularly cook enough food for four by mistake. (Actually, I still do.)
But I've realised there are upsides, too. The house stays tidier. I do less laundry. The fridge no longer empties itself mysteriously just after I've filled it up. There's a freedom we haven't enjoyed since the early days of our marriage.
It won't be painless, but it's easier to cope with change if you plan for it. These strategies helped prepare me for being an empty-nester.
It's very easy to take a negative view, and I was guilty of that at first. I can remember getting upset on my birthday, thinking it could be the last one I had with us all together. Then my husband gently pointed out that if I focused on that, I wouldn't have happy memories of the occasion.
Try and enjoy each special occasion for what it is. Relish being together for that last Christmas, birthday, Thanksgiving or whatever and make it special. Take lots of photographs and even keep a journal. I hate the phrase 'making memories,' but that's what you should do.
2
Reignite old friendships
Once you have kids, your own social life takes a back seat. Your world becomes a whirl of playdates, school fundraisers and ferrying children from place to place – other people's, as well as your own. ("Lucy's mum is going to a wine-tasting and can't pick her up from ballet class. I said you wouldn't mind taking her home because you've got nothing else to do." Thanks for that.)
You find yourself drifting away from friends who don't have kids. It's easier to hang out with people who understand the stress of learning your parents' evening appointment is straight after school when you work ten miles away and don't finish until 5.30pm anyway.
With an empty nest looming, now's the time to reconnect with old friends. After all, you'll have the time and freedom to see more of them soon. You might have nothing in common these days, but it's worth finding out.
3
Spend time as a couple (or a single)
On the rare occasions my husband and I went out alone, we'd make a pact not to talk about the kids. That stood us in good stead once they'd left home – we knew we still enjoyed being together as 'us'.
If your world revolves around the children, it's easy to forget why you were attracted to each other in the first place. Perhaps you've morphed into 'Mum' and 'Dad' and the real you is lost amid the dirty socks and schoolbooks. Now's your chance to find yourself again.
If you're a single parent and wish you weren't, put yourself out there. After all, it's not like you need to line up a babysitter anymore. Or, if you're happy in your own company, relish having the house to yourself. If you want to spend Sunday in your pyjamas, binge-watching Netflix and eating cheese on toast, you can.
When my kids were small, I really wanted to learn to dance. I'd have gone to a different class each night if I could. But as we all know, when you have children your time is rarely your own. As parents, we often put our interests on hold – but an empty nest gives you the freedom to rediscover them, or to find new ones.
Maybe you harbour a secret desire to become a massage therapist. Perhaps you used to love painting, playing netball or being part of a book club. Whatever it is, give it a go. You'll have to time to spare once the kids have gone – fill it with something you enjoy doing.
5
Set ground rules for keeping in touch
Arguably the hardest thing about being an empty-nester is simply that the kids aren't there. Yes, I know how obvious that sounds. Something happens you know they'd find funny – but they're not there to tell. You shout up the stairs that dinner's ready – and then remember they've gone. You find you miss tripping over muddy football boots and dropped coats.
While they're in the first flush of newly independent excitement, your kids won't realise how hard it is for you. And you won't want to overwhelm them with texts and Facebook messages, even though you're desperate to hear from them.
So, before they go, discuss how you'll keep in contact. Set up a regular time for a video or voice call. You can always change it later, but you'll feel better if you know when you'll next speak to them. If it's practical, plan regular get-togethers – Sunday lunch once a month, or a trip to the cinema. Chances are they'll miss home more than they let on, so they'll appreciate it too.
They're no longer little children, but they're still your kids, and you're still their parent. This is just the next phase of your relationship – with them, with yourself and as a family.
Also read: