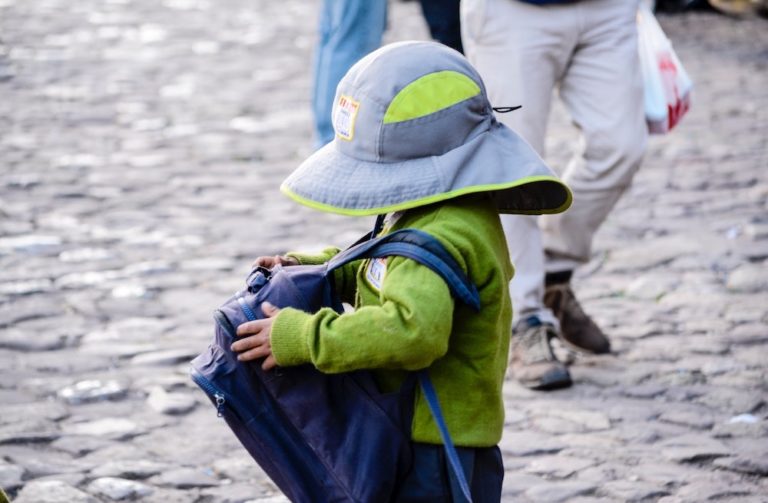 The first time you take your child to nursery or kindergarten is often bitter-sweet. While you're proud to see them becoming independent and know it will be good for them, they're still your baby – it's natural to get a little upset as they take that step away from you. Deborah has been a stay-at-home mum since her son was born and is anxious about the upcoming change to their lives.
"My three-year-old son is due to start nursery in the next few weeks. He's excited, which is great, but I'm worried that will change when he realises I won't be there. I'm pretty sure I'll get emotional too and worry about him at first. Suggestions on how to handle it?"
Holly Olugosi
Holly Olugosi describes herself – tongue firmly in cheek – as a 'cool stepmum and dream wife'. She started her blog after she realised she was writing a lot of very long Facebook statuses all about parenting. A place where she says what everyone else is thinking about parenting but is too polite to say, The Prime Mumister has gained a loyal following – read it at https://www.facebook.com/ThePrimeMumister/
It's important to keep yourself busy, especially at first, advises Holly – it's a chance to plan some 'me-time'.
"There's no right or wrong way to feel about dropping children at childcare, and while for some parents it's been a long time coming, for others it's really tough. Social interaction and independence is a massive part of our kids growing up and we have to give them the room to grow in areas they can only strive in if we're not around.
"I'd suggest finding something to do for yourself during the first few times and make that your focus, rather than the event of you dropping him off. Get your nails done, go to the gym, do some shopping – whatever it is that makes you feel like you.
"The likelihood is that he will be absolutely fine once you've left and this will become less of a worry as time goes on. If all else fails, remember this is just one hurdle you have to overcome as a parent which we all have to face sooner or later. The sooner he starts practising socialising independently, the easier it will be later in life."
Katie & Christina – The Baileys
Katie and Christina are a girl-meets-girl love story. After falling in love and getting married, they have two daughters through reciprocal IVF. They love to travel and want their girls to see as much of the world as possible. You can follow their adventures on Instagram at @babybaileymamadrama and YouTube.
Katie and Christina say a good relationship with whoever is caring for your child is vital – it will help you feel better about leaving them.
"You'll worry about him, probably non-stop for the first couple of days. It does get better! You'll see how happy he is and what fun he's having at school. Our biggest suggestion would be to take time to get to know the teachers. That relationship is so important!
"We've grown to love our daughters' teachers so much. It makes us feel better, knowing they're with someone we trust and actually know. At first it felt like we were leaving our kids with strangers, but now it feels like we're leaving them with good friends."
Kimberly Stanfel – Behind the Mom Jeans
Kimberly is a seasoned marketing professional who turned a few of her 'curve balls' in life into something positive by creating her platform, Behind the Mom Jeans. A blog that speaks to the everyday truths of being a new mom, wife and human being. You can read more at Behind the mom jeans or find her on Instagram as @behindmomjeans.
Kim says it's important to remember your emotions will filter through to your child – so make sure you stay positive.
"It's so great your son is excited about going to nursery school. Make sure you keep up that same enthusiasm about it, even if you're feeling emotional or nervous (which is totally ok!). Just make sure you're not expressing those emotions to him. He needs to know that he'll be in a safe place and will have a great time…and he'll learn that from you. I cried for three days when my daughter started day care – a year later, I know it was the best decision I could have made for her."
Jessica Baxter – Real Home Truths
Jessica is an experienced writer and editor living in Cape Town, South Africa, where her two toddlers provide all the inspiration she needs for her blog. She enjoys sharing her no-filter views and experiences of motherhood – both the mess and the magic. You can read more at Real Home Truths or find her on Instagram as @realhometruths.
Planning ahead will make the first day easier, advises Jessica – for both of you.
"The day you send your little one off to nursery is a big deal – for you and them! My suggestion to help him with the transition is to talk about it often so he can start forming a mental picture of what his days will be like, and can also feel prepared for this big step. Make sure you frame the conversation positively.
"It's also a good idea to visit the nursery a few times with him so he can familiarise himself with the place and the teachers. On the day, if you feel yourself getting emotional, try not to let him see as it might unsettle him. Be brave, kiss him goodbye, and tell him you'll be there to collect him and hear all about his fun day."
Danielle – My Life with Littles
A wife and mother to two children, Isabella and Henley, Danielle is chronicling her journey on Instagram. She's passionate about raising awareness of mental health as well as covering all things mum and baby related. You can find her at @danielle_andlittles.
Her own experience means Danielle can sympathise – but she points out few children fret for long once their parents leave.
"It's certainly a lot harder for us than it is for them. For months, my little girl would cry when I dropped her off and I found it difficult – but I could deal with it as I knew she was enjoying it. She would always run out when I picked her up and be so happy. Nursery said she cried only while I walked out, and afterwards she was fine.
"Keep yourself busy the first few times as it makes it a bit easier on you. He will absolutely love it – it's great for them to play and meet new friends, but it's understandably a big change for you and for him."
Also read: