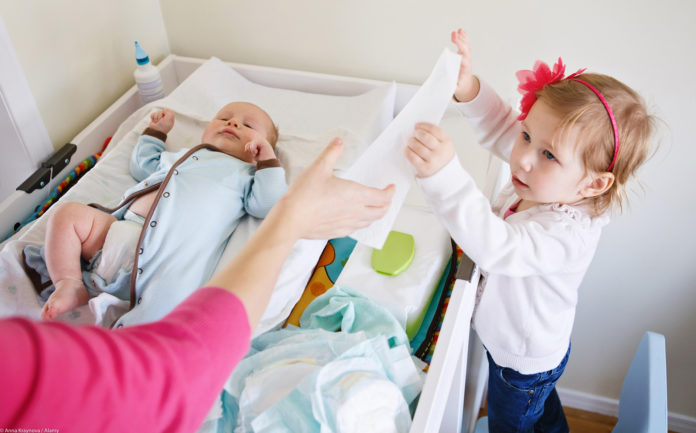 When we first told our five-year-old son there was a new baby on the way, he burst into tears. It broke my heart, especially as he tried to pretend he was happy about it. When his sister was born, he was disappointed she wasn't a boy. Now, years later, their relationship is as close as I could ever have wished it to be.
I'm sure encouraging my son to get involved with caring for his sister from the start helped foster their mutual devotion. It meant she was a real person to him straight away, rather than this weird alien being that appeared suddenly and stole his parents' attention.
How much your older children can help with the tiny ones will depend on their age and capabilities, of course. You wouldn't let a toddler change a newborn's nappy (diaper) for example. Here's what we found worked in our house.
Start as you mean to go on
Of course, you're nervous about letting another child help with your tiny, precious new baby. But the last thing he or she needs to feel is that you don't trust them with their sibling.
Involve them in day-to-day care and activities as soon as you can, even if it's only fetching a clean sleepsuit at bedtime. We used to ask our son to check the temperature of the bath water for us. Of course, we'd already made sure it was ok – but he didn't know that.
Play to their strengths
One thing older kids are really good at is playing with babies. Our son loved to make his little sister laugh. He'd play peek-a-boo for hours, or lie next to her and let her explore his face with her hands. To an exhausted new mum in desperate need of a quiet half hour and a cup of tea, he was invaluable. He loved to make her happy and felt important because he knew he was helping me. It meant he saw it as an honour, not a chore.
If your child is good at singing, ask them to sing songs and nursery rhymes. If they can read, let them do story time. Tell them you'd like their help because it's something they're so good at – it will boost their self-esteem.
Make them feel valued
Emphasise how much help they are being. Thank them often and let them know how much you appreciate it. Whatever they think of their new sibling, kids love to please their parents. Tell them what a great job they're doing and how it's making life easier.
They'll feel proud they're making a difference. It will also give them a sense of being properly involved, not on the edge of things. This is important to help the new family dynamic gel together.
Spend time with them
It's crucial your older child doesn't feel left out. Even if they enjoy helping, they'll become resentful if the world revolves around the new arrival.
Plan special one-on-one time with them as a reward for their help. Go to the cinema or out for pizza. Do this individually, leaving the baby with the other parent, but also together – get a babysitter in. Your older child needs to know you still love them, that they're just as special as before the new baby came along.
Also read: