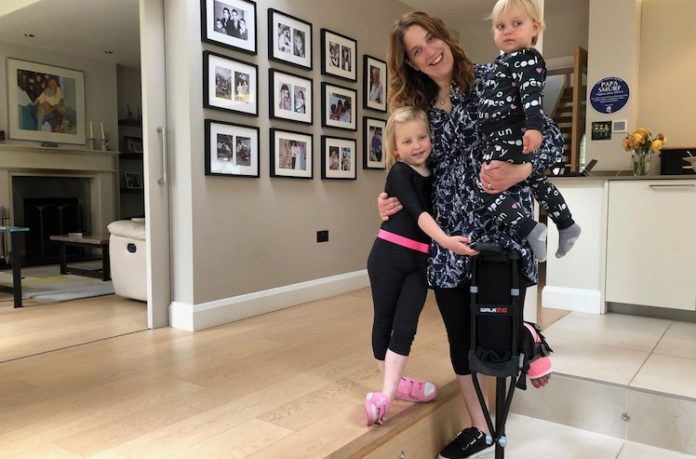 When the doctor first told me I needed to have metal plates and screws inserted into my broken ankle, I blubbed like a baby. It was largely because I thought he meant one of those external fixators – you know, the ones that stick out of your skin like a tiny climbing frame. (He didn't.) But it was also because I just had no idea how we'd cope.
It was already going to be a hectic month. I'd become self-employed literally 48 hours early, and in a couple of weeks we had our youngest daughter, Alice's, second birthday. That would be followed a few days later by Rose's fifth birthday – she's our older daughter – and let's not even think about the usual day-to-day parenting challenges I'd have to negotiate!
It takes a village to raise a child, so the proverb says, but like most modern mums and dads, we don't have one. Nor do we have the luxury of grandparents on hand to help out. So, however you looked at it, six weeks on crutches and not putting any weight on my foot was bad news.
Now, with just days to go before the cast comes off and my freedom is restored, I can look back on the past 42 days (not that I'm counting) and realise I've learned a lot. I've also had some unexpected feelings about it all.
You'll never hobble alone
My story isn't a dramatic one. I was out walking one drizzly Thursday afternoon when I slipped on a manhole cover. My inbuilt mum's protective instinct kicked in, and I did a kind of Matrix-style manoeuvre to stop the buggy from tipping over; good news for Alice but bad news for my ankle. A trip to the urgent care centre confirmed I'd "done a number" on it, to quote my cheery consultant.
Not only was it broken in two places, not only would I need surgery, but I couldn't even cheer myself up with a McDonald's because I was nil by mouth.
Two days later, after my operation, a spell as an in-patient, a physio consult and some crutches – or instruments of torture, as I like to call them – I was back home. I was also under strict instructions not to put any weight on my foot for the next six weeks.
According to the Royal Osteoporosis Society, around 300,000 people in the UK suffer from fractures each year due to osteoporosis alone, so it's not like I was the only one. But what was really worrying me was how I was going to manage – physically and psychologically.
Without a leg to stand on
I'd be lying if I said there weren't challenges, especially with Alice. She'd refuse to go upstairs for her nap, for example, because the crafty little devil knew I couldn't carry her. She'd run off mid-nappy change with poo hanging off her bum because I couldn't chase her, or insist on sitting down in the middle of the road for a rest. (Luckily, someone was on hand to scoop her up that time.) With Rose, it was negotiating the school run that proved the trickiest.
Overall though, it hasn't been as bad as I imagined. I waited for the low point to come, when I'd hit the wall – metaphorically speaking, of course – and feel like I couldn't manage any more. But it never arrived. I guess it's because, as parents, we have to be resilient; whatever life throws at us, we have to make it work.
That said, there are still a few things you can do to make life easier – so here are my top tips for broken parents of the physical kind:
People want to help when you're struggling – honest! It makes them feel happy and helpful. It might be a close friend or just someone you know a bit, like your kid's classmate's mum – whoever offers, accept gracefully. It's easy to be proud and give the impression that you're managing just fine, but you really don't need to.
Remember that pride often comes before a fall, and parenting is hard enough with one limb out of action. Tell people what you need, whether it's help with the school run, having your kids over for a playdate, bringing you a pint of milk or catching your runaway toddler.
At Rose's birthday party, all the parents – even those I didn't know well – stepped in to help distribute food and drinks, look after Alice, take photos and videos of the birthday cake moment, and carry all the presents to our car. It was a proper joint effort.
It's easy to stay home when everything is such an effort, but you'll find it makes the days drag and you'll start to feel low. Even if you don't want to, go out. Mobility aids like a knee scooter or even a wheelchair can help you get out of the house.
I survived three days with traditional crutches before going online and buying an iWalk 2.0, something my physio recommended. It's a hands-free crutch and it's a real game-changer; I went from being completely helpless and relying on people to do everything for me to being pretty much independent again. I could pick up and soothe my toddler, make dinner, put on a load of laundry – everything. It's basically a posh peg-leg, and my kids were delighted with it too – they called it my pirate leg. It was the best thing I bought, and I'd have struggled a lot more without it.
Boxsets and books are all well and good, but there are only so many episodes of Killing Eve in the world. Find something that keeps you busy while you're laid up. For me, it was work. I work from home part-time, and the days flew by because I was so busy. In fact, I haven't watched a single boxset or read a book since my accident, and my life is no poorer for it. One friend of mine, who also broke her ankle, took up cross-stitch and made the most beautiful tapestry during her recovery.
Something unexpected happened after I broke my ankle. Because I was forced to, I finally stopped for the first time since my children were born. Instead of constantly running around after them, brushing up crumbs or picking up dropped Hatchimals, I sat down and watched them. I enjoyed them and didn't feel guilty about lounging on the sofa for once.
We played games and read stories a lot more than we'd done previously. I realised how stressed and overwhelmed I'd become by the pace and chaos of family life, and how much I needed a break. I'm not good at letting other people look after my kids, even for just a few hours, but I had no choice – and the world didn't come crashing down around my ears.
I'm looking forward to being a hands-on mummy again, but I'm glad I had that break (no pun intended). The other day I told my husband it was the best thing that could have happened to me – and I was only half-joking.
Also read: