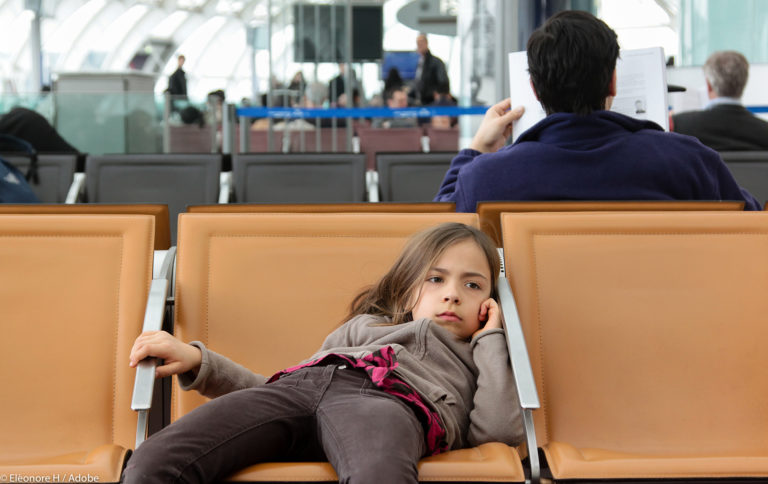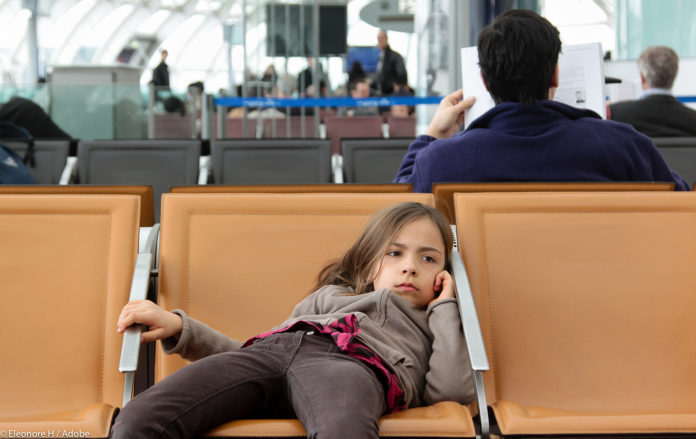 Picture this. It's 2 p.m., and your kid didn't take a nap today. They've driven you to the absolute brink, and you're still waiting to see the pediatrician for their well-check that was supposed to happen 20 minutes ago. Sometimes waiting with kids sucks.
This may seem like every parent's worst nightmare, right? What if I told you there was a way to avoid the inevitable meltdown in the middle of the lobby? No, I'm not scheming some elaborate practical joke.
The secret is in the busy bin.
What Exactly is a Busy Bin?
We all have at least some vague idea about what a busy bag is, and we will certainly cover that in a minute. However, there is something else that comes before the bag.
The busy bin.
So, what exactly is the busy bin?
This is where you'll keep all of the potential items you might bring on your daily excursions.
You can use pretty much any bin for this, as long as it can hold a fair amount of stuff. We use a square tote with a deep inside to keep all of our items and they're easily stored on the shelf until we need them.
Pack It Up!
Depending on the size of the bag you plan on taking with you, you'll want your child to pick items that will fit in that specific bag. We have a small and large bag that we use depending on where we're going and how long we'll be gone.
The thought of letting your child pack the bag themselves may seem terrifying and mind-numbing, but allowing them to foster their independence will help them feel like they're doing something important.
Not to mention, they'll be more likely to play with things they chose, than if you did it for them. It's worth it in the long run. Any extra leverage is handy when you're waiting with kids.
What are Good Busy Bin/Bag Items?
Mostly anything can qualify as a busy bin item, but you'll want to make sure they're items you won't mind packing and unpacking. This means anything heavy or awkward to carry should stay home to save your sanity.
I like to stick with activity pads and books most of the time because they usually occupy kids for the longest time. Here are some of the gems that seem to work the most for us when we're waiting with kids:
Magnetic Tracers and Mazes
Some of my daughter's favorite toys are the magnetic mazes and letter tracers you see at libraries and other children's play places. She recently got her own for her birthday, and it has quickly become one of her favorites.
These aren't huge, but they are big enough to where we only pack ours if we're taking our large bag. For the most part, we let our daughter carry her bag so we only take our large bag when we know we're going to be gone for a while.
Water Pens and Activity Pads
We like Water Wow! by Melissa & Doug because they're reusable and have multiple pages. They also give prompts for kids to find certain items after they've colored each page, so it's like a look and find book and a coloring book all in one.
Look And Find Books
These are great for obvious reasons. You're given prompts for things to find in each page and they come in actual book form so your child will have at least ten pages' worth of searching ahead of them.
They also come in generic themes as well as the theme of some of your kids' favorite TV shows and movies so your kid can feel like a VIP when they're trying to find Elsa in a busy palace setting.
The ultimate time-spender when you're in the hell that is waiting with kids.
Keep Your Expectations Low
Now that you've got your go bag packed, I have one final piece of advice before I set you free.
Don't set too high of expectations on yourself or your child. Meltdowns are a rite of passage on this journey, and all we can do is hope they don't break us.
If you set your expectations low, you're going to leave feeling less drained than if you believed your go bag would be the absolute cure-all of the elusive temper tantrum.
If you're in an especially sticky situation, I am certainly not above promoting bribery to alleviate the madness. I keep candy on deck at all times for this very reason. So keep your expectations low and your pockets full and you'll do just fine.
I've been there, and I've endured and learned that we're all just winging it when we're waiting with kids.
So, never feel like you're a bad parent when your child is screaming for the snacks you left at home.
We've all been there and if anybody wants to give you the side-eye, send them my way, and I'll set them right.
Also read: