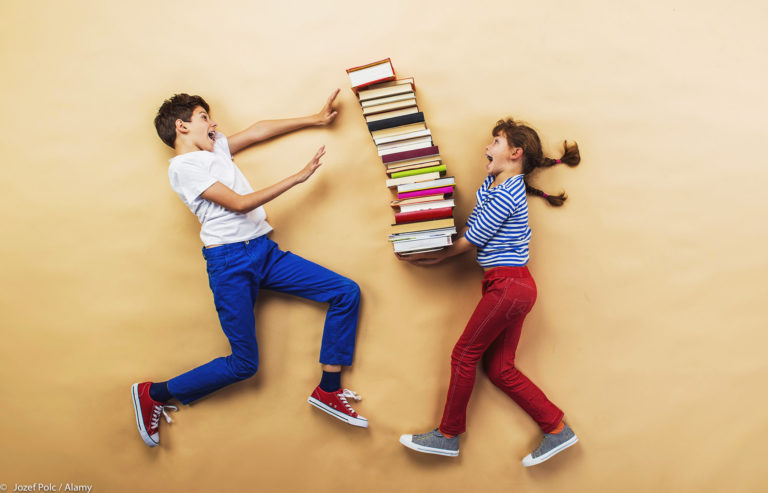 For me, a love of books is a gift. One of my greatest pleasures in life is to lose myself in a favourite story, becoming so engrossed that I emerge blinking and slightly stunned to find myself back in reality. I love reading.
I can't remember a time when I felt differently, and I hoped my children would grow up to be similarly enthusiastic. But while my daughter instantly followed in my footsteps, my son was less than keen.
Some kids find reading difficult, while others simply don't enjoy it. As parents, it helps to have a few tricks up our sleeves to encourage them.
Children develop at different speeds, and the same is true when it comes to reading – so make sure your child has books that are appropriate for their level.
If a child finds a book too difficult, reading becomes a chore and something to dread, not look forward to. It will also make them less likely to read out of choice as they get older.
That doesn't mean they shouldn't be challenged, of course – the key is striking the right balance. If you need some help, a good rule of thumb for choosing a book is the Five Finger Challenge.
People have different tastes in literature as they do in clothes, music or movies. You might have loved CS Lewis's Chronicles of Narnia, but that doesn't mean they'll feel the same. (One of my own childhood staples was The Secret Garden by Frances Hodgson Burnett – I was so disappointed neither of my kids was as entranced as I was.)
With my son, letting him choose his own reading material was a breakthrough. Adam has had a passion for motorsport all his life; he was also fascinated by the idea of being a spy. Letting him read Autosport magazine to his heart's content and discovering Anthony Horowitz's Alex Rider books was the key to him realising reading could be fun.
3
It's not just about books
Thanks to modern technology, we don't need to pick up a physical, traditional book when we want to read. You can store a whole library on a Kindle or e-reader, and download reading apps on tablets and other devices.
Audiobooks are another great way to foster a love of stories in children. Listening will teach them to pronounce words and grow their vocabulary. The right voice will draw them into the tale.
Don't discount comics and magazines, either – just because articles or short and have pictures and illustrations doesn't mean they don't count as reading material.
4
Create a special reading area
As a child, one of my favourite things to do was turn the dining room chairs back-to-back, leaving a space in the middle, then drape them with blankets. I'd hide inside my makeshift den with a couple of cushions, a book and some snacks, and stay there for as long as I was left in peace.
Find out what kind of area your child would like to spend time in, and work together to create it. It might be a special corner with a squashy beanbag, a shelf for their books and a favourite poster on the wall. Make a space that's really their own.
There's something irresistible about breaking the rules. Let them read by torchlight under the bedclothes when they should be asleep sometimes. Or try reading aloud in silly voices, rather than serious ones that fit the text.
Make reading sessions light-hearted and fun – that way, they are something to look forward to, rather than being dutiful.
6
Seek help if you need it
If your child is really struggling with their reading and you suspect an underlying problem such as dyslexia, don't ignore it. If there is something wrong, it won't get better or go away on its own.
Ask your child's teacher or health professional for help – request testing and explore the possibility of additional support if it's needed. The sooner you get a strategy in place, the better for your child.
Also read: