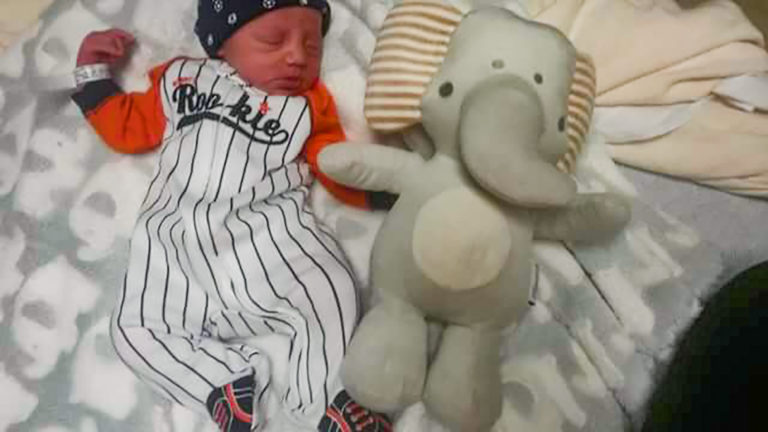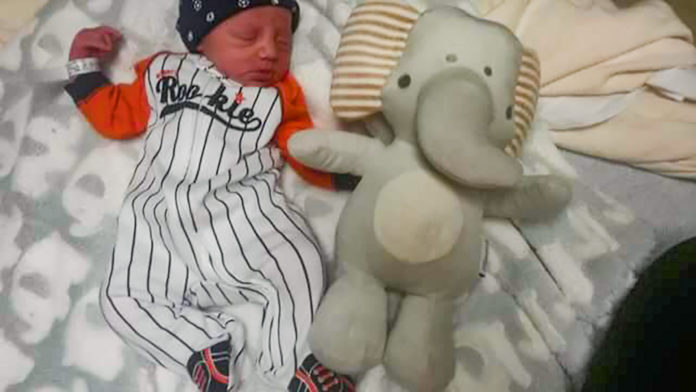 William and I had been best friends for years when we finally decided we wanted to settle down and be a family. It shocked everyone when we finally started dating, but we were totally in love. Not everyone is lucky enough to find their best friend is also their perfect partner.
I already had two little girls, and William loved them as though they were his own; they adored him in turn. So we started trying for a baby right after we officially began our relationship. I know – sounds crazy, huh? But when you know, you know.
On June 18, 2017, I woke up early to go to the bathroom and realized it was Father's Day. I'd been feeling very 'pregnant' and had even taken multiple tests that turned out as big fat negatives. But God has perfect timing – so, that morning, I sat there excited to learn my pregnancy was confirmed. I wasn't just going crazy after all!
And how perfect is it to find you're pregnant on Father's Day? I was so happy I could tell William he was going to be a daddy on that special day. I even made a onesie at 5am, so when he woke up, I could use it to surprise him with the good news. We were ecstatic to say the least.
My sister-in-law was pregnant at the same time so being able to share the ups and downs made it a little easier
The pregnancy was a journey. I seemed to be always sick, always grouchy, always hurting. As it turned out, my sister-in-law was pregnant at the same time so being able to share the ups and downs made it a little easier. We loved planning fun things our babies could do together in their futures. We went together to learn the genders, and as we'd all wished we found out we were both expecting perfectly healthy baby boys.
We just knew they'd be best friends – Percy and Baby William, cousins who would be closer than brothers. Percy Levi James Serpas was born on February 10, 2018. Roy William (Lil Will) Brosset III made his arrival just six days later, on February 16. He was 7lbs 3oz of pure perfection, looking just like his daddy and with a temper to match! Our family was complete – Mommy, Daddy, two sisters, and Lil Will. Our family and friends fell totally in love with him and were delighted for us.
Life went on as usual once we got home from the hospital. Our baby was healthy and sweet, and we were so proud to have him. He was growing well and soon had everyone wrapped around his little finger. My precious angel was such a mama's boy, and he did love his food.
I placed my hand on his cheek, and it was ice-cold. I picked him up and realized instantly that he was gone
We never thought that he'd be taken from us just 24 days into his life. We never imagined he would ever be taken from us. We were so wrong. March 12, 2018. William got up at 4am to go to work as usual. He kissed me goodbye and hurried out of the bedroom to find his work clothes. For some reason, he didn't kiss Lil Will goodbye on his one morning – he usually did. So I turned to check on our baby and couldn't see him breathing. I placed my hand on his cheek, and it was ice-cold. I picked him up and realized instantly that he was gone. My baby boy was cold and stiff, and there was blood running out of his mouth and nose.
I screamed for William to call 911. I will never forget the words because they've played over and over in my head for months now. I can visualize my son's lifeless body and my two-year-old daughter's terrified face as she woke to find her baby brother was dead. "Oh my God, William. Call 911. Our baby is bleeding from his mouth and nose!"
After that, it's all a bit of a blur. I remember thinking I was in a horrible dream, and when I realized it was real, all I could do was cry, scream and pray. I called my Pawpaw, who had been in the funeral business since – well since he was born. He answered on the second ring – it's something that comes naturally when you're in that line of work. I was screaming like a crazy person, and all I could say was, "Pawpaw, my baby died." I never thought in a million years my grandparents would have to bury their great-grandson. I never thought in a million years I would have to do something so unnatural as burying my own son.
While I was in this wild, crazed state my husband called 911, his family, and his boss. The first person to arrive at our house was a sheriff's deputy. I realized, when he stepped out of the car, that it was Kyle – someone I'd known my whole life. It was good to see a familiar face, but I felt terrible he had to witness this.
It seemed our whole family showed up in minutes, there for us as our life came crashing down around us
I yelled, "Kyle – my baby is gone. Please hurry." He ran – I swear, he made it from my front gate to the door in two seconds. He started CPR on my baby boy; then the ambulance came to take Lil Will to hospital. We followed and it seemed our whole family showed up in minutes, there for us as our life came crashing down around us.
We planned the funeral with our family's help and did our best to push through. But the truth was, we couldn't eat, sleep, think or hardly even talk. I felt as though I'd been up partying for three weeks straight – the situation was taking such a toll on my body and mind as it has every day since.
We laid our Lil Will to rest on March 15, 2018, and our hearts went with him. It seems the entire town showed up to honor our sweet baby boy. Everyone offered hugs, advice and financial support. They fed both our families and did so much more – I could go on forever about how much our community helped us in our time of grief. I can never thank Southern Funeral Home, Mr. Cody Cheatwood or Mr. Hoot Caskey enough for helping us so much and being so understanding. Everyone came together to show us so much love and support. For that, we will be forever grateful.
How could a perfectly healthy baby just stop breathing? How could I lose my boy like that?
We learned it was Sudden Infant Death Syndrome – SIDS – that took our sweet, precious angel from us. Damn that! How could a perfectly healthy baby just stop breathing? How could I lose my boy like that? Why did it happen to us? I never thought it would – I suppose nobody ever does. And here we are, left dealing with this tragedy and its aftermath.
Every single day, I cry and smile for my baby boy. I look at Percy, his cousin, and I wonder what Will would be like. Would they get along, would they be the same size? I want his memory to be preserved, carried on. Will's death has colored every aspect of our lives. It's taken a huge toll on my marriage, but we stick it out because we love each other. We hope that one day we'll have some peace in our hearts and be able to say we made it through the storm. My husband is my rock. There's no way I'd still be here if it weren't for him.
We miss Will all the time. We don't understand why this had to happen, but we are taking it day by day. We pray God will help us through as he has so far. We have faith it can only get better. Nobody thinks this will happen to them until it does. Please, cherish every moment you have with your children and loved ones because tomorrow is never promised.
We are expecting our rainbow baby, Timber Royce Brosset, in June this year. I pray every night for God to protect him, and we are so ready to meet him. One day, Will will greet me at those pearly gates, and I'll get to hold my angel again and forever. Until then, I will do everything in my power to raise awareness of SIDS and try to teach new parents about safe sleep.
Facts About SIDS
SIDS is the leading cause of death among babies aged between one month and one year.
More than 2,000 babies died of SIDS in the US in 2010, the last year for which statistics are available.
Most SIDS deaths occur between 1-4 months of age, and 90% happen before a baby reaches six months old.
SIDS is sudden and silent and can happen to babies who seem perfectly healthy.
SIDS is sometimes called crib or cot death because it's associated with a baby's sleep times. While cribs don't cause SIDS, a baby's sleeping environment can have an impact.
Slightly more boys than girls die of SIDS.
In the US, SIDS rates have dropped steadily since 1994 across all racial and ethnic groups. However, SIDS is still more common in some ethnic groups than others.
Current advice is that babies should always be laid down to sleep alone and on their backs in a crib, bassinet or pack 'n' play with just a tight fitted sheet.
Also read: